Permissions: Site Admin
Product tier: Available for all subscription tiers
The change log is an itemized catalog of actions that have taken place in your organization's Greenhouse Recruiting account. In this article, we will provide a brief overview of the change log, including the types of actions that can be audited through it.
Note: Generally, the change log doesn't include actions that happen for individual candidates. This information can be found on a candidate's Activity Feed. Click here to learn more.
To view your organization's change log, click the Configure icon

on your navigation bar and select Change Log on the left.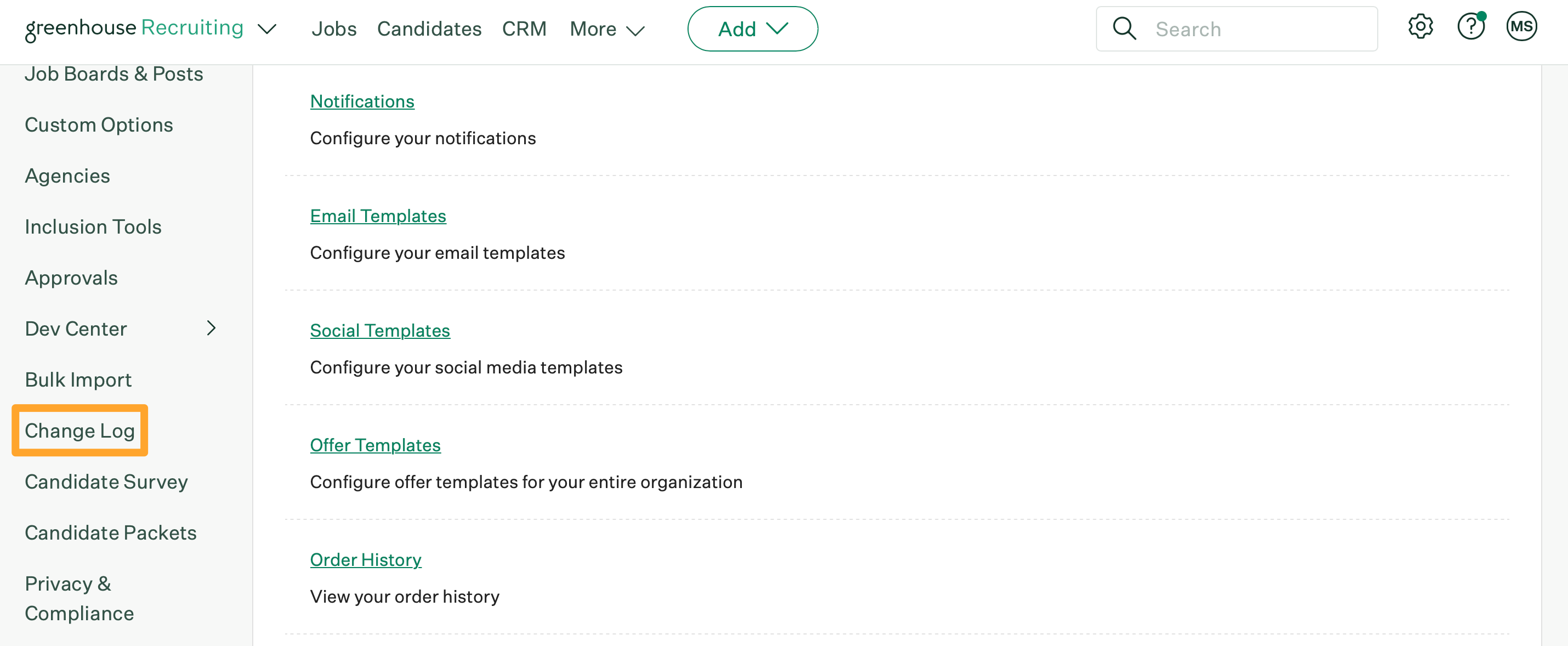 On the change log, you can sort the log entries by oldest or newest, as well as filter by a specific user, job, and / or date range.
Additionally, you can filter / audit the following actions:
Note: Some actions can only be audited if your organization has the associated subscription tier and / or product (like Greenhouse CRM).
| | | | |
| --- | --- | --- | --- |
| Agency invited | Agency job edited | API key created | API key permissions updated |
| API key re-enabled | API key revoked | API key updated | Application rules created |
| Application rules deleted | Application rules updated | Approval plan edited | Auto merge setting changed |
| Bulk agency job edited | Bulk copy form to jobs | Bulk delete candidate | Bulk delete candidates' personal data |
| Bulk edit job application | Bulk interview plan edited | Bulk job scorecard edited | Bulk merge application |
| Bulk reject candidate | Bulk remove form from jobs | Candidate unhired | Candidate or prospect unrejected |
| Candidate packet created | Candidate packet deleted | Candidate packet updated | Custom option added |
| Custom option deleted | Custom option changed | Custom option updated | Default approval plan edited |
| Delete application | Delete candidate | Delete prospect process | Department / office changed |
| Department / office deleted | Form copied to job | Form removed from job | GDPR data retention period cleared |
| GDPR data retention period updated | GDPR data to be deleted added | GDPR data to be deleted removed | GDPR data to be deleted updated |
| GDPR delete candidates' personal data changed | GDPR email recipient settings added | GDPR email recipient settings removed | GDPR email recipient settings updated |
| GDPR notifications cleared | GDPR notifications updated | GDPR office added | GDPR office removed |
| GDPR offices updated | GDPR provide candidate with GDPR information changed | GDPR rule modified | Global email added |
| Global email removed | Hiring team responsibility changed | Hiring team roles changed | Inclusion setting disabled |
| Inclusion setting enabled | Inclusion setting modified | Interview plan edited | Job Admin level created |
| Job Admin level deleted | Job Admin level name changed | Job Admin level permission added | Job Admin level permission removed |
| Job Admin level permission updated | Job approval accepted | Job approval rejected | Job approval requested |
| Job Approved | Job board accessible changed | Job board auto load changed | Job board custom css changed |
| Job board edit | Job board hide description changed | Job board hide view all jobs link changed | Job board no auto scroll changed |
| Job board responsive changed | Job board status | Job board tracking links changed | Job board URL changed |
| Job created | Job deleted | Job info changed | Job opened |
| Job post deleted | Job post edited | Job post state change | Job posts URL changed |
| Job scorecard edited | Merged candidate | Offer section created | Offer section deleted |
| Offer section updated | Organization name changed | Organization permission policy changed | Organization-wide email template changed |
| Phantom user login | Prospect pool admins changed | Prospect pool created | Prospect pool deleted |
| Prospect pool renamed | Prospect post created | Prospect post deleted | Prospect post edit |
| Prospect post state change | Prospect stage updated | Scorecard reminder emails preference changed | Temporary access granted |
| Temporary access revoked | Update application | User import completed | User linked to candidate |
| User permission edited | User unlinked from candidate | | |
Note: The following actions are not available in the change log:
Enabling a partner integration
Partner actions (for example, partner sends results of an assessment)
Actions performed using Greenhouse Recruiting's API