Permissions: Job Admin, who can view and edit offers and approve/request approval on offers and Site Admins, who can see private notes, salary info, manage offers, request approvals, and approve jobs/offers
Product tier: Available for Advanced and Expert subscription tiers
Users who are configured as offer approvers in your organization's offer approval flow(s) are notified via email when their approval is needed to extend an offer to a candidate. Optionally, users configured as offer approvers can also manage all offer approvals from the Approvals page.
In this article, we will cover how to send another email to an offer approver to remind them that their approval for an offer is still pending.
Click the Offer Details tab on a candidate's On Job panel.

Navigate to the Approval Details section. This section provides details on the progress of the offer through the job's offer approval process.
Offer approval reminders can only be sent to approvers whose approval is still Pending. The

icon is used to illustrate which user(s) have yet to approve/reject an offer. Click Send Reminder.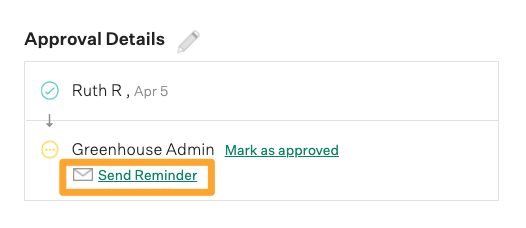 Use the subsequent dialog box to input any message you want to send to the offer approver. Greenhouse Recruiting will add any pertinent offer details in the reminder email automatically. Click Send Reminder when finished.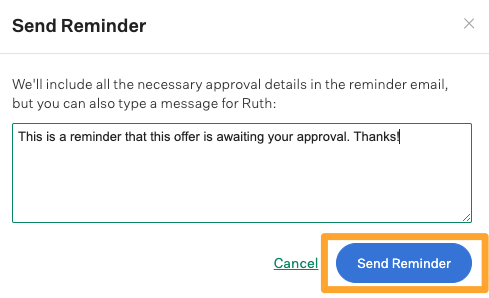 Note: An offer approval reminder can be sent multiple times.
Greenhouse Recruiting generates a reminder and emails the selected offer approver about the Pending offer approval.