Each account admin must connect a myInterview account up with a Greenhouse account. You'll need your myInterview login details - if you're unsure what these are, they will either remain the same as your Trial account login details, or we'll provide you with new ones.
To begin, click into the Integrations section, then onto the green Add Integration button.

2. Select Greenhouse from the list available to you, then Continue. You'll be provided with a couple of steps to obtain the API Key and Created By Email for your Greenhouse account.
3. You'll then be provided with an Assessment API Key, please copy it. Follow this link to create a ticket with Greenhouse, advising them you would like to link up your account with myInterview. They will then request this Assessment API Key to be given to them securely (they'll show you how to send it via SendSafely), please provide it to them when requested. If you lose your Assessment API Key, you can retrieve it by clicking back into Integrations then onto the Greenhouse icon.
4. Once you hear back from the Greenhouse support team that the integration is enabled, your Greenhouse account will be ready for all users to create Jobs with myInterview questions.
---
Create Greenhouse Jobs with myInterview Questions
A custom set of Questions is added against each Job.
Please ensure your myInterview admin has stepped through the steps above to connect up your myInterview account to your Greenhouse account before you begin.
Now, each time you create a new Job in Greenhouse, you can link it up with a custom set of Questions for each candidate to answer as they complete their video interview. Here's how:
Start by creating a new Job in Greenhouse from the Create a Job option. Continue through, adding in all details, until you reach the Interview Plan section. From here, towards the bottom, select the + Add a Stage button. Scroll through until you find myInterview in the list, select it, then click Add. Add any other stages you'd like from there too.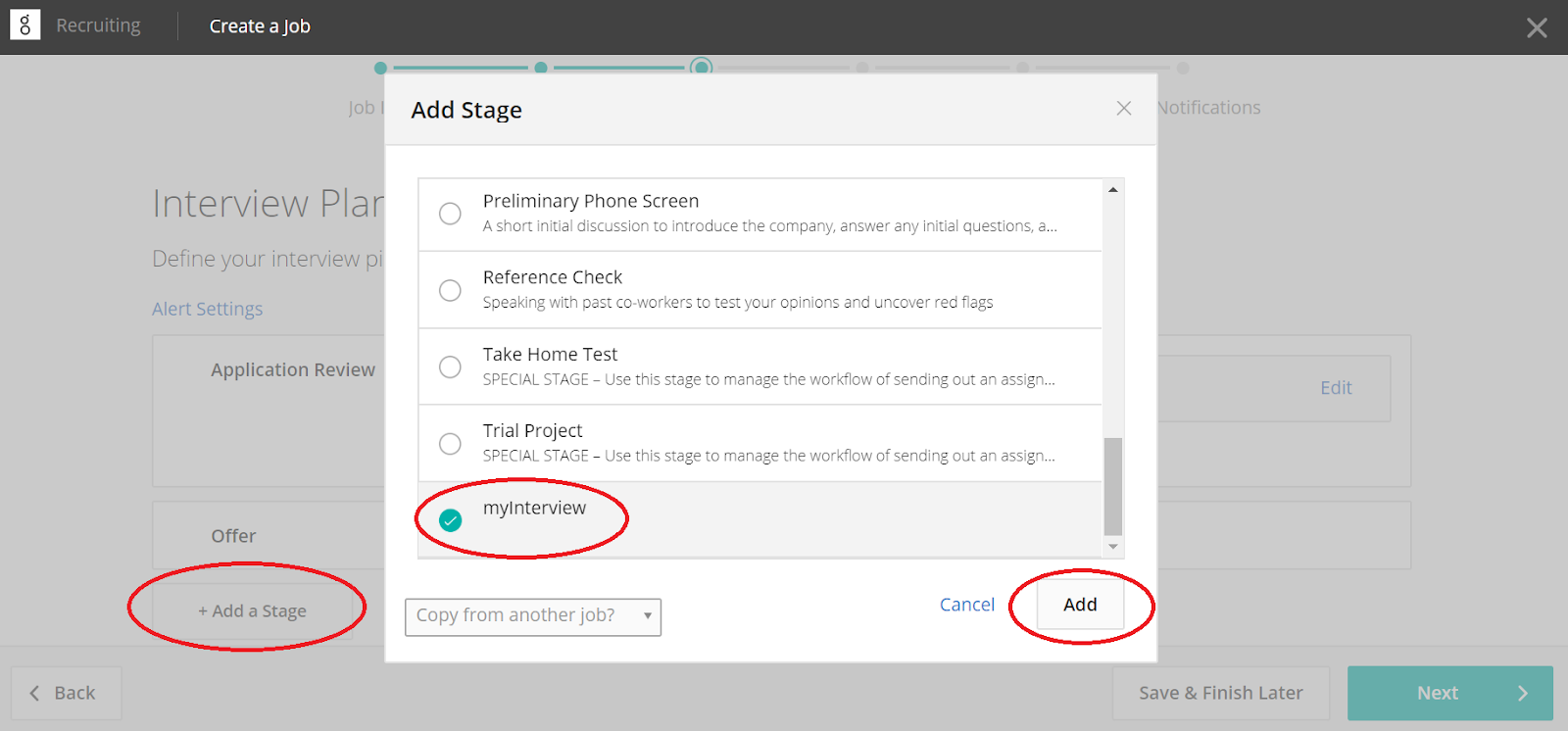 2. Continue through again until you reach the Job Post section. Here's where you can add in your custom Questions for the candidate to answer!
Scroll down to the Custom Application Questions section, then click onto the Add Custom Question button. If you see other Questions already in the list, don't worry - only these Custom Questions you create now will be added to the myInterview question set.

3. Add each question into the Question field, ensuring you make a selection from the Answers dropdown list (this is mandatory but it does not matter which option you select). The questions created in this way will:
Allow the candidate to complete Practice Questions.

Allow up to 30 seconds for completion.

Not allow any Retries.

The candidate will have 30 seconds of time to prepare prior to answering each question.
From this screen, apart from the question itself, the selections made are not linked to myInterview so do not affect the creation of myInterview questions. Click the Add button to save, then repeat this for each question you would like to add in.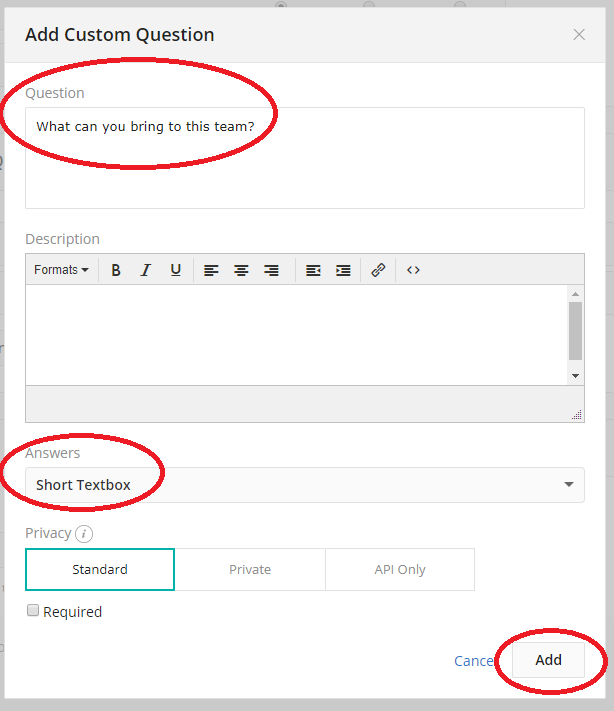 4. Continue through and complete the Job Post process. The set of Questions is now created, and you can begin to invite candidates.
Question Creation Pro-tip: if you'd like to have this set of Questions pre-selected each time you invite a candidate to complete a myInterview for the Job you have just created, click into the Job Setup section, Interview Plan, then onto Edit next to myInterview. Select the name of the Job from the Test Name dropdown list - the new set of Questions you have created will always be named after the Job. Save.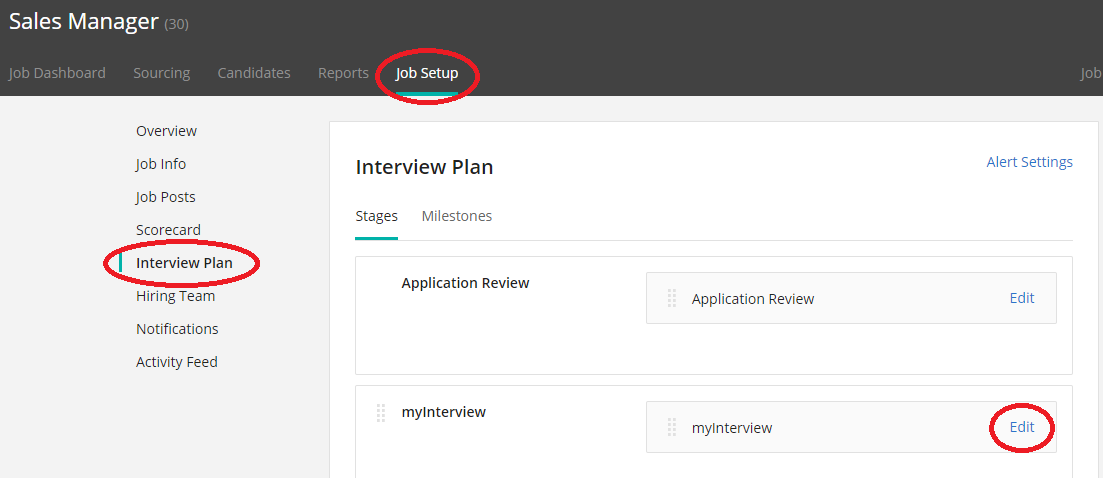 ---
Inviting Candidates through Greenhouse
How trigger an email to invite a candidate to complete a myInterview.
This is the exciting part - inviting candidates to complete the video interviews you've set up through Greenhouse! Please just ensure your company's Greenhouse account is connected to myInterview, and that you've created Greenhouse jobs with myInterview Questions.
Firstly, click into a candidate that you'd like to invite. You should see a separate myInterview section listed against them. Click on the arrow to expand the section, then click on Send Test.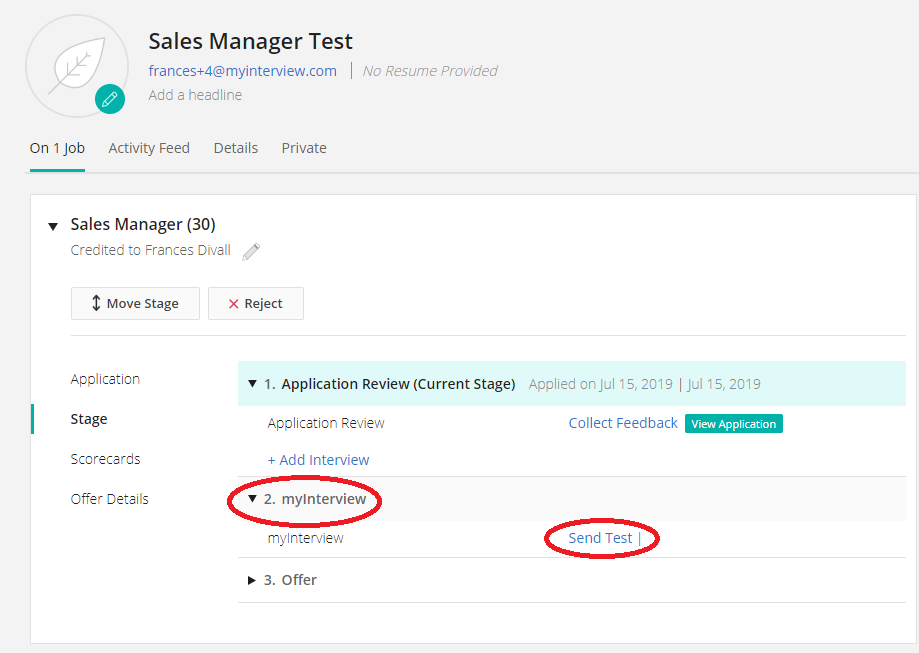 Select the name of the myInterview question set you'd like to send to them, found in the Test selection list. Each set of myInterview Questions will be named after the Job that they were created from. Once you are happy with all selections, click Send Test.Repeat this for each candidate you'd like to invite.

Now, we wait! You should start to see completed videos coming in soon from your candidates, and you'll receive an email notification each time one is submitted. You'll also see that their myInterview status changes away from being Sent.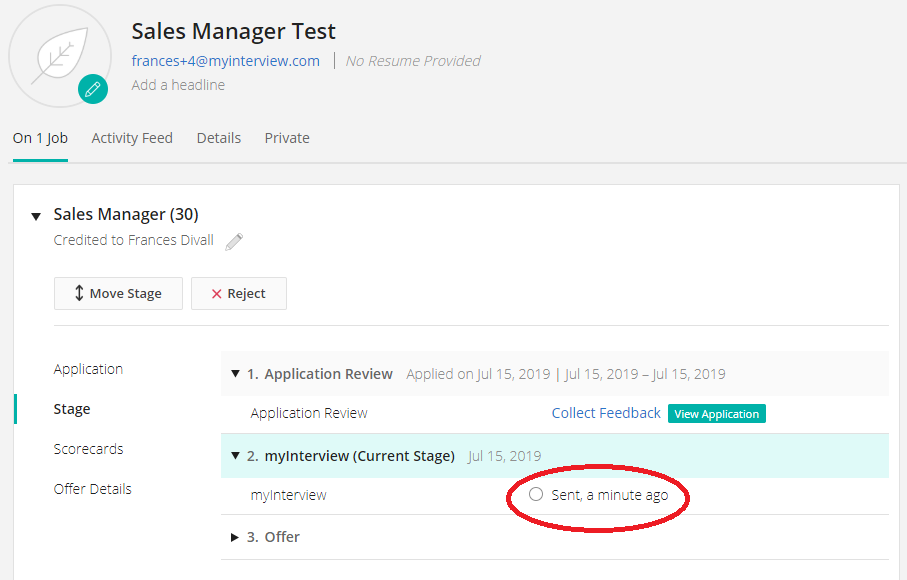 Reviewing Interviews through Greenhouse
Each time a candidate completes a video, it will be made accessible through Greenhouse.
So, you received a notification from us into your email inbox. A candidate has completed their myInterview video application... it's go-time!
When you view the candidate in Greenhouse, after expanding down the myInterview section, you'll now be able to click on the myInterview column to the left.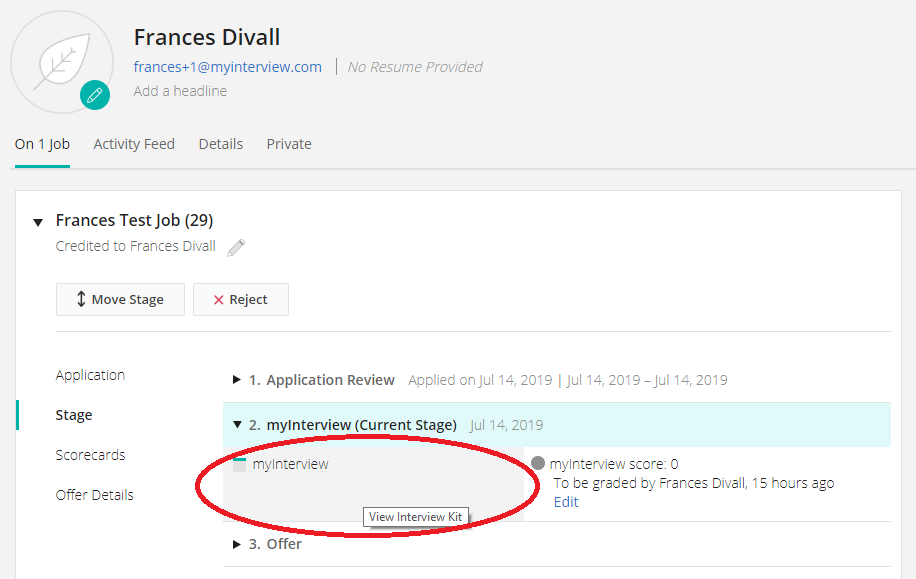 Next, click onto View Report. The myInterview video will open up in a new tab, ready for you to watch.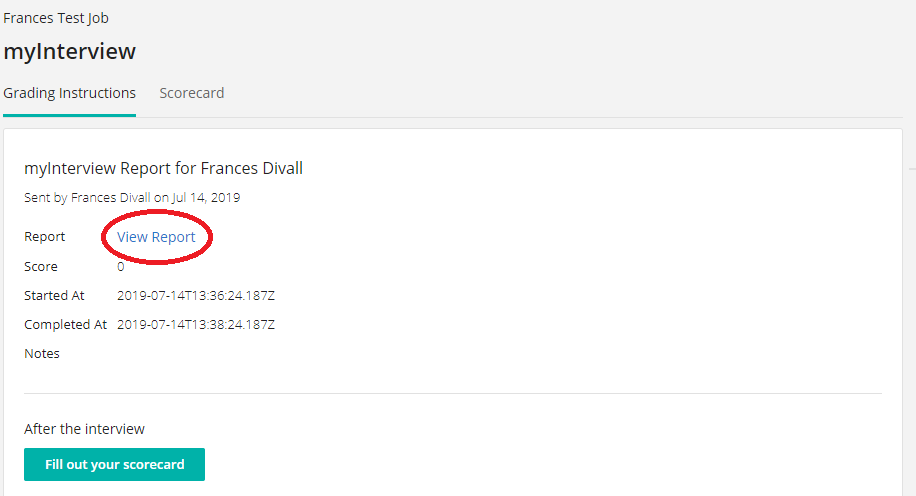 Play through the video to assess each question the candidate has answered. You can play and replay the video as many times as you like, and you can share the video externally using the Share button in the top right hand corner. The Share button will generate a link to the video, so you can pop this into an email so that someone else can play the video and let you know what they think of the candidate too.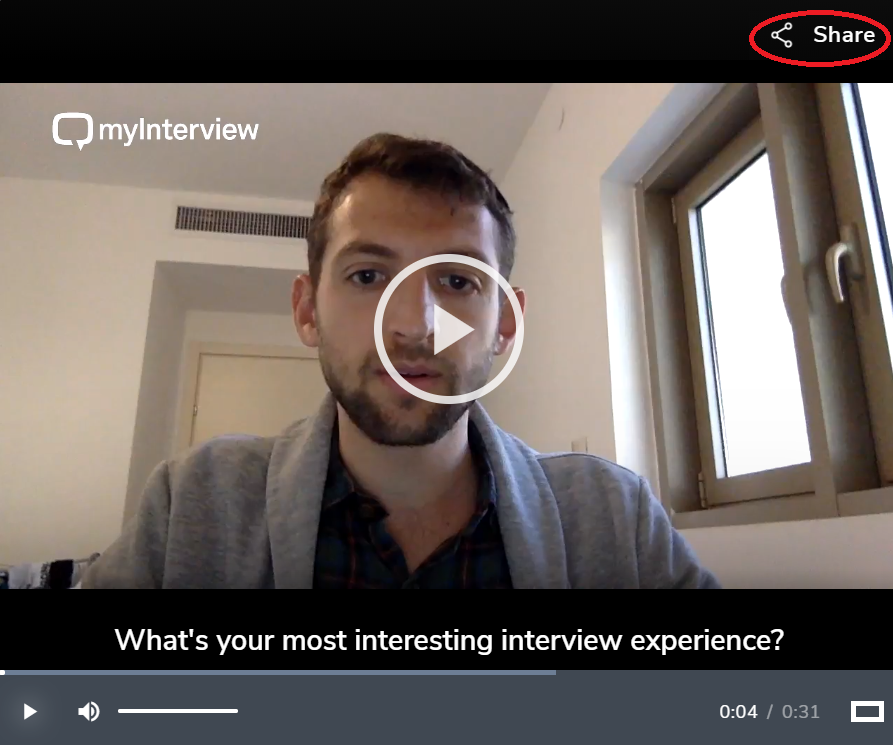 Fill out the Scorecard for the candidate or otherwise note down your feedback against their record in Greenhouse, then continue along the interview process as normal. Video interview complete! We'll keep the video on file if you'd like to review it again for a candidate at a later date.