For your convenience, certain pages in Greenhouse Recruiting are available in non-English languages. Currently, Greenhouse Recruiting supports translated pages in the following languages:
German
French
Italian
Spanish
Portuguese
In this article, we will cover the following:
Auto-Detect Language
Greenhouse Recruiting automatically detects a user's language preference from their browser settings every time they log into their user account. If the preferred language is available in Greenhouse Recruiting, we will automatically translate pages into that preferred language.
Note: If Greenhouse Recruiting has automatically translated pages in your account and you wish to manually revert or change your preferred language, click here. We will always respect and apply a manually selected language preference before an auto-detected language.
Manually Select Language
To manually select a preferred language in your user account, click Your Name in the upper right-hand corner and select Account Settings from the dropdown menu.

Navigate to the Personal Information panel and click Edit.

From the Personal Information page, navigate to Language preference and use the provided dropdown menu to select a language.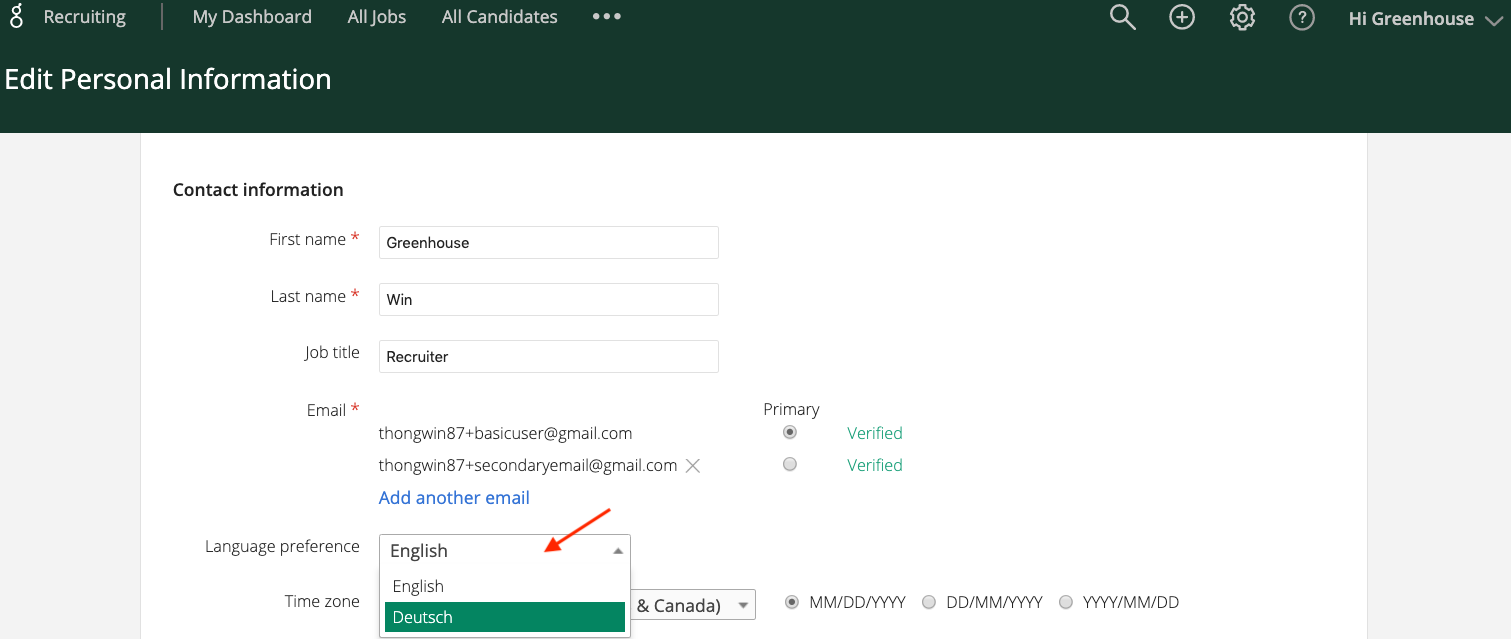 Click Save when finished.
The preferred language will be applied to your user account and override any auto-detected language from your browser settings.
Translated Pages
Greenhouse Recruiting has focused its translation efforts to pages that are commonly used in the Interviewer experience. In addition to navigation buttons, the following pages are translated into your preferred language:
My Info
My Dashboard
Add a Candidate
Add a Referral
All Jobs
All Candidates
Candidate Profile
Scorecard
Interview Kit