With auto-tags, you can set up application rules so that, based on a prospect's answer to a prospect post question, they will be automatically assigned a certain tag. This will allow you to then filter a list of prospects by tag to view prospects who answered questions a certain way.
For example, for the question, "Are you willing to relocate?", you can configure auto-tagging so that candidates who answer "Yes" are automatically tagged with "Willing to relocate".
In this article, we will cover how to configure an auto-tag for a prospect post and assume that you have already configured a prospect post with custom application questions.
To start, click the ellipsis

on the navigation bar and select CRM from the dropdown menu.

Click Configure CRM from the CRM page.

Navigate to the Prospect Posts panel, and click the ellipsis

under the Actions column inline with a specific prospect post.
Select Manage Rules from the dropdown menu.

Click Add a Rule.

From the Add a Rule dialog box, select a prospect post question and the response that will trigger an auto-tag.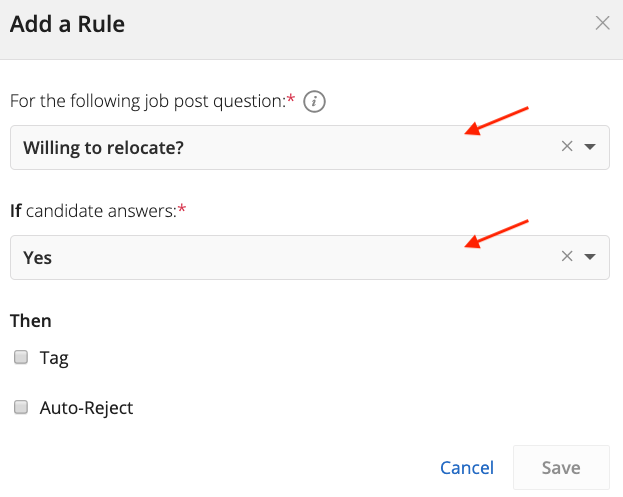 Click the checkbox to the right of Tag and use the subsequent field to select a pre-configured custom candidate tag from the dropdown menu.
Click Save when finished.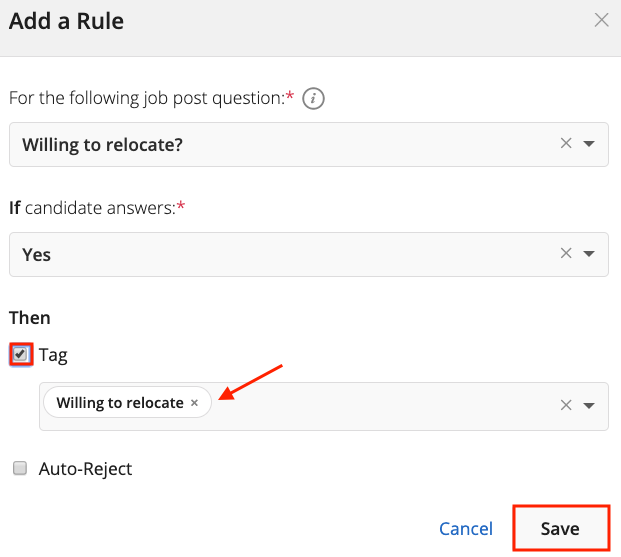 Prospects who respond to the question with the designated response will now be auto-tagged with the tags you selected.