Permissions: --
Product tier: Available for Greenhouse Welcome and Greenhouse Onboarding subscription tiers
After you've been set up with an account in Greenhouse Onboarding, there are a few different ways to log in.
Click here if you need to log into Greenhouse Onboarding before your start date.
Note: If it's after your start date, but your organization hasn't set you up with an email address, they may ask you to log in with a "magic link." Click here for more information.
Log in with an email and password
Most organizations have users log in with their company email address and password. You will set up a password the first time you log into your Greenhouse Onboarding account.
To log in using an email and password, enter your email in the login page and click Next.
Enter your password and click Sign in.

You can navigate back to the email field by clicking the link above the Password field.

If you can't remember your password, click the link under the password field.

Log In with Google
If your organization uses Google mail, they can configure your company's accounts to log into Greenhouse Onboarding with your Google accounts.
To use your Google account, click Sign In with Google on the login page.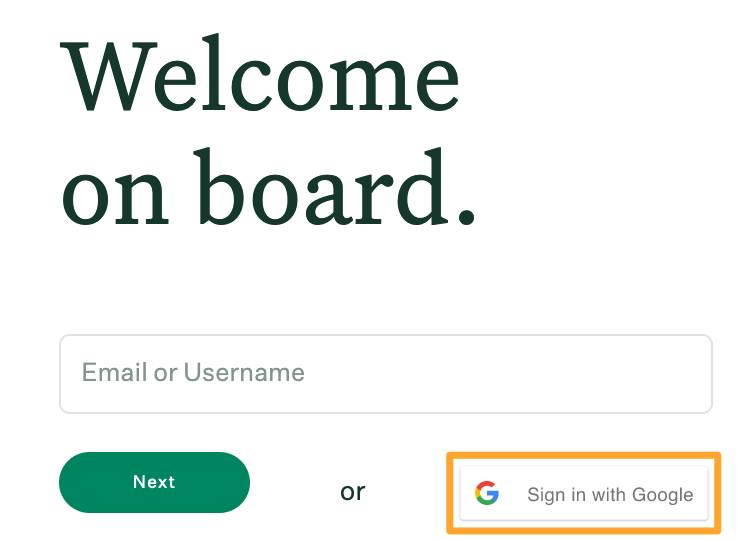 Select your Google account and complete any login steps in this prompt. Once you've authorized your account, you'll be logged in.
Note: Your organization must do a specific setup to allow you to log in with your Google account. If you're unsure about how to log into Greenhouse Onboarding, talk to your organization for clarification.
Log In with SSO Provider
Some organizations will configure your user accounts to log on using a process called Single Sign On (SSO). In this process, you'll use your password for your company account, and won't need to create a separate account for Greenhouse Onboarding.
To log in using SSO, enter your email address and click Sign In. If your organization has configured SSO, you'll be redirected to their portal. Complete the sign-in steps to log into Greenhouse Onboarding.
Save login information and reset your password
To save time logging into Greenhouse Onboarding in future sessions, you can select Keep me signed in to save your login credentials in the browser.

If you need to reset your password, enter your email in the Email or Username field and click Forgot your password? on the next page.

Additional resources