Permissions: —
Product tier: Available for all subscription tiers
At Greenhouse, your organization's data integrity and security are always a primary concern. Our Support Verification Code feature is intended to give our Customer Support Specialists a way to verify a user's identity when they are asked to perform a task that is deemed sensitive (For example, sharing personal identifying information (PII) about candidates, users, or the organization, making changes to customer data, etc.).
Note: Greenhouse's official policy is to never update permissions on behalf of a customer. Since your organization owns all of its data (Greenhouse provides the tools to administer the data), this policy ensures that all permission changes within your organization are approved by the appropriate administrators.
If you have been asked by a Greenhouse Support Specialist for a Verification Code, navigate to your Greenhouse Recruiting account and click your name in the top right corner.
Select Account Settings from the dropdown menu.

Navigate down the Account Settings page to the Verification Code for Support panel on the right side. Then, click Generate Code.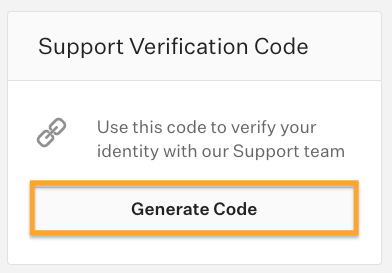 Copy the generated verification code and share it with your Greenhouse Support Specialist. Our team will then use to code to verify your identity.