Note: Some organizations have been updated to a new version of the scheduling process. If the steps in this article do not align with the workflow you see after clicking Schedule Interview or Schedule All on the candidate's profile page, please click here to learn more about the updated process.
If your organization has scheduled an interview using the Google Calendar integration, you can cancel/delete the the interview directly from Greenhouse Recruiting.
Navigate to a candidate profile with an interview that needs to be cancelled (All Jobs> Job >Candidates). From the candidate profile, navigate to the Stage tab on the On Job panel and expand the stage that requires a cancelled interview.
Click Update next to the scheduled interview.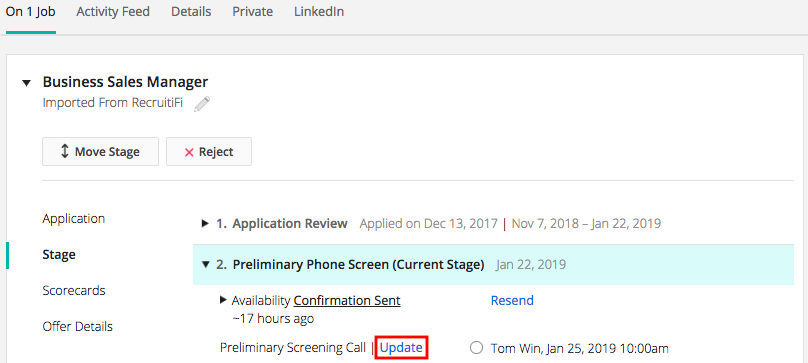 Navigate down the Schedule Interview page and ensure the checkbox for Send an email update to all interviewers is active.
Click Delete Interview.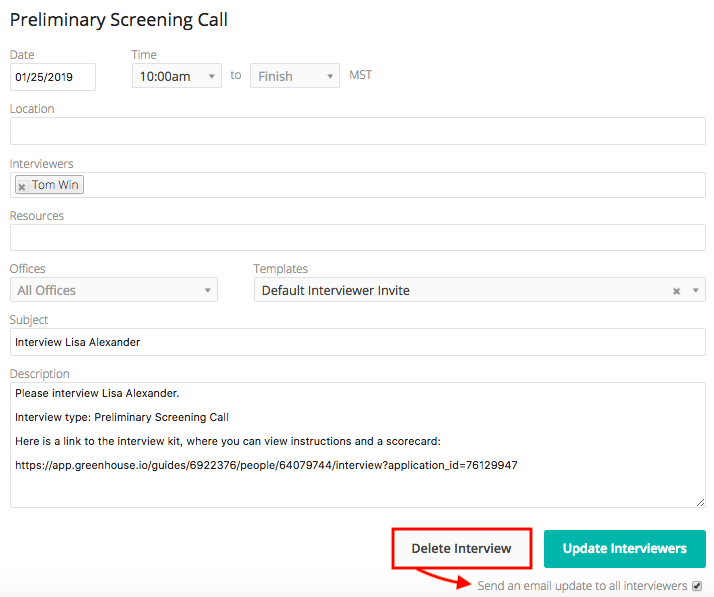 Note: Greenhouse Recruiting's scheduling calendar (what enables us to compile and manage your interviewing schedule) is added to all of your organization's interviews as a guest. By sending an email update to all interviewers you ensure that Greenhouse Recruiting is also notified of the change to your organization's interview schedule.