Accelerate your hiring process and schedule interviews in seconds with Yello's scheduling suite. From scheduling phone screens to interviews at career fairs to video interviews, Yello's suite of solutions saves recruiters valuable time and allows them to focus on more strategic projects.
And with our newest product, Interview Day Scheduling, we infuse artificial intelligence to propose optimal interview schedules, making your team look like recruiting superheroes.
Greenhouse Recruiting's integration with Yello allows for a seamless data flow to allow customers to leverage Yello's Event Recruiting, Interview Scheduling, and/or Video Interviewing solutions. In this article, we will cover how to:
Configure User Setup Permissions in Greenhouse Recruiting
In order to enable the Greenhouse/Yello integration, you will need the developer permission Can manage ALL organization's API Credentials.
Contact a Greenhouse user in your organization with Site Admin level permissions with the additional user-specific permission Can edit another user's advanced permissions to apply the API credential management permission to your account. Have the user with Site Admin level permissions edit your user account's permissions by navigating to the Configure icon

> Users > Your Name).

The user with Site Admin level permissions should navigate to the Permissions panel on your user page and expand the Developer Permissions dropdown menu.
Select Can manage ALL organization's API Credentials so that a check is in the checkbox. When finished, click Save.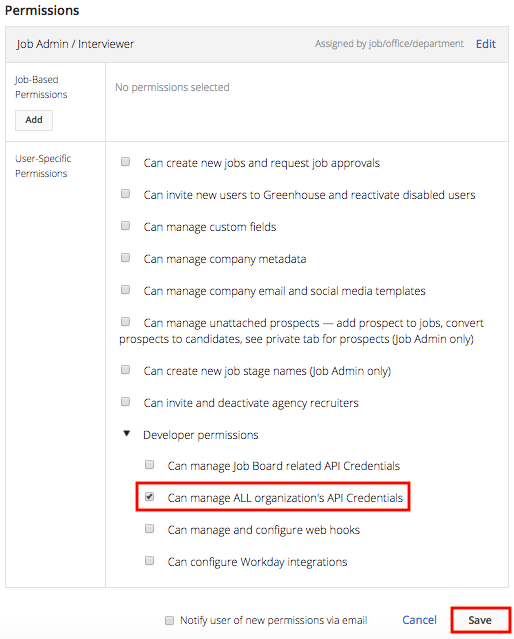 Repeat as necessary for any other user that should have access to set up the integration.
Create a Harvest API Key for the Greenhouse/Yello Integration
To create a Harvest API key for the integration, click on the Configure icon

in the upper right-hand corner. Navigate to Dev Center on the left-hand panel.
From the Dev Center page, click API Credential Management.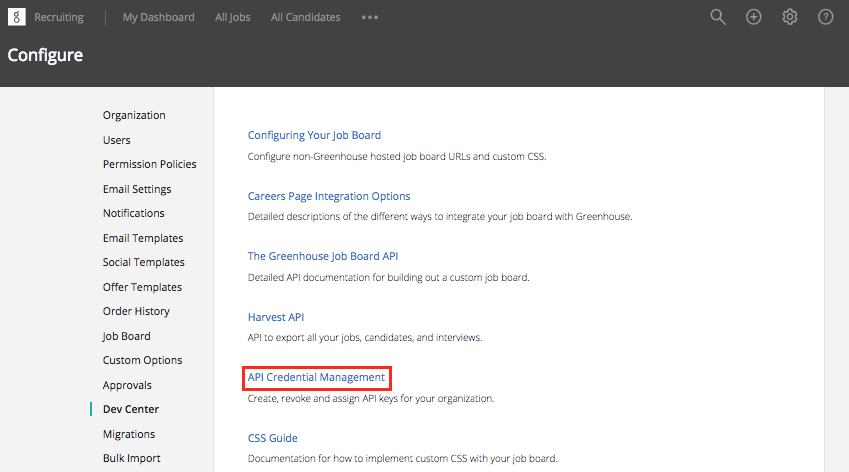 From the API Credential Management page, click Create New API Key to generate the API key for Yello.

From the Create new credential dialog box, give your API key a name and select Harvest from the Type dropdown menu. When finished, click Create.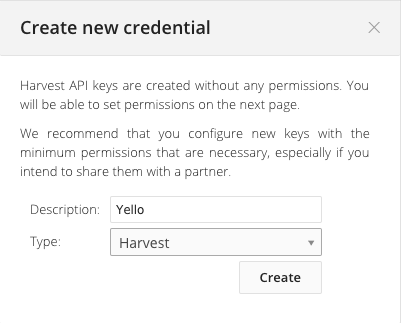 On the Manage API Key Permissions page, select the following endpoints:
Candidates

GET: Retrieve Candidate
GET: List Candidates
PATCH: Edit Candidate
POST: Add Prospect

Jobs

GET: Retrieve Job
GET: List Jobs
When finished, click Update.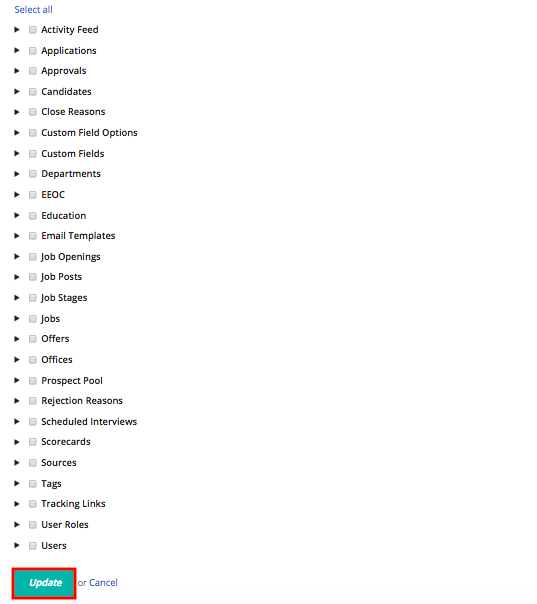 Your Harvest API key for the Greenhouse/Yello integration is created and configured. Provide your Harvest API key to your Yello onboarding team so they can set up the integration.
Determine the fields to be included in the Greenhouse/Yello Integration
With Yello, you are able to capture the below data at events or sourcing via Yello or via applications in Greenhouse, and seamlessly transfer to the adjoining system for increased productivity.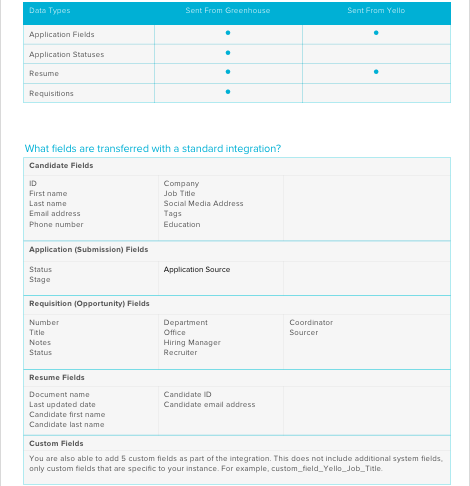 Once this list of fields is finalized, the Yello Integration Consultant will begin to configure the integration from the Yello side.
Yello/Greenhouse Integration General Process Flow
Below is the general process flow for integrations between Yello and Greenhouse. This process can be altered depending on client use case but give a general overview of how the data moves between the two systems.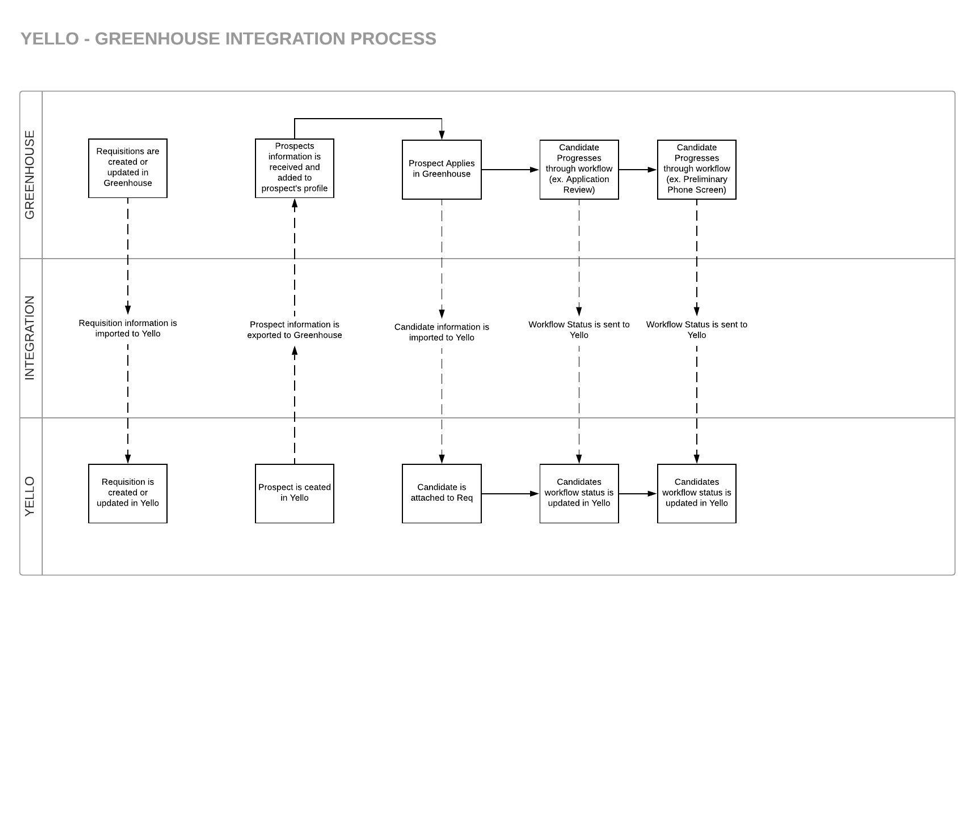 The first step on the candidate journey, is for them to sign into Yello at an event. In doing so, they will fill out a collect form (Figure 1) and create a profile in Yello.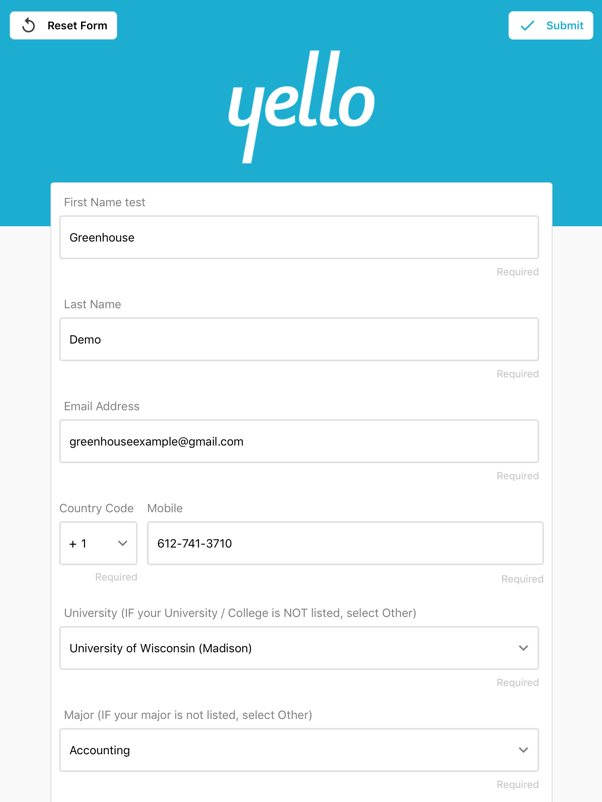 Once the profile is created, the field values that are specified in the integration will be export to Greenhouse and create a prospect profile (Figure 2)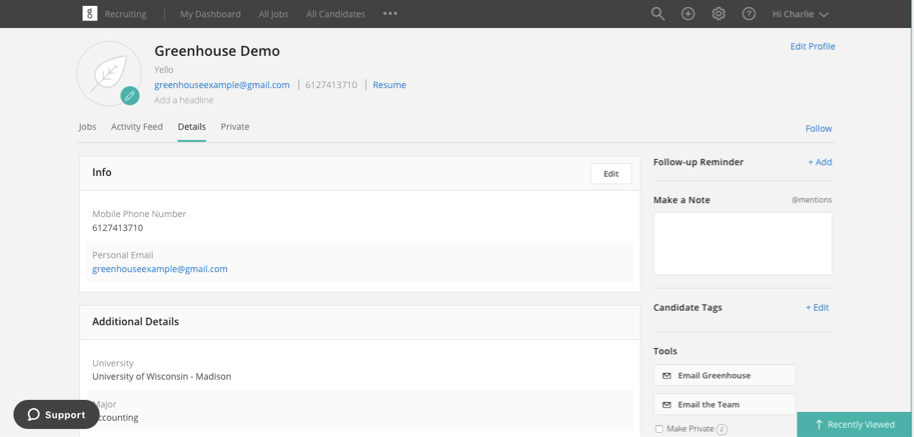 Then, once the candidate applies to a job in Greenhouse, we will import that status back to Yello, so that you can view their progression through the interview process (Figure 3).