Greenhouse Recruiting provides multiple ways to integrate your organization's job board (careers page) with Greenhouse Recruiting. These configurations include both Greenhouse hosted and non-Greenhouse hosted job boards.
For organizations who are using a job board hosted solely through Greenhouse, Greenhouse Recruiting will provide the job board URL. When using this job board integration type, your organization's job board URL will read https://boards.greenhouse.io/your_job_board_token.
In this article, we will cover:
Overview of Job Board URL for Greenhouse Hosted Job Boards
When your organization decides to allow Greenhouse Recruiting to wholly host your job board, we will serve your job board and associated job posts. The URL associated with your organization's Greenhouse hosted job board is comprised of two sequential parts:
Root: boards.greenhouse.io
Job Board Token: Configurable identifier for your organization
While the root of the URL is non-configurable, your organization can edit the job board token.
Edit Job Board Token
To edit your organization's job board token (which will subsequently change your organization's job board URL), click the Configure icon 

in the upper right-hand corner and navigate to Job Boards on the left-hand panel.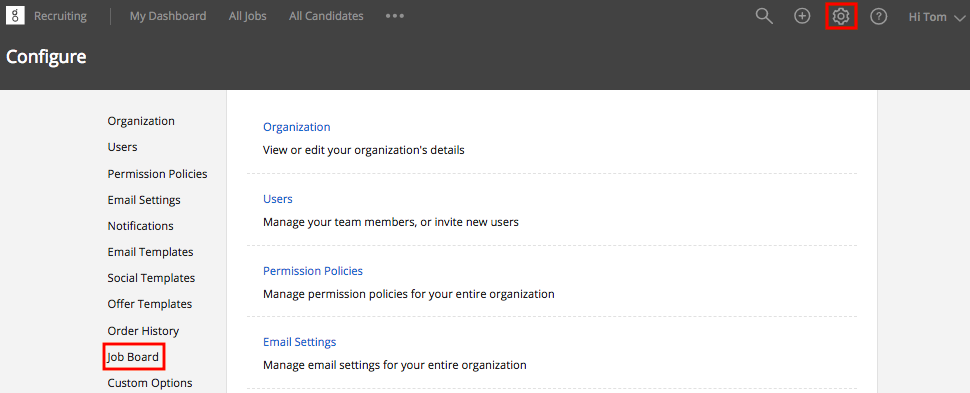 From the Job Board page, find which external job board will have its token edited and click the ellipsis inline with the job board name.
Click Edit from the dropdown menu.

Navigate down the Edit Your Job Board page, to URL and input a new token in the provided field.

When finished, navigate down the page and click Save.
Your new job board URL for your organization's Greenhouse Hosted Job Board is https://boards.greenhouse.io/new_job_board_token.