Greenhouse Recruiting generates unique links to each of your live job posts. These links are added to your job board and will redirect candidates to the job post (application form) for a specific job. These unique links are called Job Post URLs. Typically, organizations who have elected to integrate their organization's job board using the following methods will need to configure a job post URL:
In this article, we will cover:
Job Post URL Structure
Job Post URLs are comprised of two sequential elements that follow a specific convention:
Together, these elements combine to make a Job Post URL for a specific application form (https://example.com/jobs/12345). While the Root URL will not change for any of your job post URLs, the unique Job ID will change depending on the application form. It is the Job ID that acts as the unique identifier between job posts within your organization.
Greenhouse Recruiting will automatically affix the Job ID to your desired Root URL using a gh_jid parameter. The resulting job post URL will look like (https://example.com/jobs?gh_jid=12345).
Note: Your organization's Root URL does not have to match your organization's Job Board URL (e.g. https:example.com/jobs/job).
Edit Job Post URL for Non-Greenhouse Hosted Job Posts
To provide a job post URL, click the Configure icon

in the upper right-hand corner and navigate to Dev Center on the left-hand panel.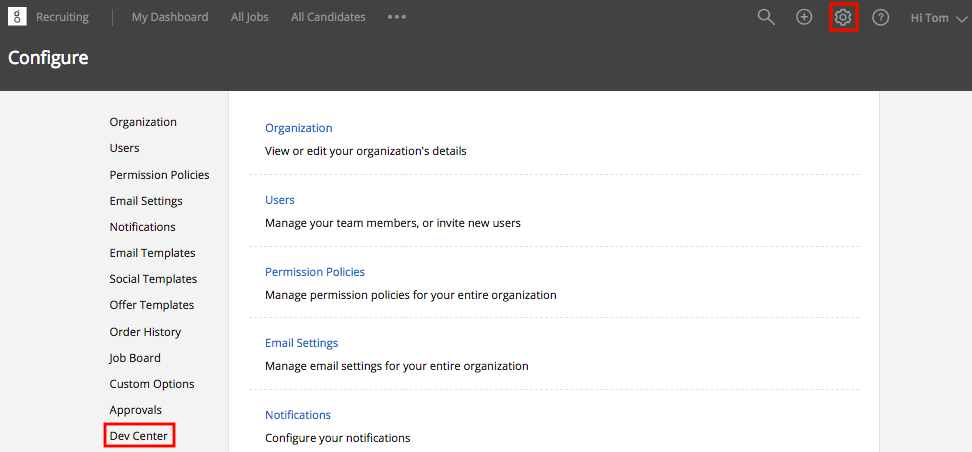 From the Dev Center page, click Configuring Your Job Board.

Click the Edit icon

next to Job Post URL and input your organization's URL. When finished, click Save.

With the Job Posts URL saved, click Point tracking links to job board URL below to direct tracking links to your careers page.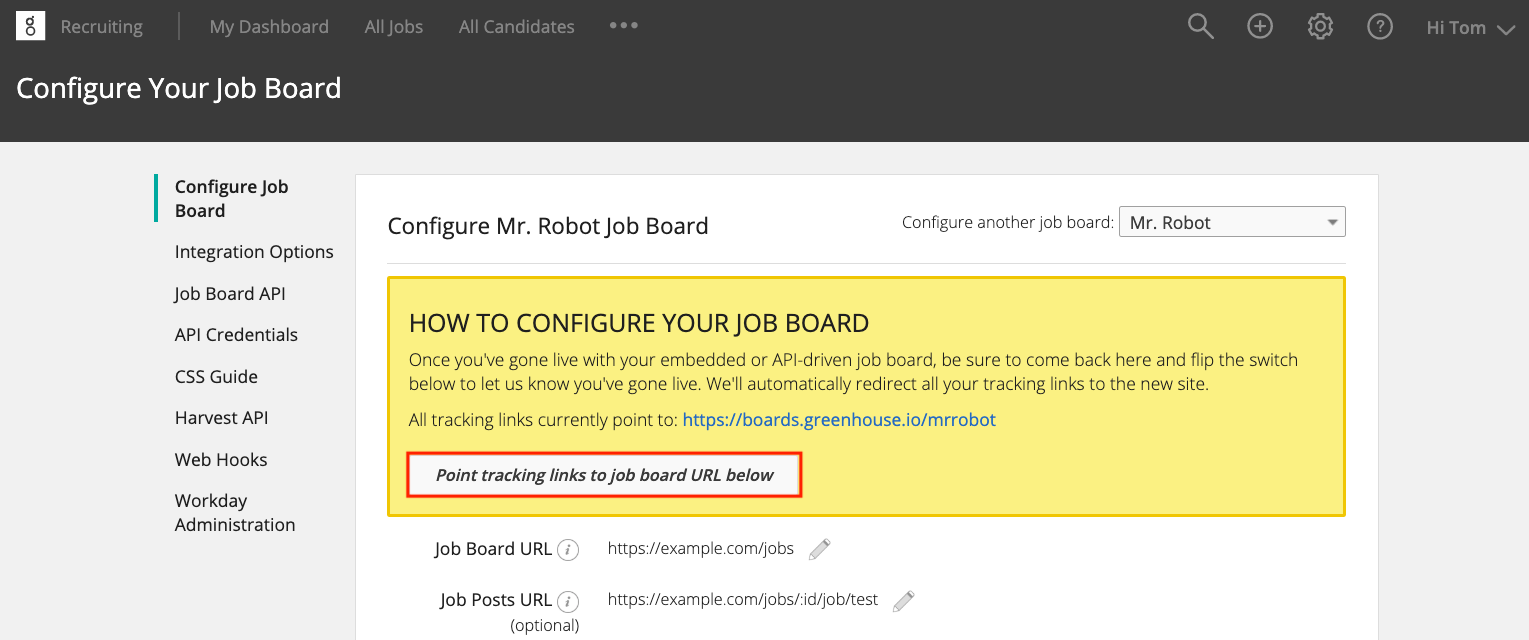 Note: Your organization can always revert back to a Greenhouse hosted URL by clicking Point tracking links to Greenhouse hosted job board.
Additional Job Post URL Parameters
Greenhouse Recruiting provides the following parameters to configure your job post URL:
Job ID (:id)
Source Tracking (gh_src=)
Job ID (:id)
While Greenhouse Recruiting will always affix the Job ID to your Root URL automatically, you can also add the Job ID to the Root URL by placing the parameter :id wherever you want the Job ID to appear.

With this configuration, the URL for a job would look like: https://example.com/jobs/12345/job?gh_jid=12345.
Source Tracking (gh_src=)
Greenhouse tracks a candidate's sources through a source token parameter that we append to your job board URL and job posts URL. The format of that parameter is gh_src=. When the candidate applies on a page that includes the source token in the URL path, Greenhouse Recruiting will recognize the token and will attribute the candidate to a specific source in Greenhouse.

Here's an example of a tracking link from Greenhouse that includes the candidate's source token: https://example.com/jobs?gh_jid=130142&gh_src=abc123. In order for Greenhouse to track the candidate's source, that token needs to be present in the URL of the application page when the candidate applies.