Tazio is an online platform combining aptitude tests, situational judgment tests, and video interviews so you can identify the best candidates more efficiently and objectively. Greenhouse Recruiting and Tazio have created an integration so that you can seamlessly add an assessment, aptitude test, situational judgment test, or video interview to your interview pipeline.
Enable the Tazio integration
To enable the Tazio integration, contact your Tazio representative to receive your API key.
Once you have received your API key, reach out to Greenhouse Technical Support at www.greenhouse.io/asksupport or click here to open a ticket.
Note: Don't send the API key in this initial email. Greenhouse Technical Support will respond with a SendSafely link for you to securely enter your API key.
After you share your API key, we'll email you to confirm that your API key has been set up in your account and your integration is enabled.
Note: To verify your identity, Greenhouse Technical Support might request you provide a support verification code before adding an API key to your organization's account.
Use the Tazio integration
Add the Tazio assessment stage
Once the Tazio integration is enabled for your organization, you'll be able to add the Tazio assessment as an interview stage.
To do this for an existing job, navigate to a job (Jobs > Job Name) and click Job Setup.
Click Interview Plan on the left.
Click Add a Stage.
Select the Tazio stage. When finished, click Add to apply the stage to the job's interview plan.
Configure the assessment stage
Once the stage has been added, click Edit. From there, you will see a drop-down menu that reflects the assessments that you've previously set up in Tazio.
Select the appropriate assessment, assign at least one Greenhouse Recruiting user to grade / review submitted assessment, and then click Save.
Note: All configurations of the assessment itself, as well as the email template, will need to be completed in Tazio. While you will click Send Test on Greenhouse Recruiting, the interview instructions are actually sent by Tazio.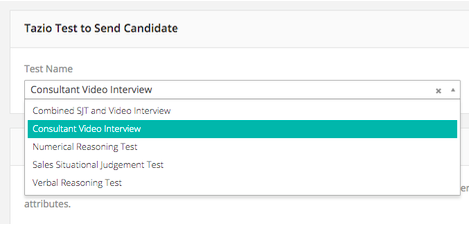 Send the Tazio assessment
When candidates are moved into the Tazio interview stage, Greenhouse Recruiting will display a Send Test link.
Note: When you send a test from Greenhouse, the interview instructions will actually be sent by Tazio.
The status of the assessment will be viewable in Greenhouse Recruiting and will display either:
Tazio Assessment to be sent.
Waiting for candidate to submit test
Scorecard due from <DESIGNATED_GRADER>
Review the assessment results
Once the candidate has submitted their test, the interview kit will contain a link to view the submitted test on Tazio.