Juro is a contract management software that allows your organization to quickly and easily manage electronic signatures on contracts. Greenhouse's integration with Juro ensures a seamless process for data transfer between the two systems. In this article, we will cover how to set up the integration, and how to map Greenhouse fields onto Juro Templates.
Connect Greenhouse to Juro
To create the integration between Greenhouse and Juro, click on the Configure icon

in the upper right-hand corner.

Navigate to Dev Center on the left-hand panel and click API Credential Management from the Dev Center page.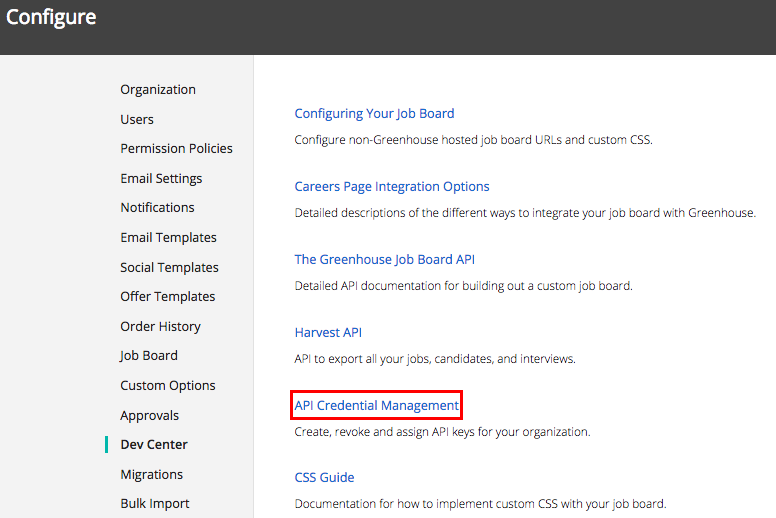 From the API Credentials page, click Create New API Key.

Use the subsequent dialog box to create a new credential. Provide a Description and select Harvest from the Type dropdown menu.
When finished, click Create.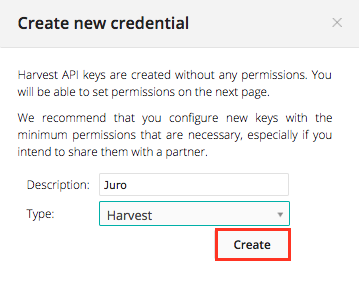 On the Manage API Key Permissions page, select the Offers endpoints. When finished, click Update.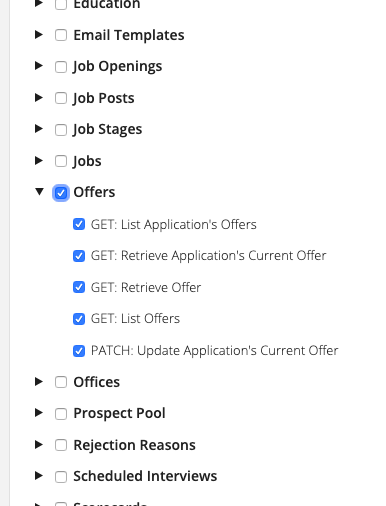 Back on the API Credentials page, your new Harvest API will be available. Click Copy to the right of the new Harvest API key.

In a new window (still leave Greenhouse Recruiting open), navigate to your Juro account and click Settings > Integrations. Navigate to Greenhouse and click Connect.
Paste the copied Greenhouse Harvest API key into the API key field. When finished, click Save. Juro will generate a web hook URL. Copy this web hook URL.
Return to your Greenhouse account and navigate to Configure > Dev Center > Web Hooks > Web Hooks.
From the Greenhouse Web Hooks page, create a new web hook by inputting:
Name: A webhook name
When: Candidate has been hired
Endpoint URL: paste the web hook URL generated by Juro
Secret key: Contact your Juro representative to get your secret key
Error recipient email: Provide a contact email for error notifications
Please ensure that the radio button Disabled? is set to No. When finished, click Create Web hook. Your Greenhouse/Juro integration should be live.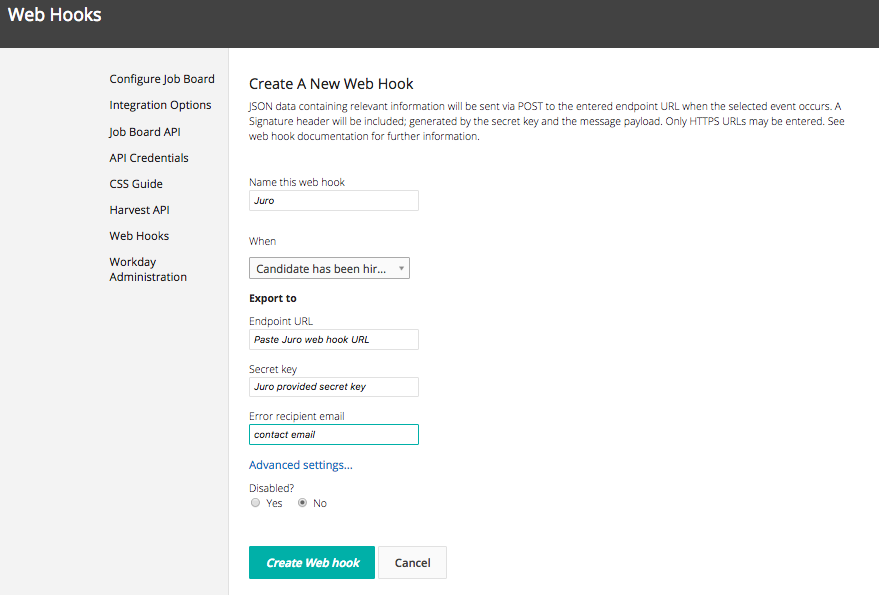 Map Greenhouse Fields to Juro Templates
To map Greenhouse Fields onto Juro Templates, navigate to Greenhouse's Configure icon

in the upper-right hand corner. Click Custom Options from the left-hand panel and then Offers on the subsequent page.
Click + Add Field.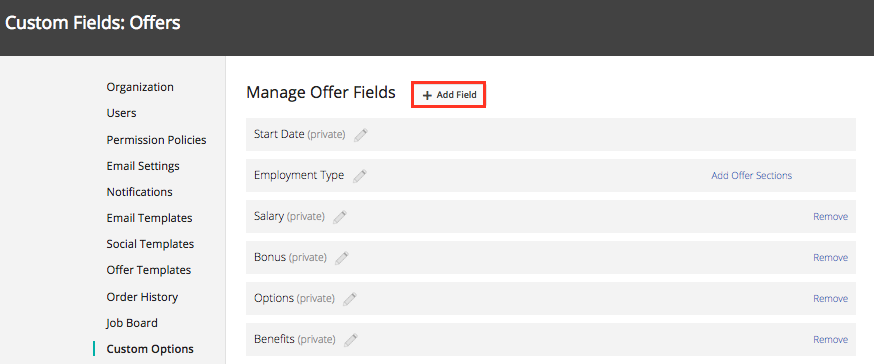 From the subsequent Create New Offer Field dialog box, input the following information in their corresponding fields:
Field: Juro Template Name
Description: optional
Type: Single select
Options: A

dd Template names from Juro (you can find these template names in the top right-hand corner in the Juro template editor). Make sure to insert each template name on a new line.
When finished, click Save.
To finish mapping Greenhouse fields to Juro templates, contact your Juro account manager for instructions.
Once the integration is created and properly configured, whenever a candidate is marked as Hired in Greenhouse a new contract will be automatically created in Juro from the selected template. Once the contract has been signed, the full signed contract will be uploaded to the candidate's Greenhouse profile.