Focus attributes for candidate roundup is an additional layer to scorecard attributes. The feature tallies attribute scores you identified as being significant for a successful candidate. The scores for these focus attributes are set at the beginning of the process and then revisited at the candidate roundup to help your team make structured decisions about who to hire and reduce unconscious shifting between decision criteria.
In this article, we will cover how to edit focus attributes for candidate roundup and preview what the feature entails during the candidate roundup. For more details about the research and reasoning behind this feature, see Structured Decision Making.
If Select scorecard attributes to focus on during candidate roundup is active, you will be able to select which attributes are the most important for the role and easily revisit the scores on these criteria during the roundup.
Note: While interviewers will see focus attributes (i.e. attributes they should focus on), they will not know which are focus attributes for candidate roundup.

Edit Focus Attributes for Candidate Roundup
Focus attributes for candidate roundup can be edited when creating the candidate scorecard for a new job or for existing jobs. We will demonstrate how to edit focus attributes for existing scorecards in this article.
To start, navigate to an existing job's candidate scorecard (All Jobs>Job Name>Job Setup>Scorecard). From this page you will find all the categorized attributes that were selected during the scorecard's creation.
Select which individual attribute you would like to make a focus attribute during roundup and click Edit in the appropriate category.

Add a checkbox underneath the Focus during Roundup column for each key attribute you would like to focus on during the candidate roundup.
When you have finished, click Save.
Note: You can also remove, rename, or add attributes while editing.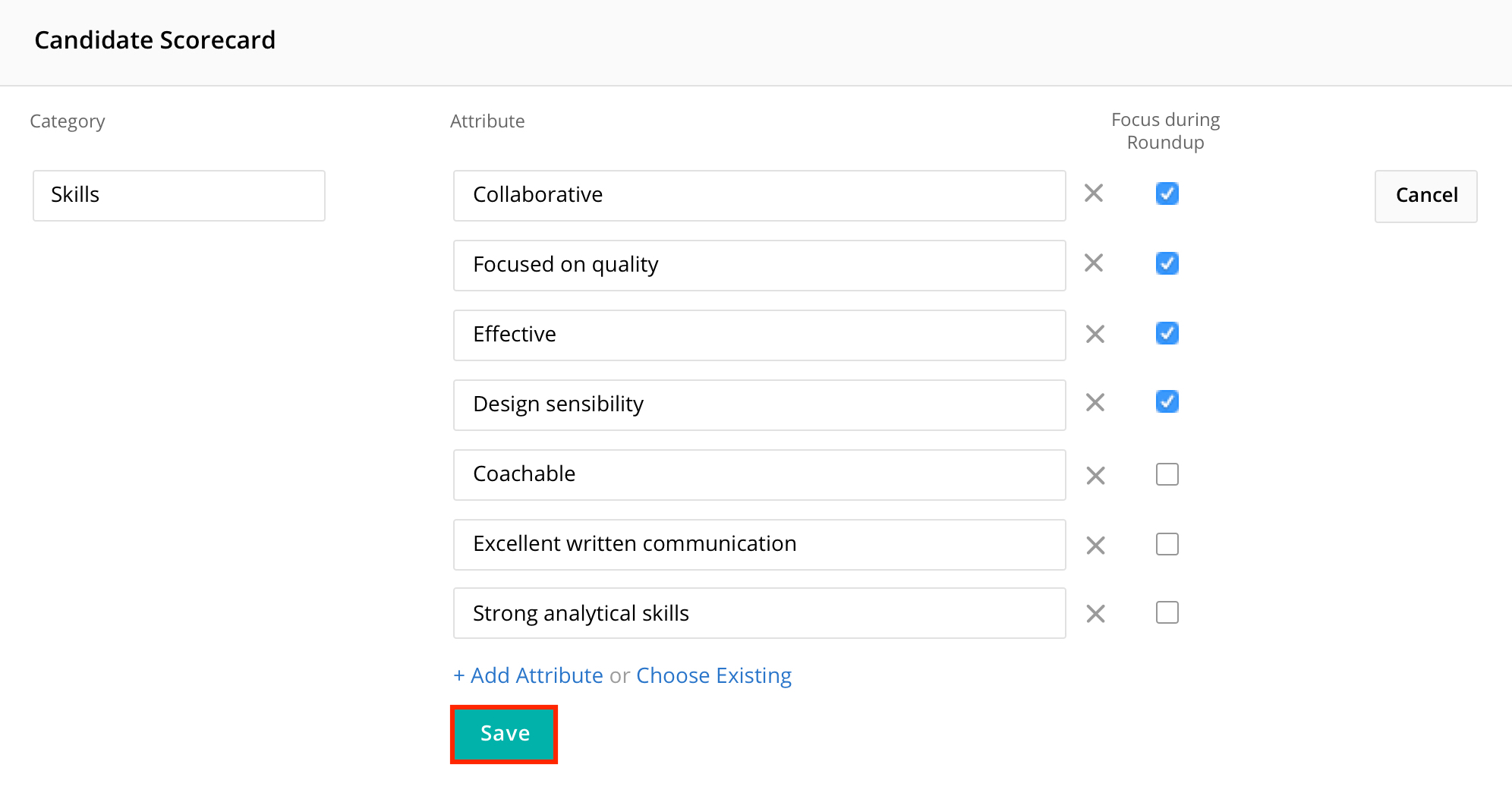 Repeat the above steps for attributes for the other categories in the scorecard.

Focus Attributes During Candidate Roundup
During the candidate roundup, your Hiring Team can retrieve the scorecards for a candidate by navigating to the candidate's profile.
Click Scorecard from the On Job panel.
Scores for your focus attributes will be displayed in its own section called Focus During Roundup. Use this section as an additional layer when comparing candidates at the roundup.