How to set up the integration with Universal Background Screening
Please contact your Account Executive at Universal Background Screening, Inc. notify them you would like to integrate with Greenhouse.
For new clients, please call (877) 263-8033 and get started with Universal Background.
Universal will provide you with the necessary information to set up a "Web Hook" at Greenhouse.
After logging in to Greenhouse, Click on Configure then Dev Center
Development menu will appear 
Click on Web Hooks.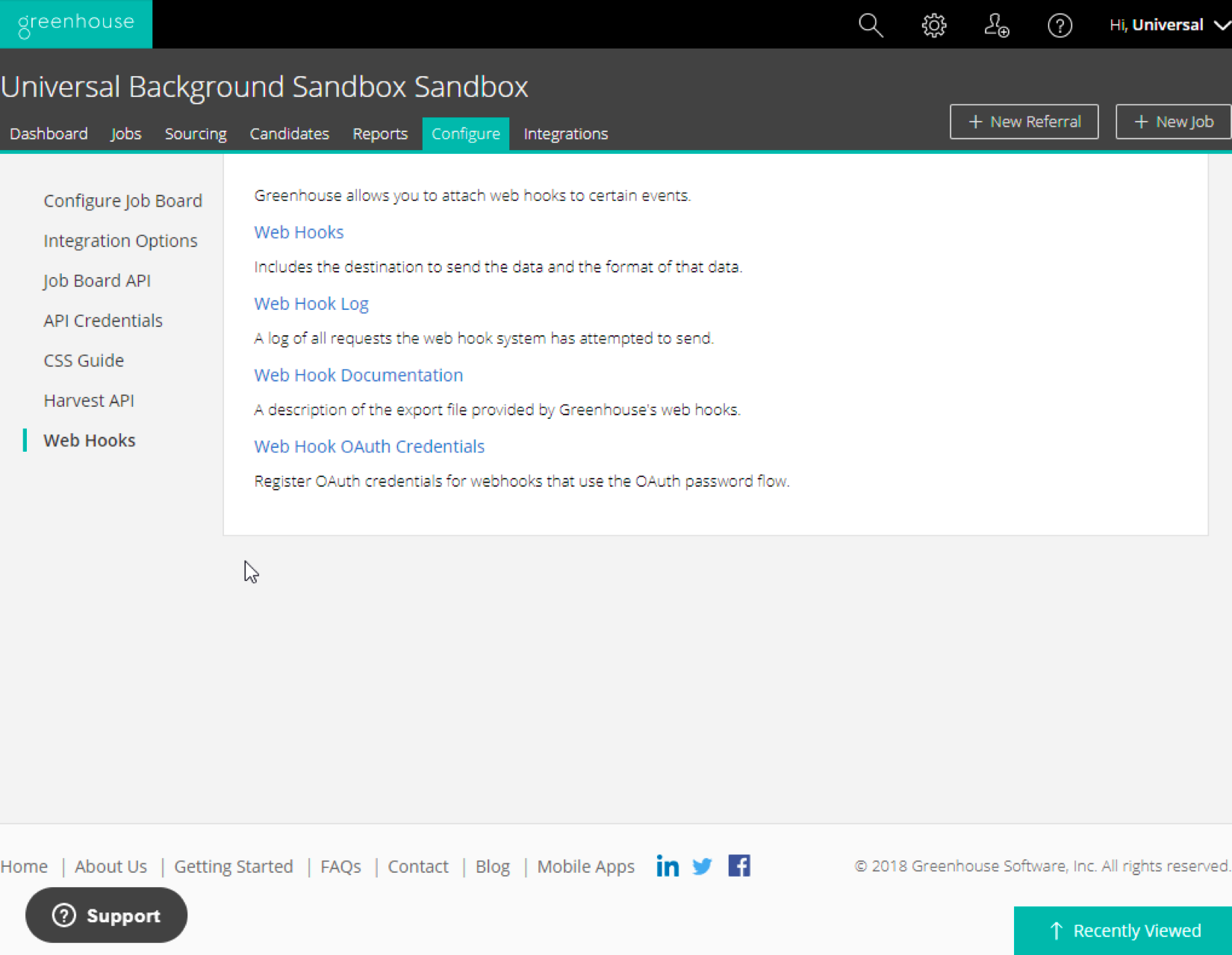 Universal must have given you endpoint URL & Secret key to create web hook

Name this web hook: Universal Background Check
When: We will be using Candidate has been hired for our sample below. This selection can be customized.
Endpoint URL: provided by Universal
Secret key: provided by Universal
Error recipient email: normally the administrator on your Greenhouse account
We don't need any advanced settings
Disabled? Please be sure to select No
Click on Create Web Hook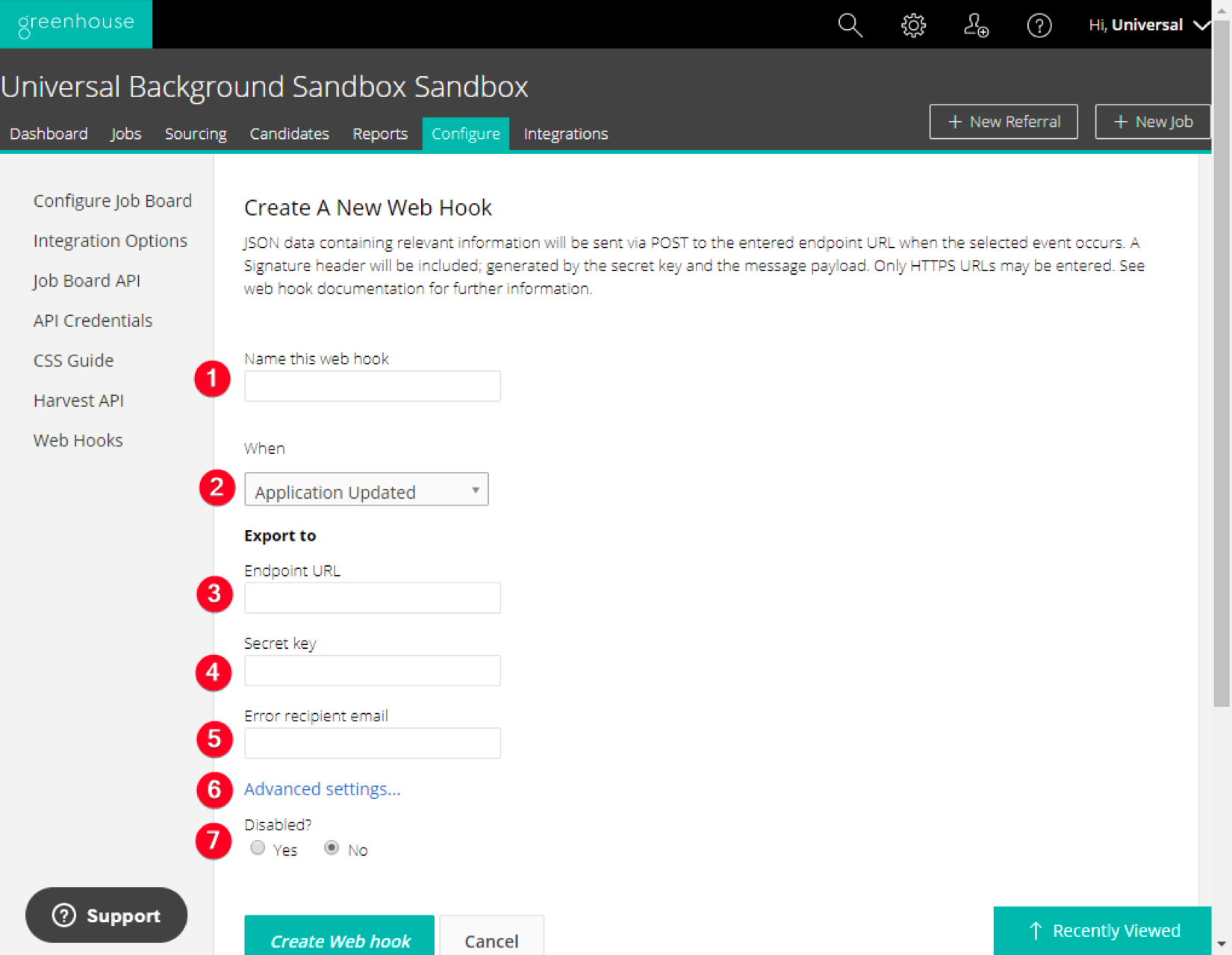 Generate an API:
This will allow the communication between Universal Background and greenhouse.
After logging in to Greenhouse, Click on Configure then Dev Center
Development menu will appear
Click on API Credential Management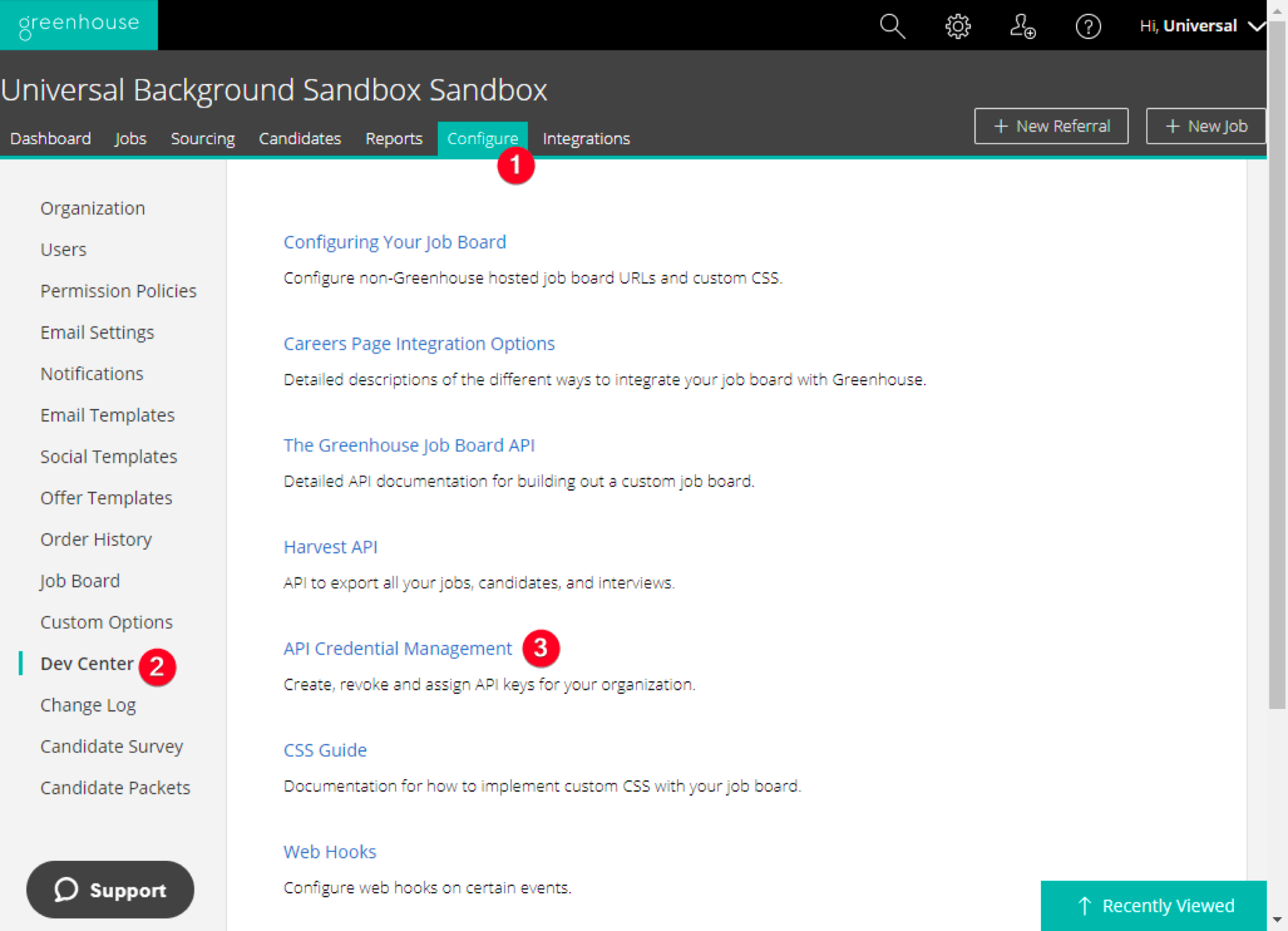 Click on Create New API Key
Enter the Description "Universal Harvest API"
Select Type: Harvest
Then Create                       
Select the minimum required fields: Activity Feed, Candidate & Education. You may click select all if desired.
Click Update
Copy the key and send to your integration manager at Universal
How to trigger the integration:
To initiate the integration, the candidate must be ready to accept an offer.
From Dashboard, Click on Candidates
Select the Candidate
Click on Move Stage
When the candidate is ready for the background check, Click on Offer stage 
Create offer if it's not created yet
The moment you click on offer accepted, the order will be immediately sent to Universal Background
To verify this, Go to Activity Feed on Candidate's page
There will be a note saying:
"Universal Background has updated Status to "Success" which means Universal has received the information.
A link will appear when you click you will log in to Universal Client portal, and all the candidate's information will be available, select the package you need and order the Screening.
When a partial or a completed report is available, you can find the update on the candidate's activity feed, you may click on the link to view the report directly.