The following guide will show you how to import a job from a Workday RaaS in Greenhouse. We recommend taking the following steps if you've just enabled the Ready to Hire RaaS in Greenhouse, and want to make sure that you can import jobs from Workday as expected:
Prerequisites
The Workday RaaS Job Import integration

must be enabled

.

You must have the permission to create jobs in Greenhouse. If you are an integration developer, please see the recommended

developer permissions guide

. You will need assistance from a Greenhouse administrator at your organization if you do not already have this permission.
1) Select Create a Job
2) Select the Workday position to import and associate with the new Greenhouse job. Using the box in the upper right hand corner you can search for positions by name or requisition ID.
3) Select Start from scratch or Start from a copy of an existing job as you normally would. If you start from a copy of an existing job or a sample template, this will populate the parts of the job that do not come from Workday (eg. Interview Plan, Scorecard, Job Post). Select either to continue.
4) You will see the position or job information from Workday pre-populated under the Job Details section in the first Job Info step.You should review these fields to make sure that the Workday job data has been imported correctly.
Note: If you are not actually ready to import the position into Greenhouse, click Cancel in the upper right-hand corner to navigate away from the workflow and end the job creation process.
FAQs
Am I required to select a job to import when creating a new job?
No. At the bottom of the list of jobs, you will find the option to skip the import step. Clicking this link will allow you to continue without selecting a job from Workday.
Common Troubleshooting Steps
What should I do if I encounter an error when I click + New Job after configuring the RaaS?
If the list of available Workday positions will not load, we recommend first checking to make sure that the RaaS credentials are correct. To check RaaS credentials, go to Configure > Dev Center > Workday > Integration Credentials page.
If you see (failing) next to your credentials, this means we received an unauthorized error when we tried to use the credentials to access the ready to hire report. We recommend checking in Workday to make sure that the credentials are correct and then updating them as needed. Once the credentials have been updated, try clicking + New Jobs again.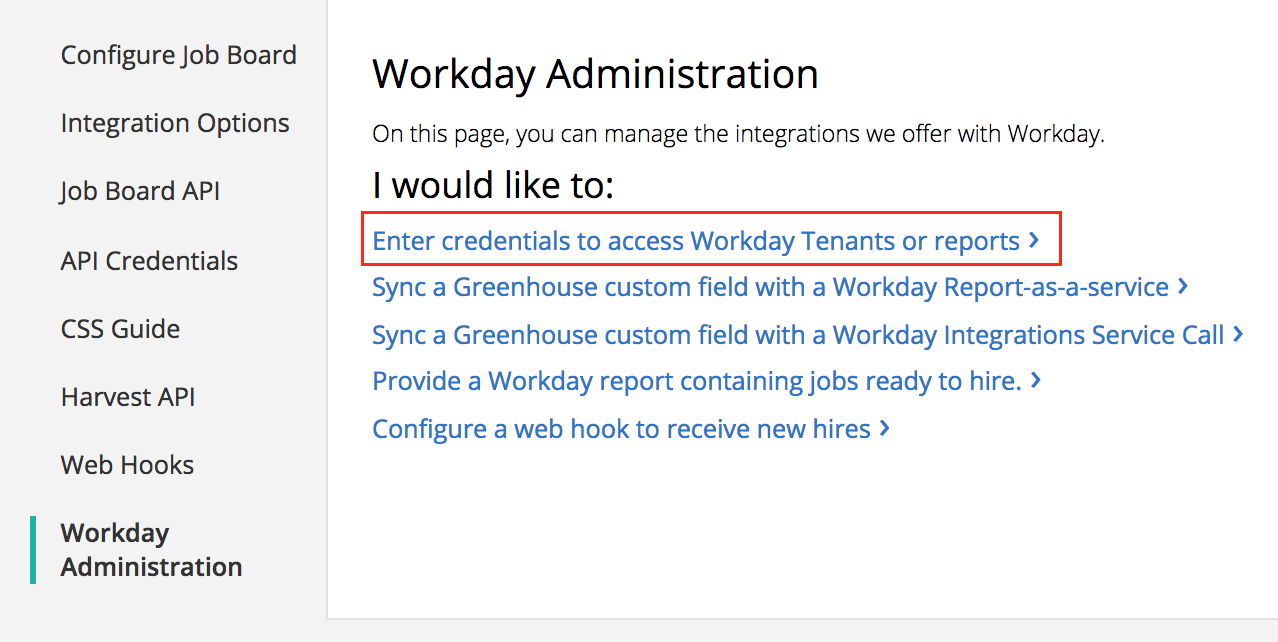 What should I do if a job field is missing in Greenhouse?
In order to import a value from a Workday position to a job field in Greenhouse, the field must already exist in Greenhouse. Fields can be added to jobs in Greenhouse by navigating to Configure > Dev Center Custom Options > Jobs.
If the field type you are adding is a single or multi select field that includes a list of available options the values you are importing from Workday also must match an option that already exists in Greenhouse. If the corresponding Workday field has many option values to add, you may want to consider building a custom options sync. For more information on syncing custom field options, please see our guide here.
What should I do if a job field value is missing?
Check to make sure that the name of the element in the Workday RaaS matches the name of the field in Greenhouse per our instructions. The names of all Greenhouse custom fields can be found under Configure > Custom Options. Greenhouse looks to match the Workday element name in the RaaS to the name of the Greenhouse field, for example:
Keep in mind that Greenhouse cannot match fields that have non-alphanumeric characters in the name. For example, we cannot match <wd:replacement_role> to a field named "Replacement Role?" in Greenhouse. In these cases, we recommend removing the character, such as "?" from the field name in Greenhouse.
We also recommend checking the Workday RaaS to make sure that the field and value have been included in the report as well.