With this integration, users will be able to source, access, engage, and track candidates from WayUp. 
Configuring the Integration
Go to your business profile to connect your Greenhouse account to WayUp.
You must have an appropriate subscription level to integrate with Greenhouse. If you are not on a subscription tier with Greenhouse included, you'll see a tooltip directing you to upgrade.

If you have the Greenhouse integration included in your subscription, simply click the "Link with Greenhouse" button. 

On the Greenhouse pop-up, click "Authorize."

You'll be taken back to WayUp, and you should see that you're linked with Greenhouse!

Adding Candidates to Greenhouse
Once you've linked your Greenhouse account, you can start linking jobs. WayUp submits applicants you receive to Greenhouse automatically by linking your WayUp job to your job in Greenhouse.  Start by going to the "My Listings" page.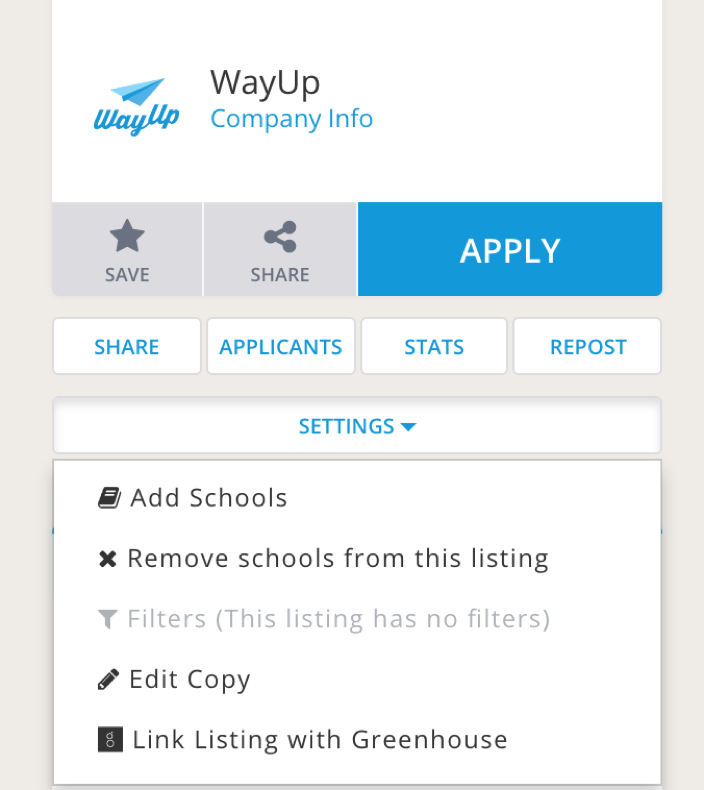 Once you've found the job you'd like to link, click the "Settings" dropdown below the job, and then click "Link Listing with Greenhouse."
A screen will pop up showing you all of the jobs your company currently publishes to your public Greenhouse job board, along with direct links to those jobs for reference. First, select the Greenhouse listing you would like to link. Then, if you've already received applicants to this job in WayUp before linking with Greenhouse, you have the option to import all the applicants you've already received into Greenhouse while linking. Finally, press connect to link the jobs and send all future applicants to that job to Greenhouse. Repeat this for each job you'd like to link.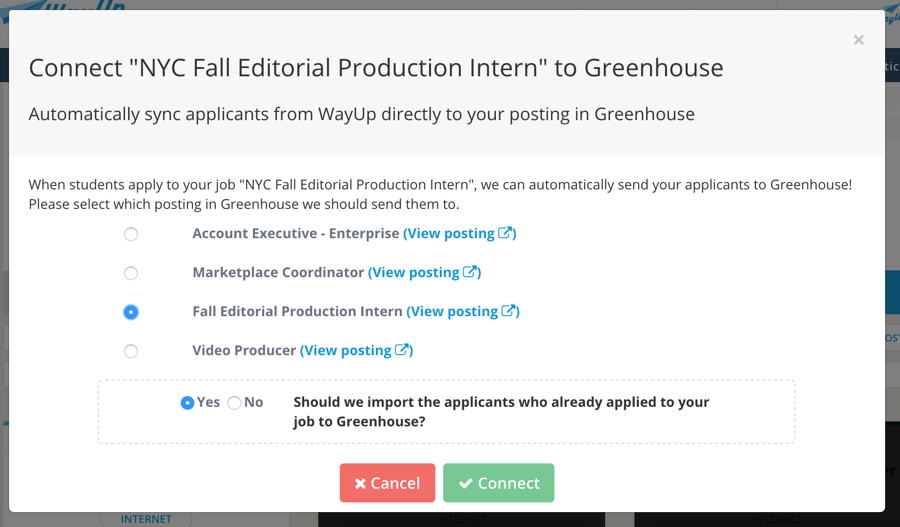 New applicants will be submitted as applicants (not prospects) to the linked Greenhouse job posting, and will include their full resume as well as answers to any custom application questions that you have specified in your WayUp job listing.