Landing.jobs is a tech recruitment marketplace dedicated to matchmaking top tech professionals with curated job offers from top employers. With a chronic tech skills shortage across the globe, high-caliber candidates are in high demand and yet are still lost in the noise of generic job boards or overlooked by recruitment agencies that lack increasingly complex sector knowledge.
Greenhouse Recruiting's integration with Landing.jobs allows you to source, access, engage, and track candidates from Landing.jobs.
Enable the Landing.jobs integration
To enable the integration, log into Landing.jobs.
Go to your company profile page and click the Integrations tab.
Find the Greenhouse tile and click Connect.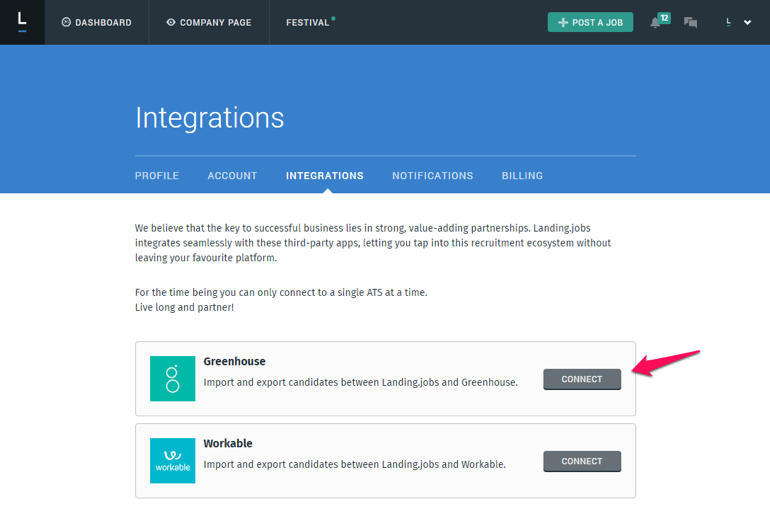 Enter your Greenhouse email address and password and click Authorize.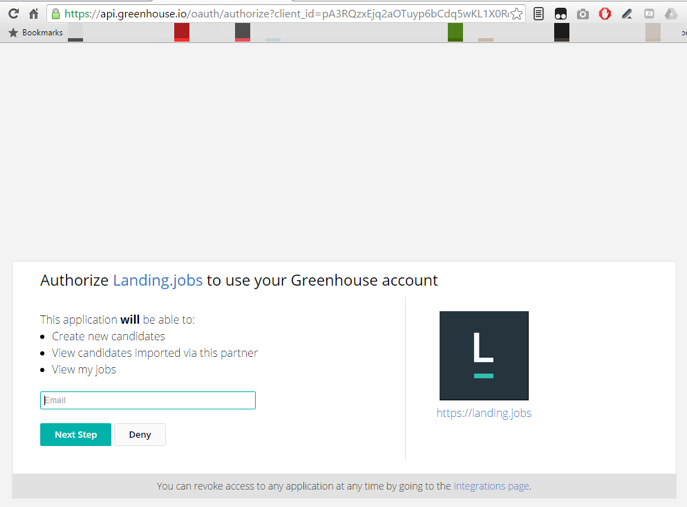 You'll see a success message at the top of the page confirming that the integration is live.
The Greenhouse tile on your Integrations page will also now have a Disconnect button.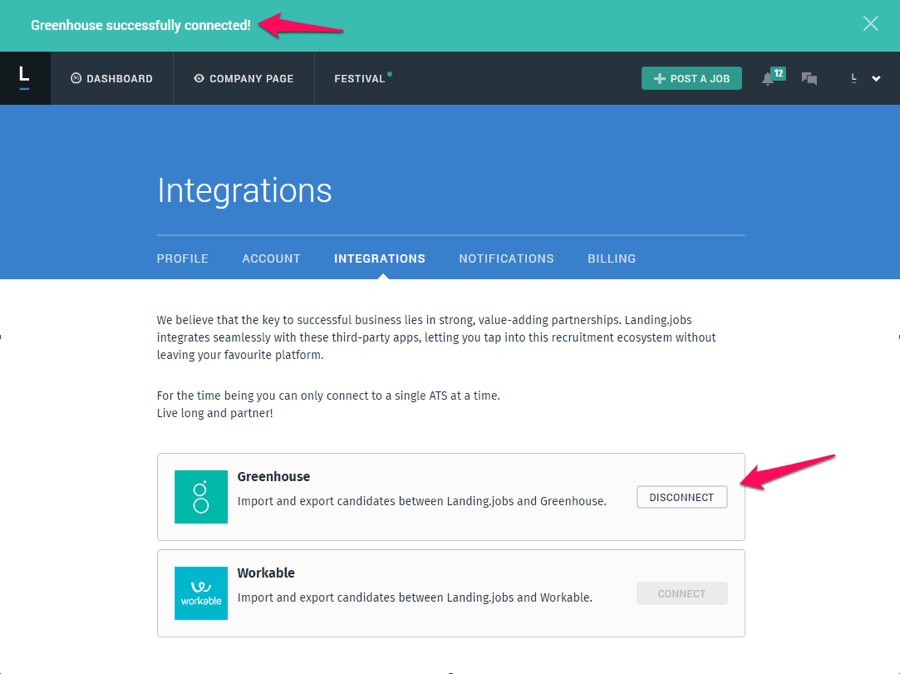 Use the Landing.jobs integration
Add candidates to Greenhouse Recruiting
On your dashboard, you'll be able to select a job in Landing.jobs and pair it with a job in Greenhouse Recruiting.
Open the job in Landing.jobs.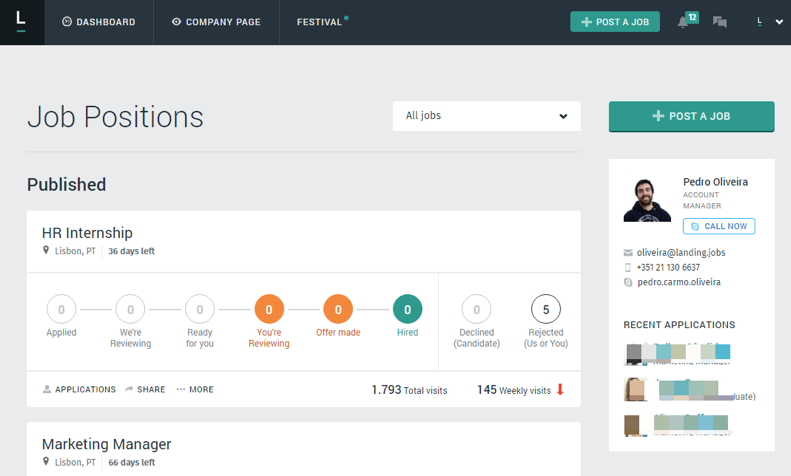 On the Job dashboard, click Pair with Greenhouse in the top right corner of the page.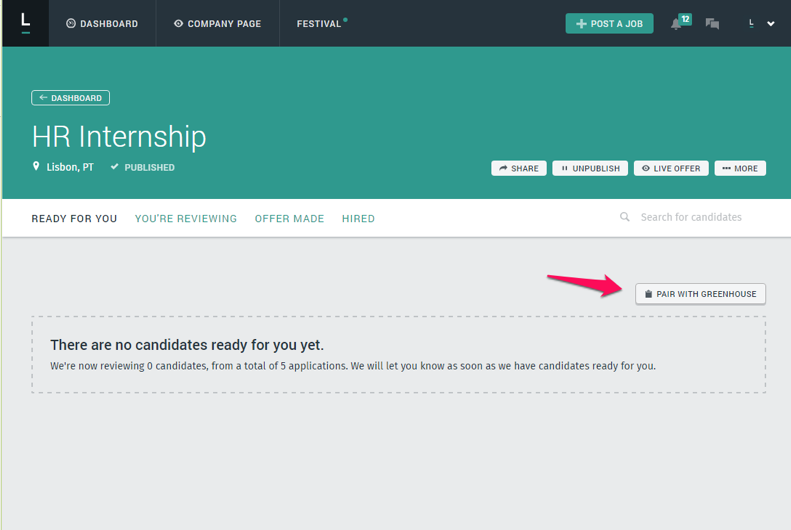 You'll now see the list of all of your Greenhouse Recruiting jobs. Select the job that you'd like to pair with Landing.jobs and click Pair.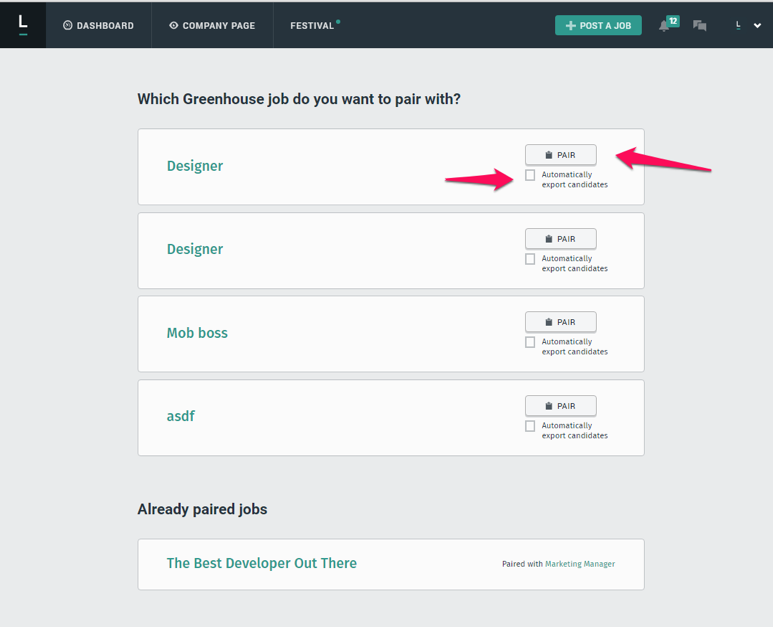 Enable the Automatically export candidatescheckbox to receive Landing.jobs candidates automatically in your Greenhouse Recruiting account. This way, when Landing.jobs completes reviewing a candidate, you won't need to sign in to Landing.jobs to manually export them.
If you would prefer to manually export candidates from Landing.jobs to Greenhouse, untick the Automatically export candidates box.Then, follow the steps below for each candidate you'd like to export to Greenhouse:
Open the candidate's application in Landing.jobs and click More.
Click Export to Greenhouse.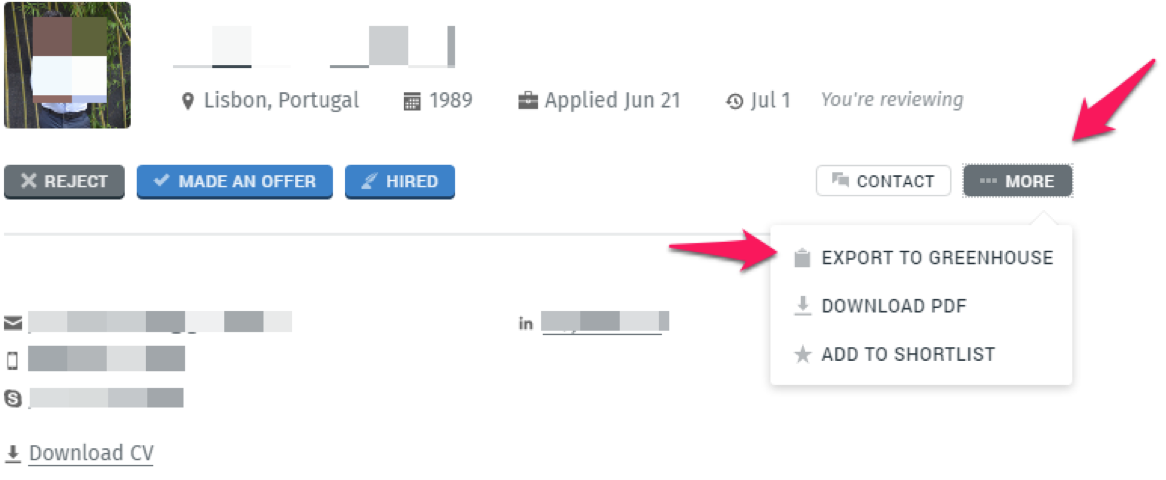 Track Greenhouse Recruiting candidates in Landing.jobs
You'll also be able to track a candidate's Greenhouse Recruiting status within Landing.jobs.
On the Application screen, find the Greenhouse application status tile and click Sync.This will update the Landing.jobs record with the current state of the application in Greenhouse Recruiting.

Additional resources
If you have questions or need additional support using this integration, reach out to Landing.jobs at wegotyourback@Landing.Jobs.