With this integration, users will be able to source, access, engage, and track candidates from Landing.jobs.
Configuring the Integration
1. Log into Landing.jobs. Then, go to your company profile page and open the "Integrations" tab.
2. On the Greenhouse card, click Connect.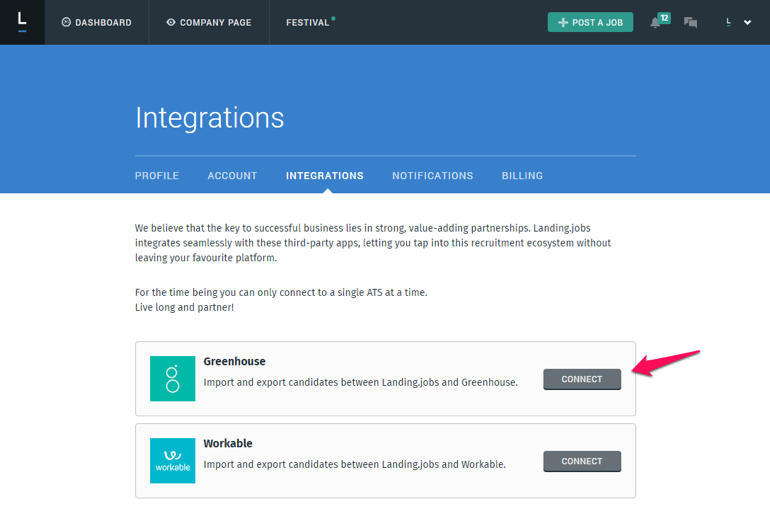 3. On the next screen, enter your Greenhouse email address and password.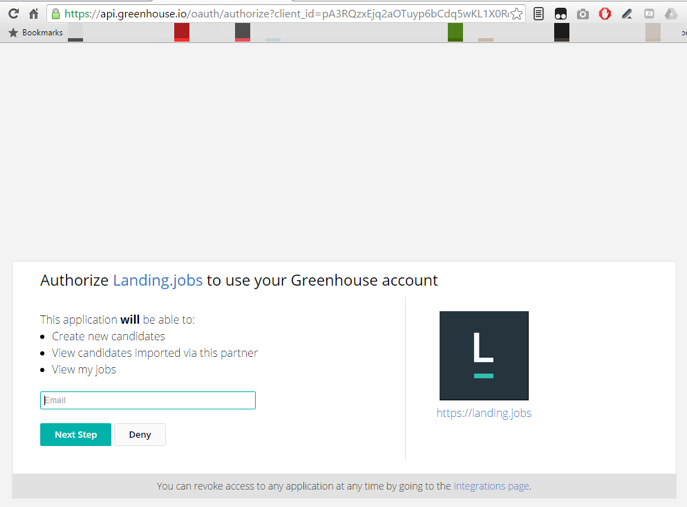 4. You'll see a success message at the top of the page confirming that the integration is live. The Greenhouse card on your Integrations page will also now have a "Disconnect" button, if you ever need to disconnect your Greenhouse account from Landing.jobs.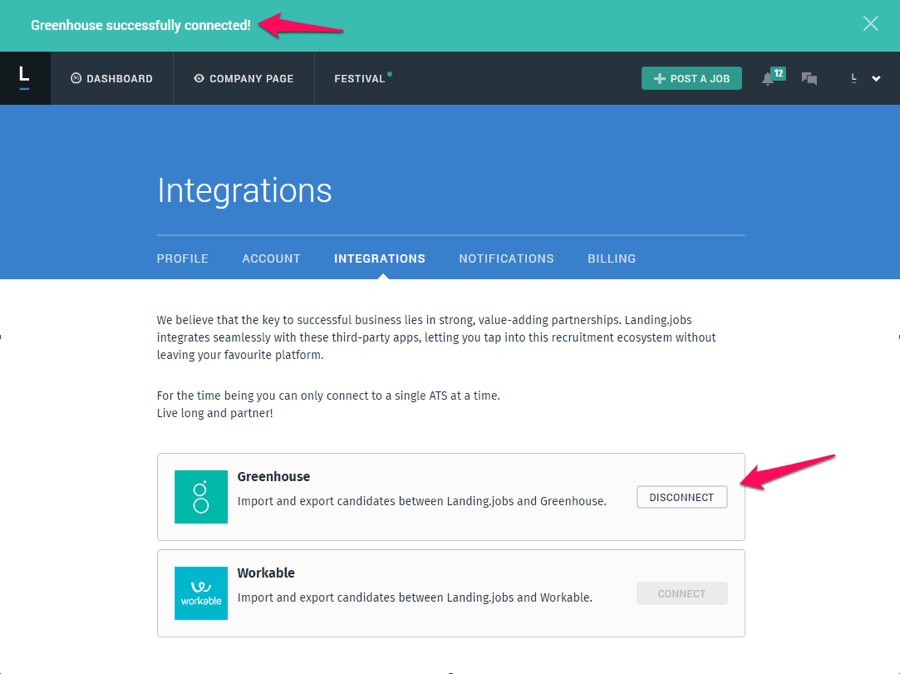 Adding Candidates to Greenhouse
On your dashboard, you'll be able to select a job in Landing.jobs and pair it with a job in Greenhouse.
1. Open the job in Landing.jobs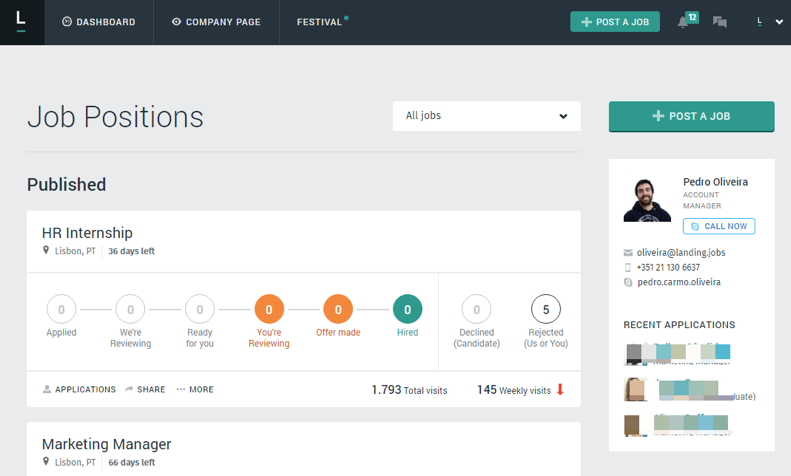 2. On the Job dashboard, click the Pair with Greenhouse button in the top right corner of the page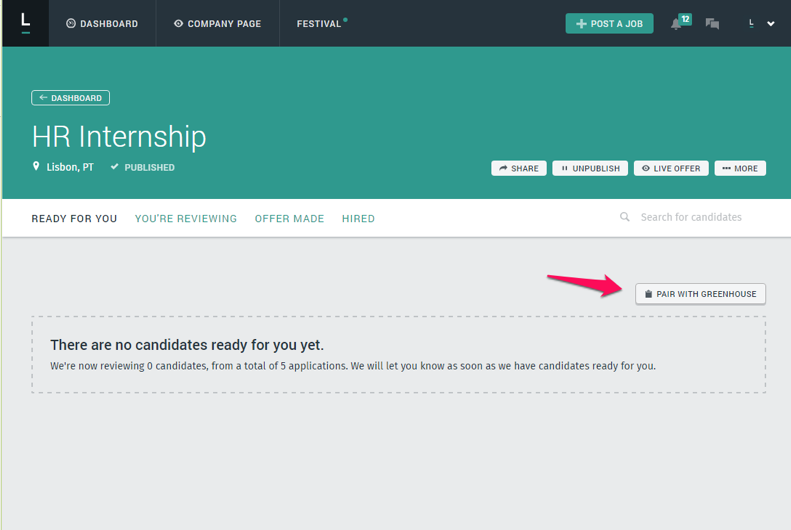 3. You'll now see the list of all of your Greenhouse jobs. Select the job that you'd like to pair with Landing.jobs and click Pair.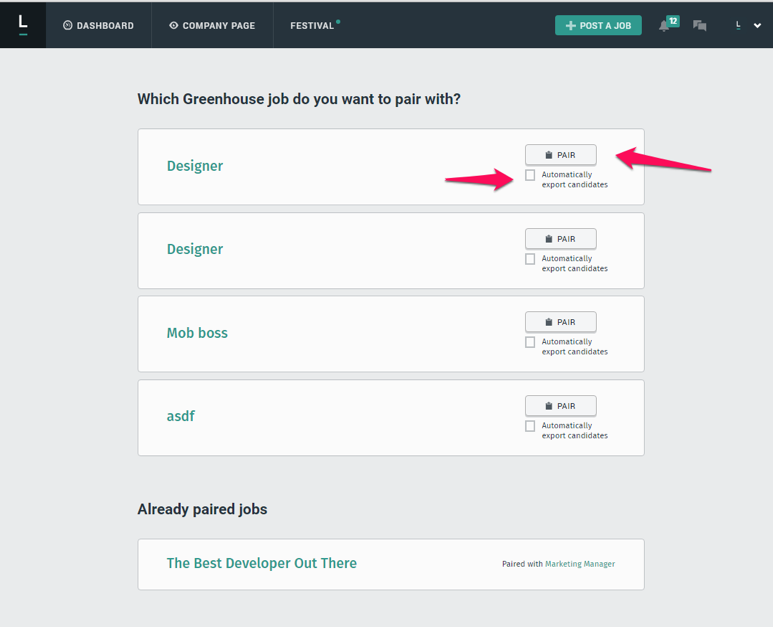 4. Tick the Automatically export candidates box to receive Landing.jobs candidates automatically in your Greenhouse account. This way, when Landing.jobs finishes reviewing a candidate, you won't need to sign into Landing.jobs and to manually export them. Instead, you'll receive new candidates directly to Greenhouse, including all of the candidate's information in Landing.jobs.
If you would prefer to manually export candidates from Landing.jobs to Greenhouse, untick the Automatically export candidates box. Then, follow the steps below for each candidate you'd like to export to Greenhouse:
a. Open the candidate's application and click More.
b. Click Export to Greenhouse.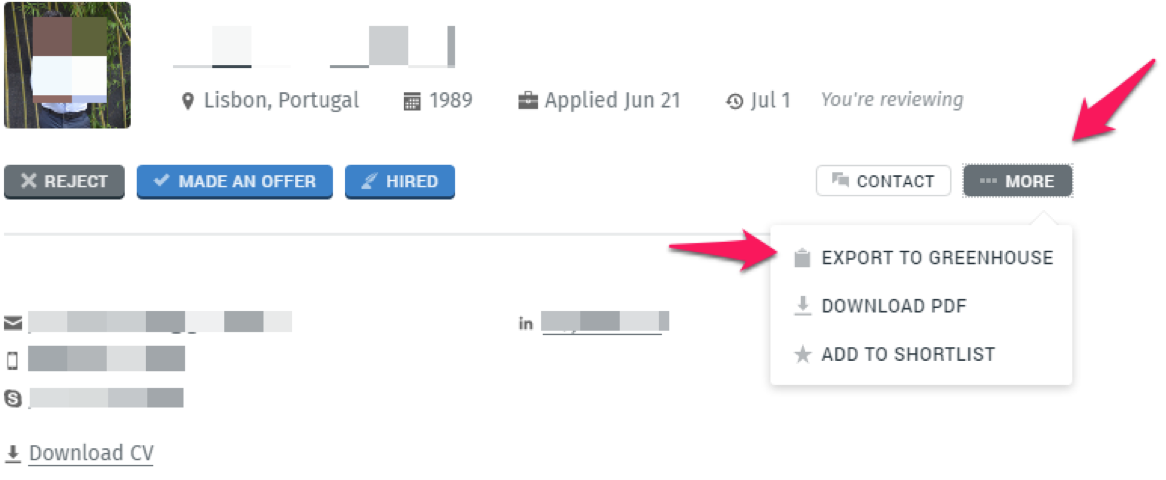 Tracking Candidates in Landing.jobs
You'll also be able to track a candidate's Greenhouse status within Landing.jobs.
1. In the "Application" screen, find the Greenhouse application status card and click Sync. This will update the Landing.jobs record with the current state of the application in Greenhouse.