With our new integration with Broadbean, you can post and manage jobs to your preferred advertisement channels all through Greenhouse. Broadbean lets you access their enormous network of job boards — including free and niche sites — and conveniently allows you to use one platform to multi-post your job advertisements.
First, you'll want to reach out to your Broadbean Account Manager to let them know you'd like to integrate the two products. They will coordinate with Greenhouse to connect your Broadbean API secret key to your Greenhouse account, allowing both systems to speak to each other and send information back and forth.
Additionally, Broadbean will need the list of job boards you wish to post to, as well as a corresponding tracking link for each one so that all applicants coming from Broadbean can correctly be sourced and reported on back in Greenhouse. You can generate these on the Configure > Job Board page within Greenhouse.
Once the two systems are linked with the API secret, users will be able to put in their Broadbean Username on the integrations page (app.greenhouse.io/integrations). Any user that wishes to use the integration will have to put in their username here. 

Now that that's done, you can go to any job with a live external job post and export it to Broadbean! Here's how — first, select the job, then go to Sourcing > Third-party boards. Since Greenhouse knows your Broadbean account and username, it can now show you an "Export to Broadbean" button. Click that to begin sending jobs from Greenhouse to Broadbean.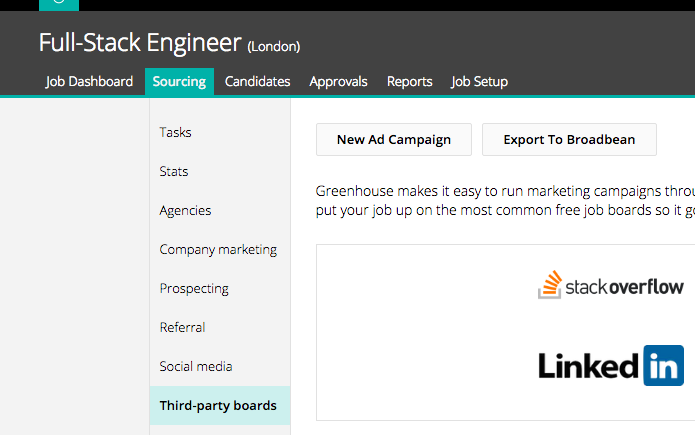 From there, you will be taken over to Broadbean and can choose all the job boards you wish to post to, edit any of the advert details, and finalize the posting. All of this is done through Broadbean's interface, which is optimized for managing advertisements to many many job boards.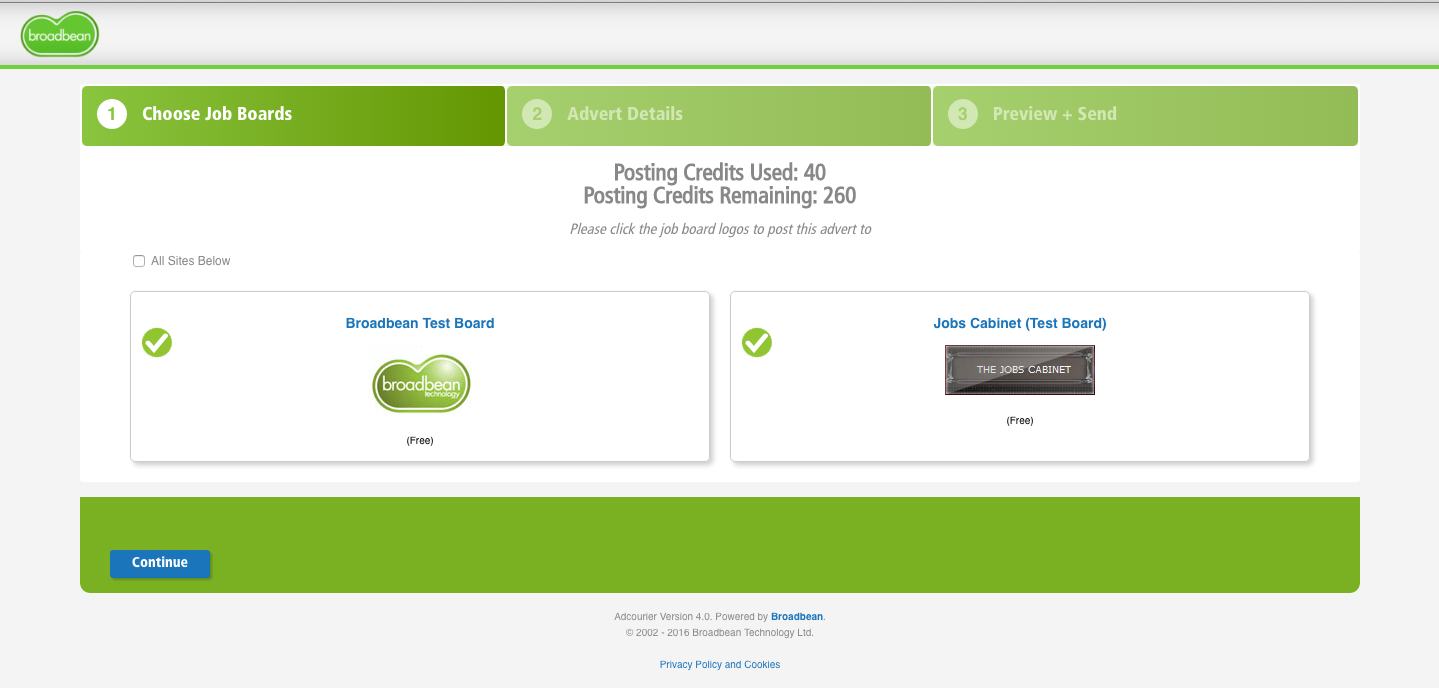 Finally, once the job advertisements have been accepted, you'll be taken to a confirmation step. Clicking Continue from here will take you back into Greenhouse. 

Now that you've sent a post over to Broadbean, a new section of the Third-party boards page in Greenhouse will appear to show you:
What boards you've posted to and the links to those live posts
The number of clicks on those posts
The overall activity and status of those posts
The option to republish the posts, delete all of the posts, or delete individual posts