Zenefits provides purposeful HR and payroll software services for small and mid-size companies. Greenhouse Recruiting's integration with Zenefits allows your organization to import candidates from Greenhouse Recruiting into Zenefits.
Note: This integration only needs to be enabled by one member of your team. Once the integration is enabled by a single user, it's available for all Greenhouse Recruiting users in your organization.
Enable the integration
Your organization must retrieve the following credentials from Zenefits before the integration can be enabled:
To find these details, first log in to your Zenefits account and click Add an App.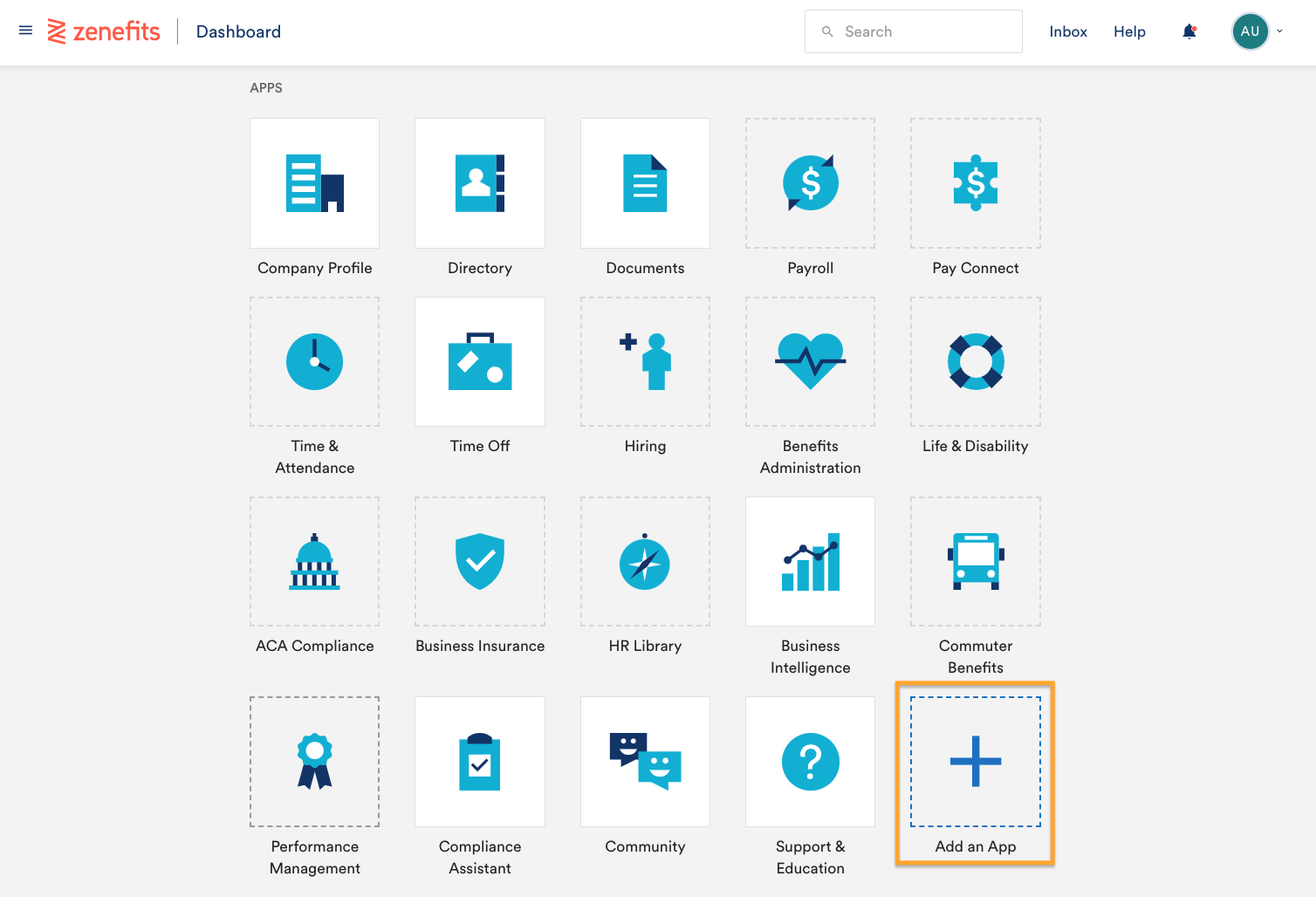 Find the Greenhouse tile and click Learn More.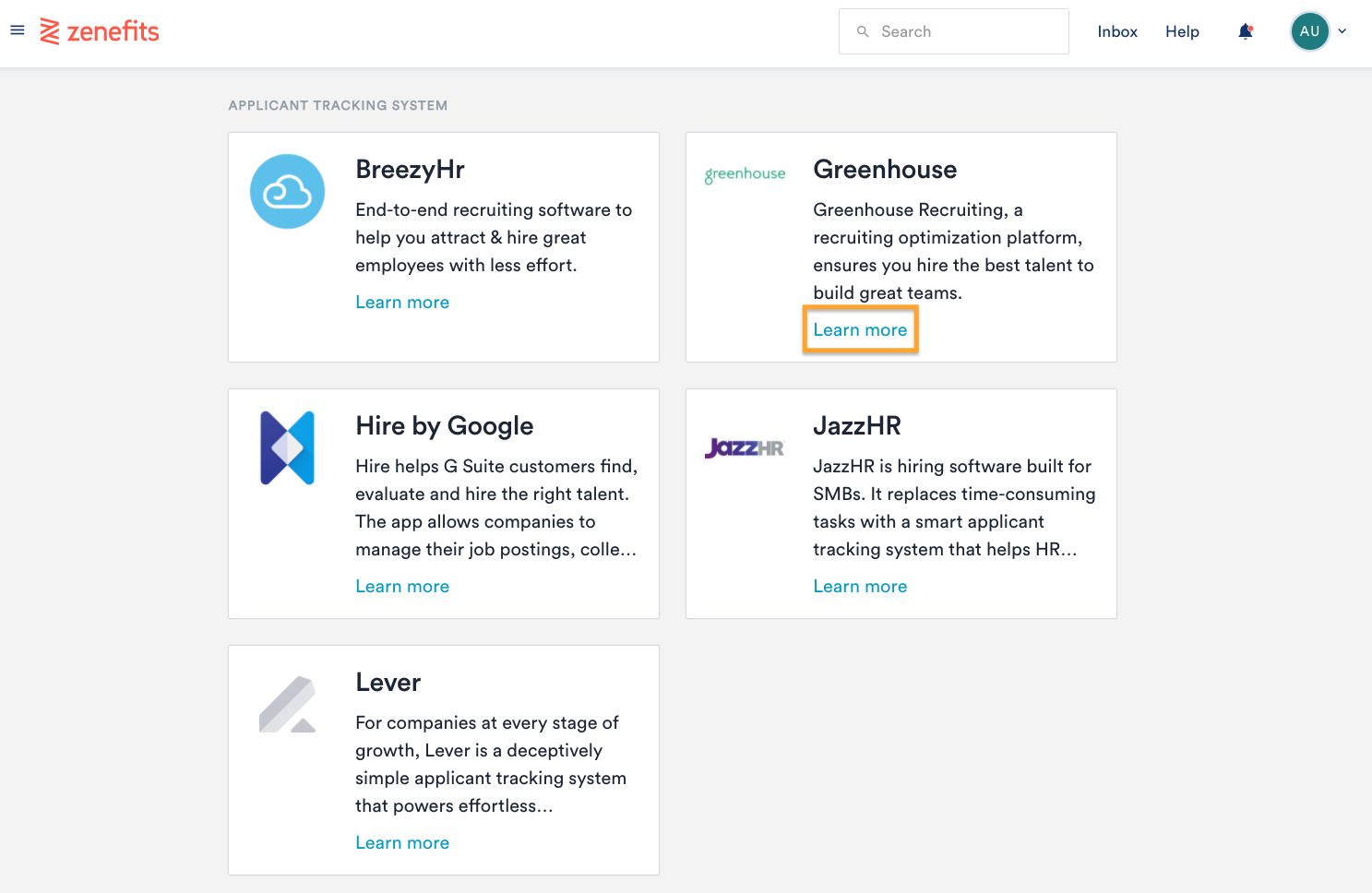 Click Connect Existing.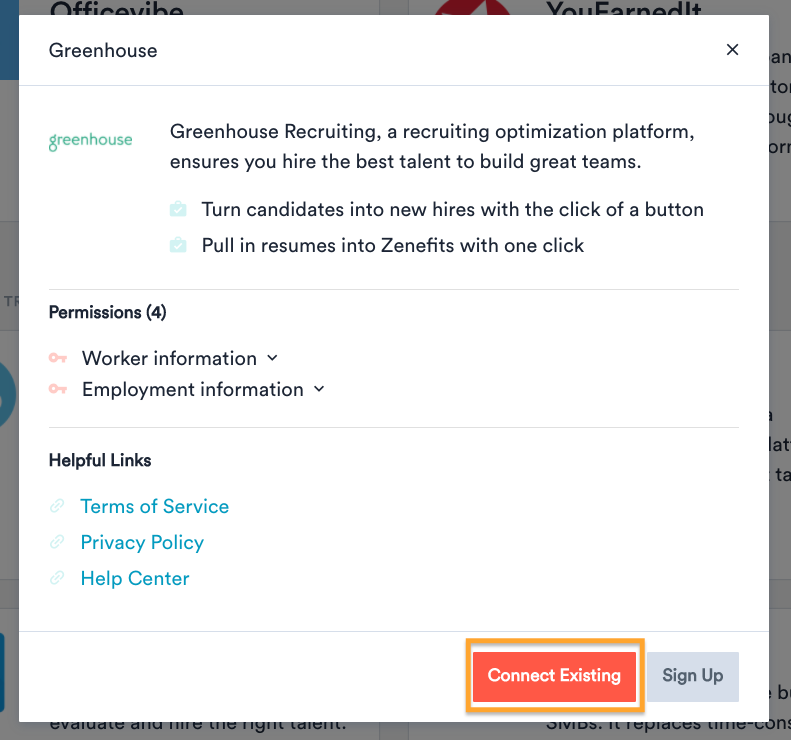 A new tile will populate the company ID and secret key for your organization. Copy these credentials to add to Greenhouse Recruiting in the next step.
Note: Only the person who initially enables the integration for your organization's Greenhouse Recruiting account can edit or remove the integration from your organization's account configuration in the future.
Next, log in to Greenhouse Recruiting, and click Integrations on your navigation bar.

Search for Zenefits, and click Zenefits from the results list.
Click Connect.
Paste the company ID and secret key obtained from Zenefits.
When finished, click Save. Once complete, integration will be enabled for your organization.
Use the integration
Once the integration is enabled, people with the following permissions can export a candidate to Zenefits:
Job Admin who Can view and edit private candidate and application fields
Site Admin who can see private notes, salary info, manage offers, request approval, and approve jobs / offers
To export a candidate to Zenefits, navigate to a candidate's profile and click the Private tab.
Find the Background Check panel and click Export to Zenefits.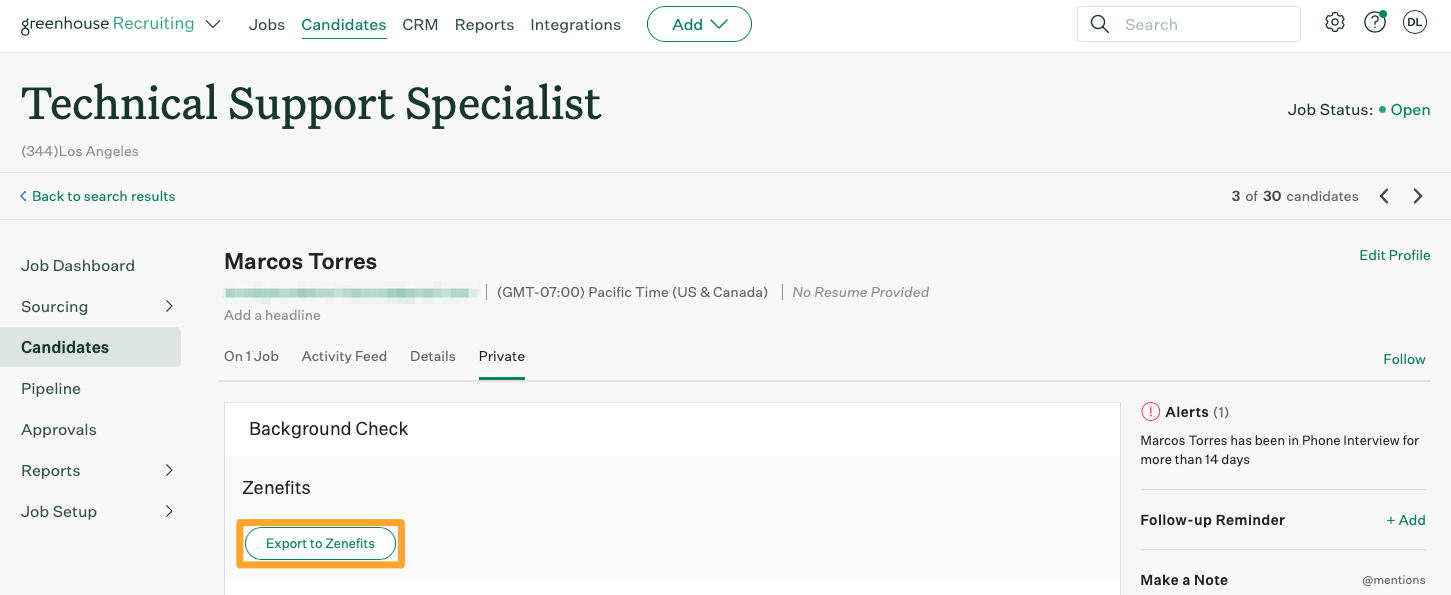 The following details will be sent to Zenefits:
Name
Resume
Job title
Job start date
Email address
Note: A candidate must have a current offer in Greenhouse Recruiting to be exported to Zenefits. However, offer details do not sync to Zenefits.
To view the imported candidate in Zenefits, click Workers > Add on your Zenefits dashboard.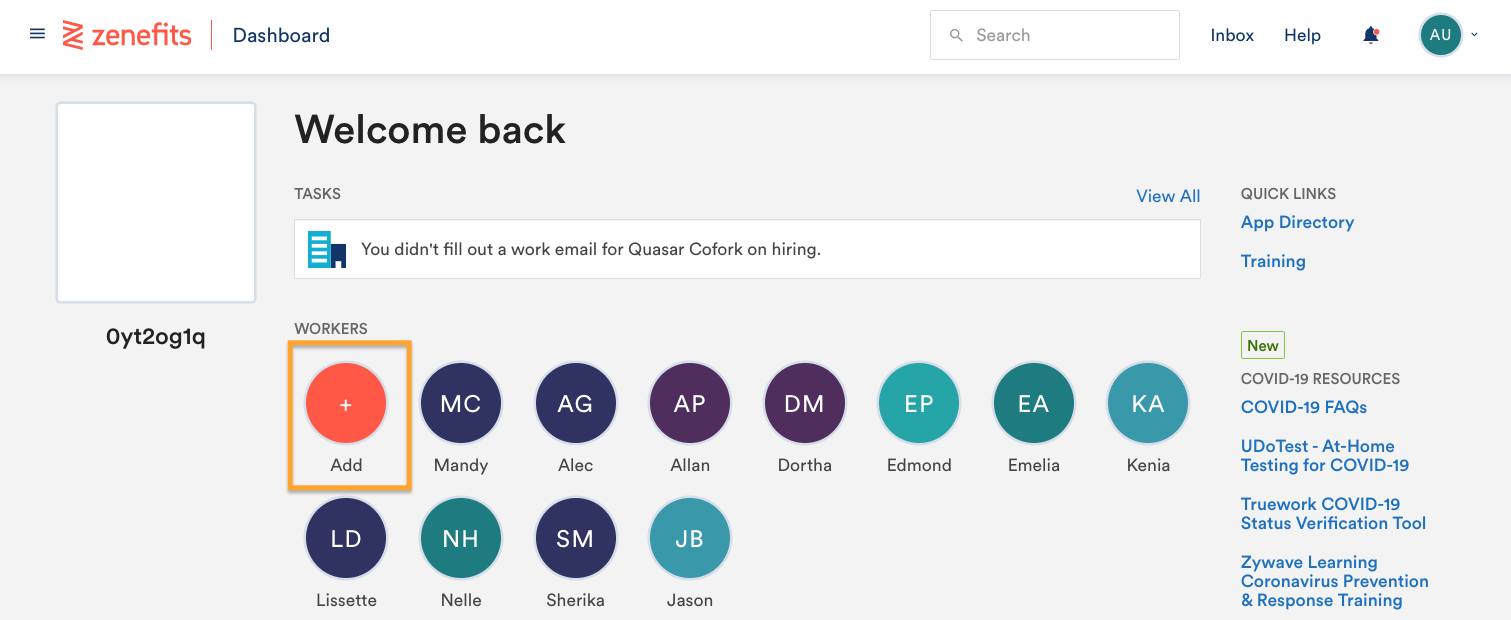 In the Import the new hire from ATS dropdown, select the candidate you exported from Greenhouse Recruiting.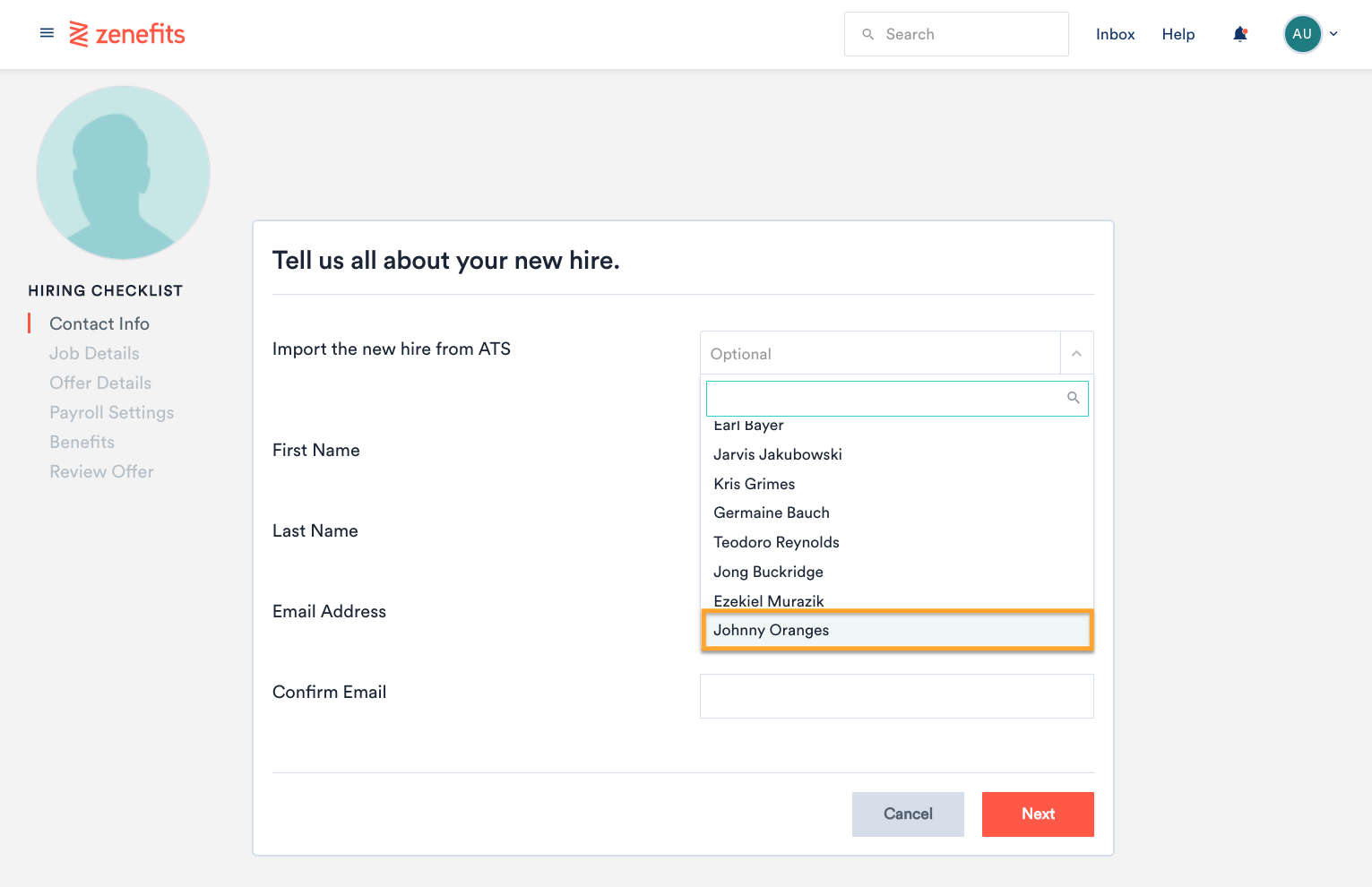 Follow the Add Worker workflow in Zenefits to finish adding the candidate. You'll see the fields that were synced from Greenhouse Recruiting are automatically populated!