In addition to the free posting on GlassDoor and Indeed, you can now post all of your jobs to LinkedIn for free using their new LinkedIn Limited listings. While these free ads won't show up as prominently as ads purchased directly through LinkedIn, they will hopefully expand your reach and allow you to access an additional subset of candidates without ever having to lift a finger!
Unlike the other free boards, LinkedIn Limited posts are handled on the organization level, meaning they will be either on or off for every job that is currently live on your job board. Site Admins can go to the Configure > Job Board page and select Edit next to the external job board to toggle them on.

Any candidates who apply through the link will be listed with the source LinkedIn Limited Listing. If you wish to remove a listing, you can simply take its job post offline to remove it from LinkedIn.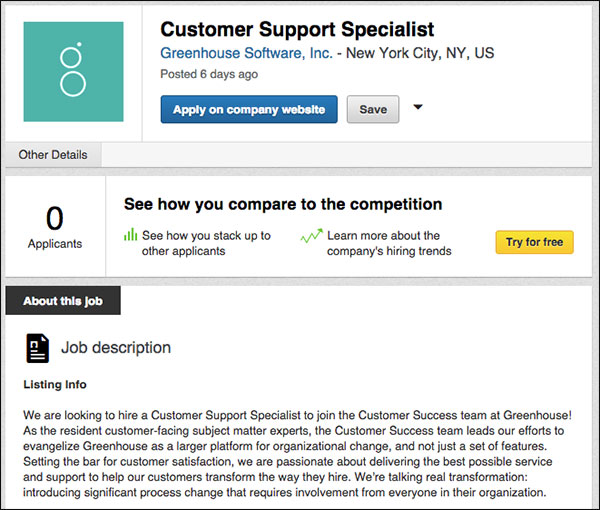 LinkedIn will attempt to match your company name with the correct company page on LinkedIn, but it's not always perfect. To ensure your ads always appear in the right place, please add your LinkedIn company ID on the Configure > Job Board > Edit page. You can find your company ID in the URL of your company page (e.g. linkedin.com/company12345).
How are limited listings different from LinkedIn Job Slots and LinkedIn Job Posts?
LinkedIn Job Slots / Posts retain all of their existing functionality, but limited listings differ in the following ways:
Limited listings only appear in search, after relevant LinkedIn Job Slots and Posts, and do not in the recommendations throughout the site (e.g., "Jobs You May Be Interested In" module and email, "Work With Us" ads, "Similar jobs" recommendations, etc.). This means that they are only visible to the subset of our members who are actively looking for jobs.
Posters are not able to manage limited listings in Recruiter (or for online, through

LI.com

), meaning that they don't have access to Job Analytics, suggested matches ("Talent Match," which is being renamed as "Suggested Professionals"), people who have viewed the job, etc.
Limited listings cannot be sponsored across the site.
Keywords: [linkedin limited listings, post to linkedin, linkedin posts]