Note: LinkedIn Job Wrapping is a paid service on LinkedIn that can be leveraged for free if you have 50 job slots or more. For more details, contact your LinkedIn Relationship Manager.
If you don't want to create a tracking link in Greenhouse each and every time you post a job ad on LinkedIn, you can talk to your LinkedIn Relationship Manager about LinkedIn Job Wrapping. In order to implement job wrapping, you will need to provide your LinkedIn Relationship Manager a unique tracking code, here's how you can generate it!
Navigate to the Configure > Job Board page and click [Tracking Link] next to Your EXTERNAL job board is LIVE.

Under Who Gets Credit, select None, then search LinkedIn from the Source dropdown menu. By default, it will appear four times (for four different uses), but we want to select the one under Third-party boards for now.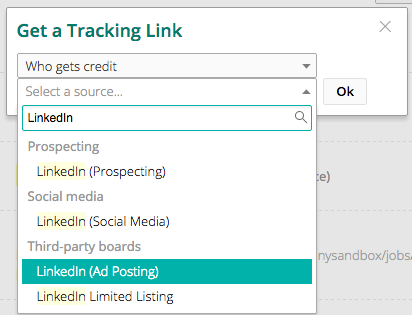 You'll end up with a link that looks something like this: http://grnh.se/tfard2s. Just take the part after the forward slash (in this case, tfard2s), and send it over to your LinkedIn Relationship Manager to get things set up!