Spark Hire is an easy-to-use video interviewing platform that makes the hiring process more accurate, collaborative, and enjoyable for everyone involved. Greenhouse Recruiting's integration with Spark Hire allows your organization to add a Spark Hire video interviewing stage to a job's interview plan. In this article, we will cover how to:
Enable Greenhouse/Spark Hire Integration
Before the Greenhouse/Spark Hire Integration can be enabled your organization will need a Spark Hire API key.  
Add Spark Hire Video Interview Stage to an Interview Plan
Configure Spark Hire Video Interview
Send and Review Spark Hire Video Interview
Enabling the Integration
To enable the integration in Greenhouse, first contact your SparkHire account rep and get your company's custom API key. From there, have one user from your organization head over to the Integrations tab and click connect to enter in the key and Save.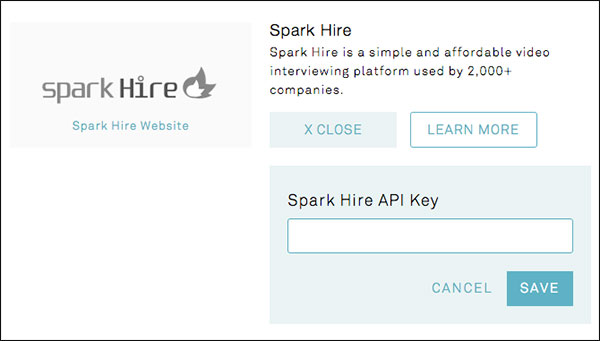 Adding a Take Home Test Stage
Next, select a job and go to the Job Setup > Interview Plan to add a new stage called SparkHire. Site Admins with the advanced permission to Bulk Edit Jobs can also add this stage to many jobs at once.

Place the stage in your plan, edit the Interview Kit to select the correct test, then move candidates into the stage to send over the test! Once they complete it, graders will be notified and can view a link to their submission directly from the scorecard!