Permissions: Job Admin or above
Product tier: Available for all subscription tiers
By default, Greenhouse Recruiting allows you to send emails from your own address and any org-wide email addresses that have been set up on the Configure > Email Settings page. Additionally, users can also configure permissions to allow other users to send emails on their behalf.
Grant access
Navigate to the upper right-hand corner to Hi, Name and click Account Settings from the dropdown menu.

Navigate to the Email Permissions panel and determine whether anyone in the organization can send emails on your behalf or if this permission will be limited to certain users.
If you want to allow only select users to send emails on your behalf, click the appropriate checkbox and use the provided search field to select Greenhouse users in your organization.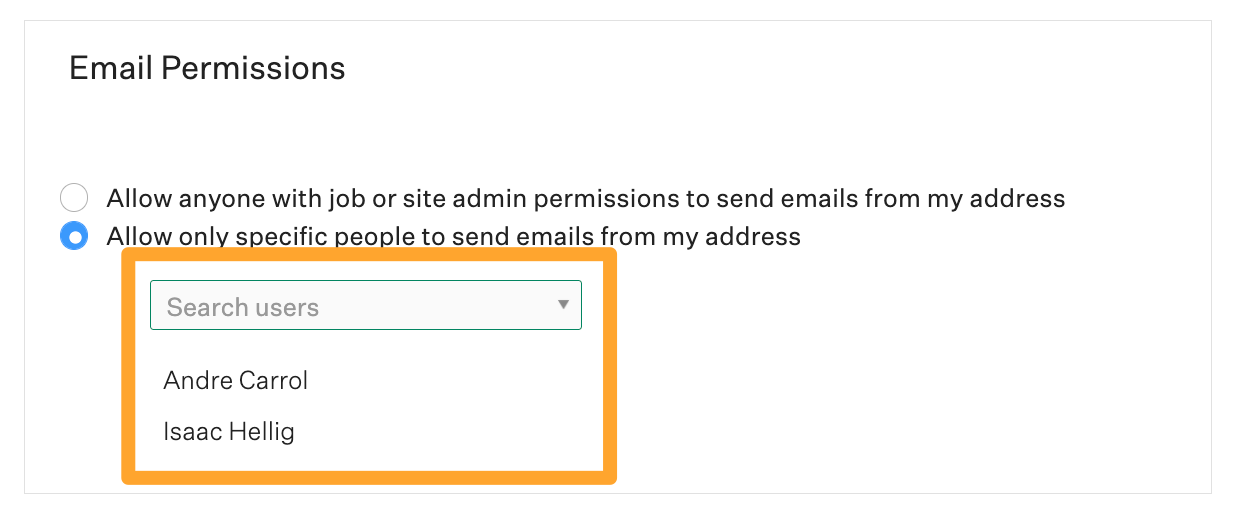 When emailing a candidate or setting up a new job template, users configured to send emails on your behalf can select your email address from the From field.
Revoke Access
If you revoke access from the user, the From field will then default to send from the user's own email address instead.
Before you can revoke org-wide access, will need to make sure no org-wide templates use your email address. If they do, a user with Site Admin permissions will need to remove it before you have the option to revoke access. If you try to revoke access before doing this, you will receive a notification about which templates currently use your information.