Permissions: Site Admin, and Job Admin who can view and edit private candidate and application fields
Product tier: Available for all subscription tiers
Checkr allows your organization to conduct compliant and accurate background screenings that balance safety and consumer protection, with a modern experience that makes the process simpler and more efficient for both companies and applicants. You can hire faster and smarter with in-depth and accurate reports customized and scaled to your business needs.
Greenhouse Recruiting's integration with Checkr enables your organization to order and review background checks from Checkr directly on the candidate's profile in Greenhouse Recruiting.
Enable the Checkr integration
To enable the Checkr integration, click Integrations on your navigation bar and search for Checkr. 
Click Connect.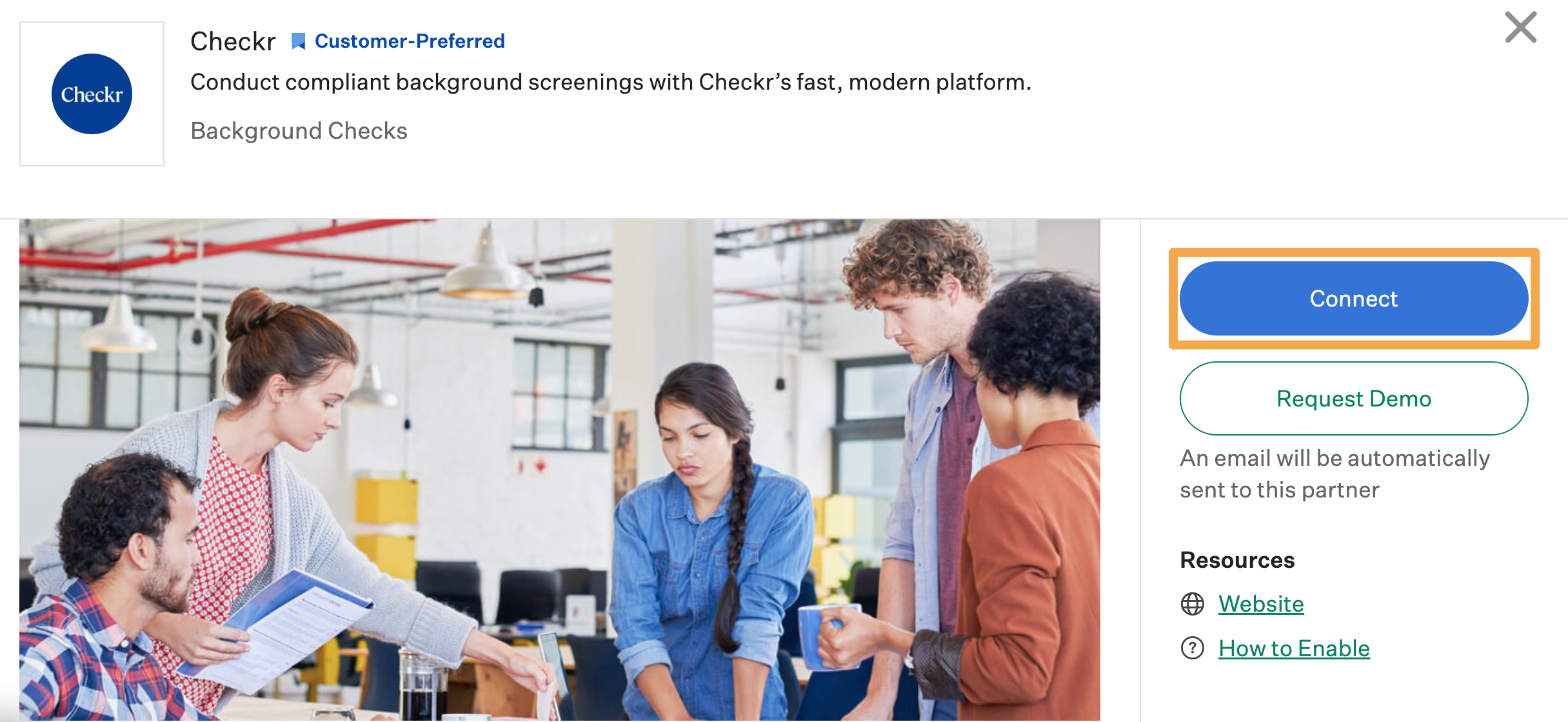 You'll be redirected to Checkr's integration page. Follow the steps on-screen to enable the integration with your existing Checkr account or set up a new Checkr account.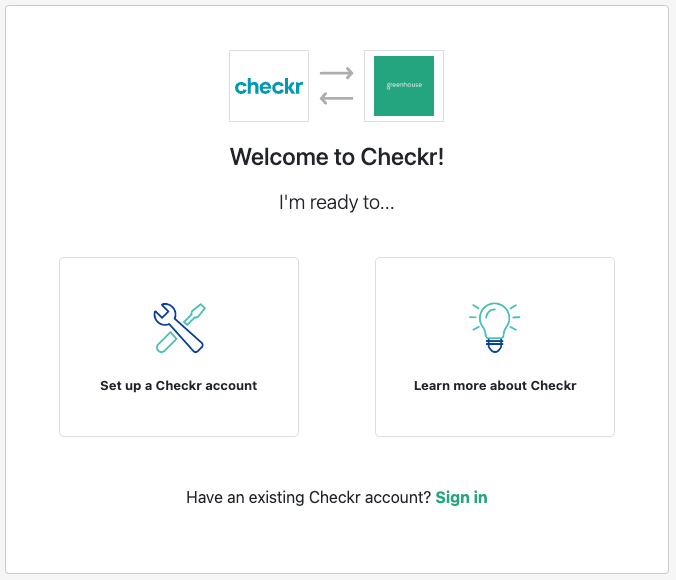 Once complete, you'll be directed back to Greenhouse Recruiting where the integration will show that it's connected.
Use the Checkr integration on Greenhouse Recruiting
Once enabled, you can order and review Checkr background checks directly from within Greenhouse Recruiting.
Order background checks
Note: Only Site Admin and Job Admin with the permission to view and edit private candidate and application fields can order background checks using the Checkr integration.
To order background checks, click Candidates on your navigation bar and then select a candidate from the list.

Click the candidate's Private tab.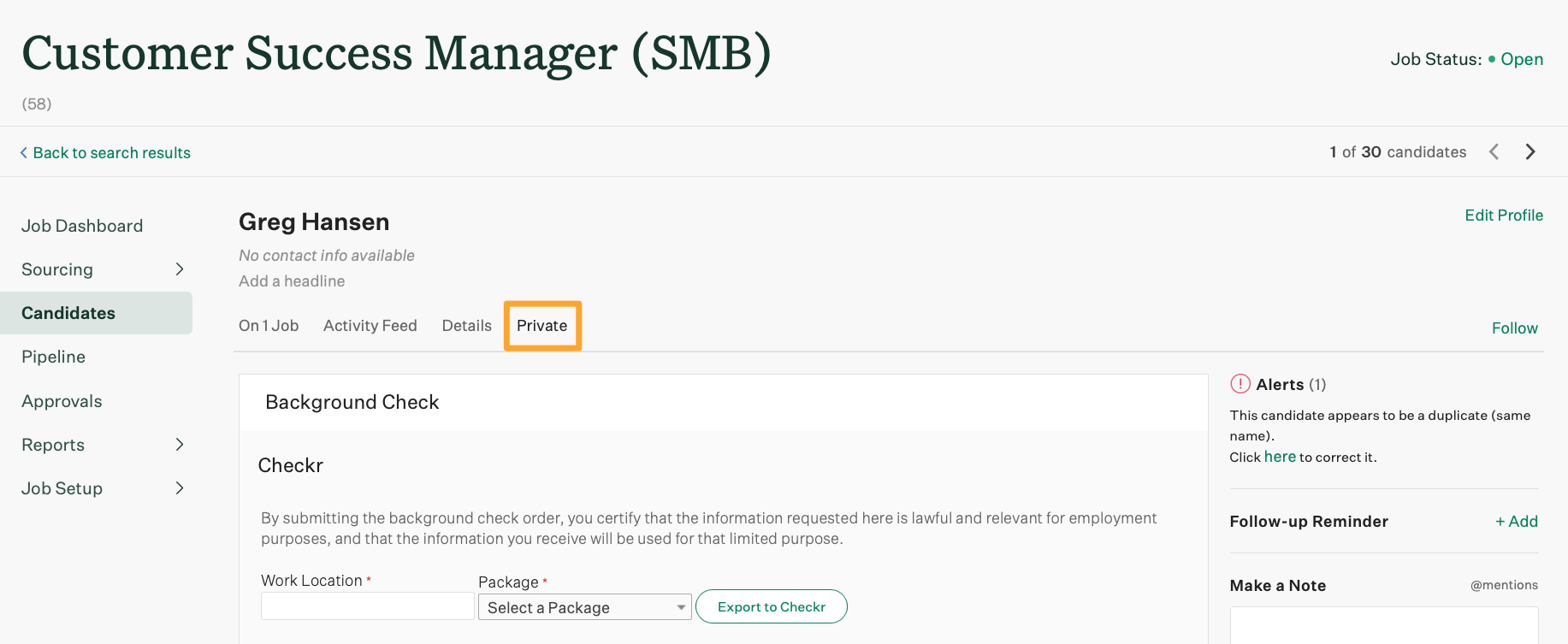 In the Checkr section, begin typing a work location for the candidate, then select a location from the dropdown results. A valid work location is required to ensure the correct disclosure forms are sent to the candidate based on the compliance laws in different states.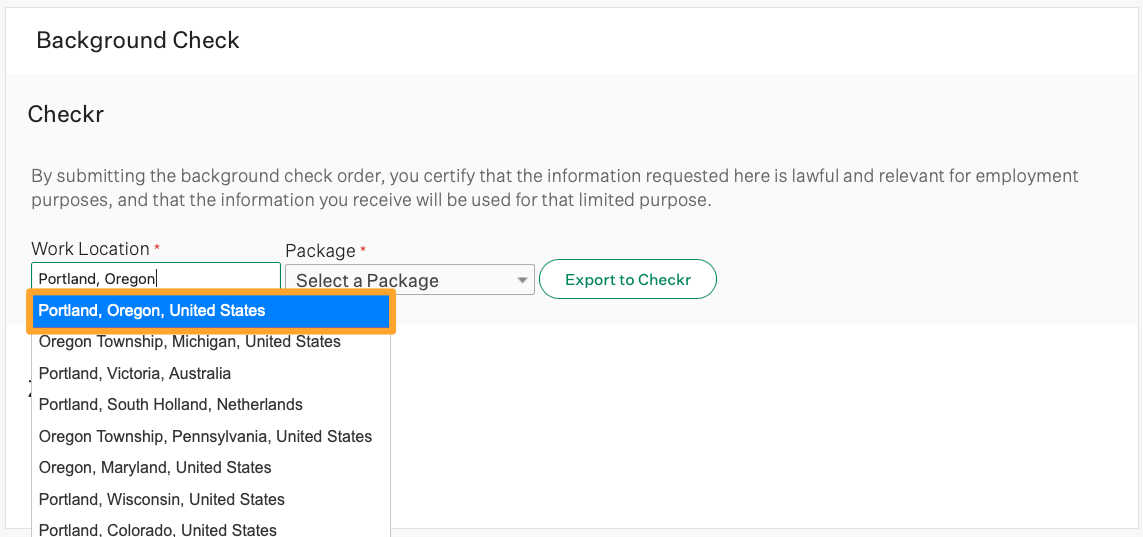 Next, select a package from the Package dropdown.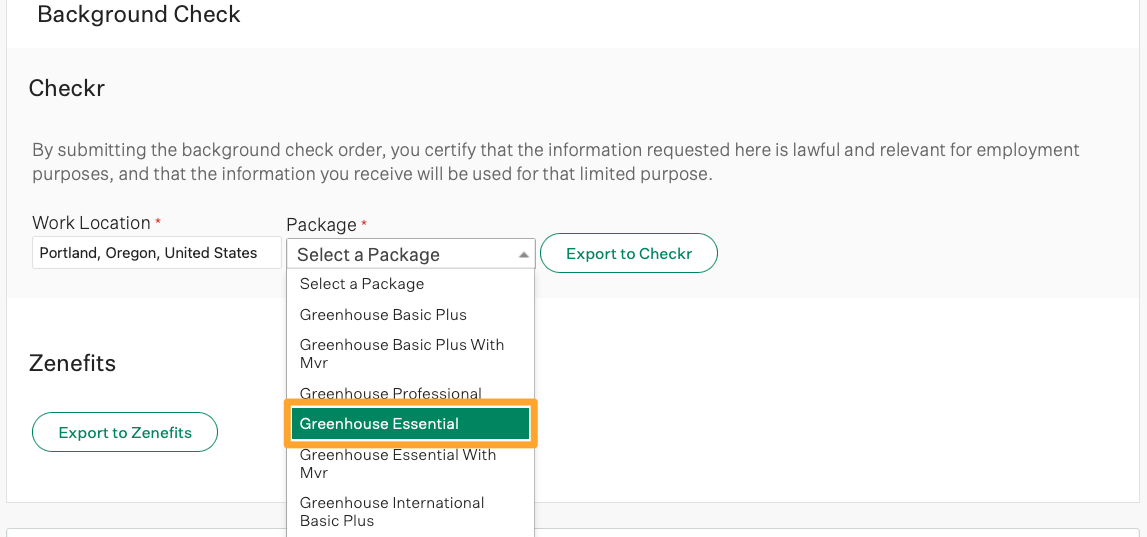 Note: All of your available background check packages, nodes, and configurations must be set up in Checkr.
When finished, click Export to Checkr to initiate a background check order for the candidate.

The candidate will receive an email from Checkr directing them to a Checkr-hosted website to provide the information Checkr needs to run their background check.
View a candidate's background check status
Once completed by the candidate, most background check results will be available within 24 hours, but the time to complete can range from a few minutes to a few weeks depending on the type of check ordered, the geographic location of the candidate, and local courthouse operations.
The candidate's background check status will be displayed on the Private tab on Greenhouse Recruiting for your review.
Click Checkr Report to review the full background check on Checkr.

Additional resources
For additional information or troubleshooting not covered here, check out the Checkr Help Center.