You may have your recruiting process down to a science, but what do the candidates think? Do they feel rushed or confused by the questions and assignments? Are they flustered that they didn't have enough time to express their strengths and weaknesses? The Candidate Survey can help you understand how your interview process is coming across so you can make improvements and ensure all your candidates leave with a positive impression of your business.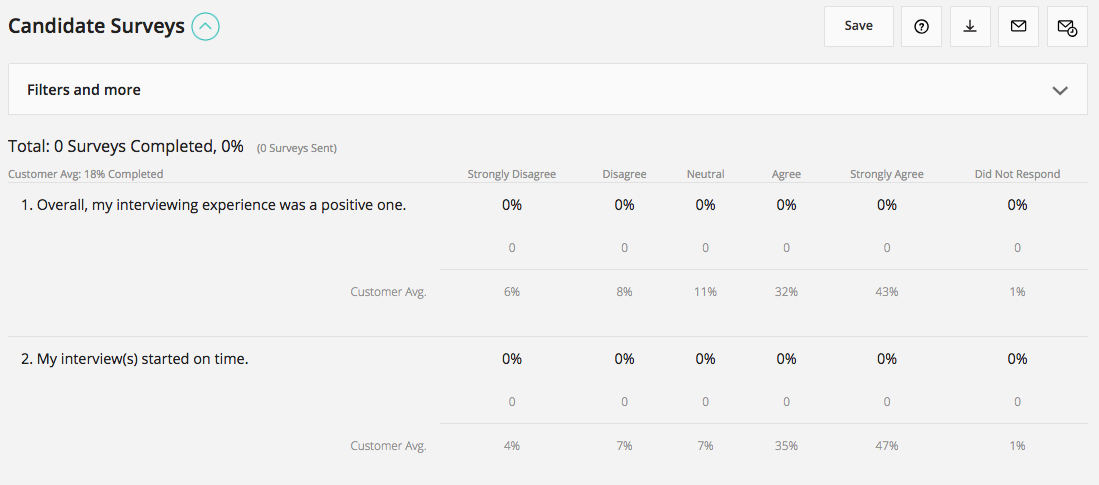 By collecting consistent data and actual quotes from candidates, it's possible to point to real evidence that shows how resistance to participation in the hiring process is holding the organization back from being awesome at hiring.
Imagine starting a meeting with a hiring manager about a new job with these two facts:
15% of candidates strongly disagreed with the idea that our interviewers are well-prepared and conducted the interview skillfully. Only 3% of candidates say that about the average company
Candidate quote: "I'm not sure my interviewers even knew what role I was applying for. Questions were vague, duplicated or irrelevant."
How can this report be filtered?
The Candidate Survey report can be filtered by Department and Office (located right next to your company name), as well as Date Submitted. You can also click Raw Survey Data in the upper-right corner to export an excel file of comments left by candidates.
The total number and percentage of surveys completed represents the total number of candidate surveys completed for offices/departments selected for all time (e.g. changing your date range will not change this total). This total is irrespective of the date range filter because Greenhouse does not collect "date sent" data for candidate surveys in order to maintain anonymous survey responses. 

Note: While using the date range filter will not change the total number and percentage of surveys completed, the results in the report will reflect the data of candidate surveys sent within your selected date range.