Note: If your organization has enabled the Permission Policy Make all hired candidates private by default, users will also require the permission Can create and view private candidates / prospects to view details for accepted offers. This is a user-specific permission for Site Admins, and a permission stripe for Job Admins.
The Offer Details report is an easy and effective tool to keep non-recruiting internal stakeholders updated on your team's recent hiring decisions. For all jobs where you have appropriate permissions, the report will track and aggregate all the offers created (accepted and rejected offers, as well as offers pending approval), the length of time taken for an offer to be accepted by a candidate, etc.
Note: Any custom offer fields will be added as columns in the report.
To navigate to the Offer Details report, click the Ellipsis icon

on your navigation bar and select Reports from the dropdown menu.

From the Reports page, navigate to the Run Your Own Analysis section and click Offer Details.

The Offer Details report will populate all offers for jobs where you have appropriate access.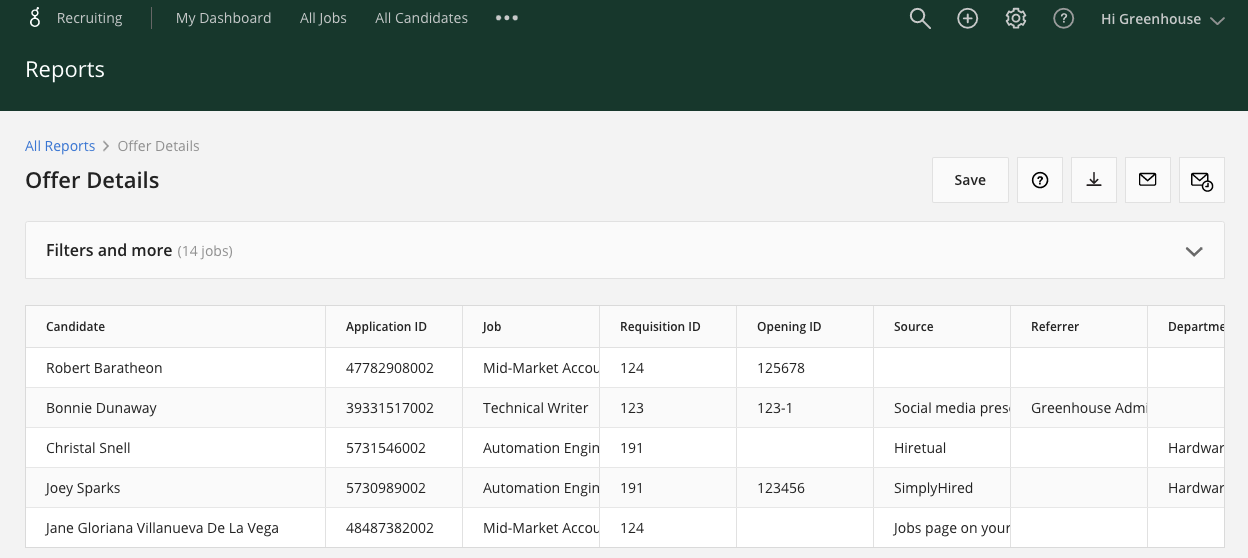 Report Filters
The Offer Details report can be filtered by Jobs and Offer Created Date. Additionally, previous versions of each report can be viewed by checking the Include offer history checkbox.