HireRight is the premier global background screening and workforce solutions provider, bringing clarity and confidence to vetting and hiring decisions through integrated, tailored solutions that drive a higher standard of accuracy. Combining in-house talent, personalized services, and proprietary technology, HireRight ensures the best candidate experience possible.
Greenhouse Recruiting's integration with HireRight allows you to order background screening services from HireRight directly from your Greenhouse Recruiting account.
Enable the HireRight integration
To enable this integration, contact your HireRight account manager with the email addresses of the people who need access to the integration. Greenhouse Technical Support will work with HireRight and your account administrator to set up the integration. Once HireRight and Greenhouse Recruiting confirm the integration is set up, you can send orders using the steps below.
Note: The email address provided to HireRight must match your primary email address in Greenhouse Recruiting. To add or update your account email address, click here.
Submit an order
To submit a HireRight order in Greenhouse Recruiting, click the Candidates tab and locate your candidate.

Click the Private tab on the candidate profile.

Select a Background Check Package in the dropdown and click Export to HireRight.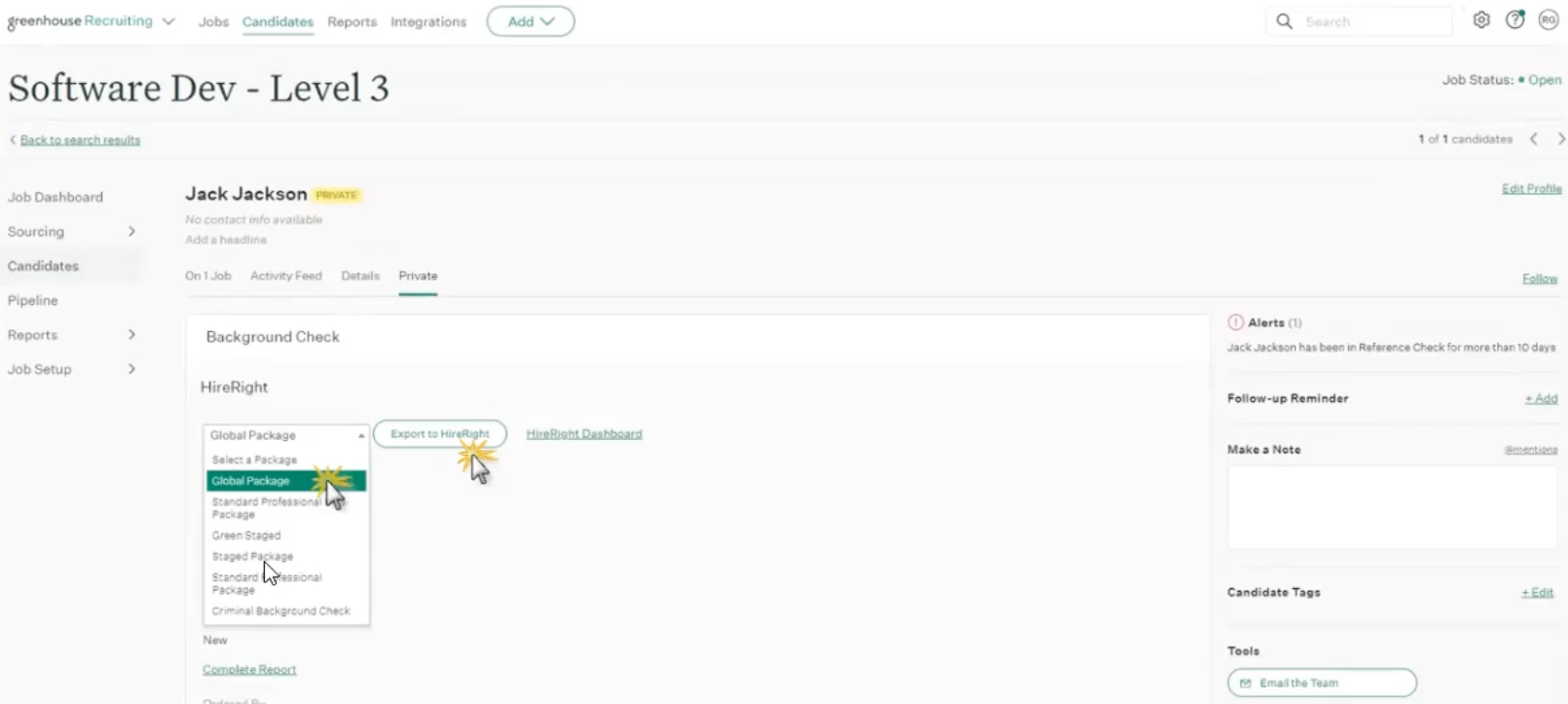 Click the Complete Report link to continue to complete your order. This link is used to start your order and can be used later to view the order's status.
Complete the order details on the HireRight website according to your organization's process and policy.
Check status or view an order
If you previously ordered a background check for a candidate and want to view their status, select HireRight Report on the Private tab of the candidate's profile. This link opens the HireRight website, which can be used to view the candidate's status.
View the results from a background request
When a candidate's background check is complete, the Report Details section in HireRight displays the results of each background check and highlights any discrepancies between the applicant's profile in Greenhouse Recruiting and their completed background check.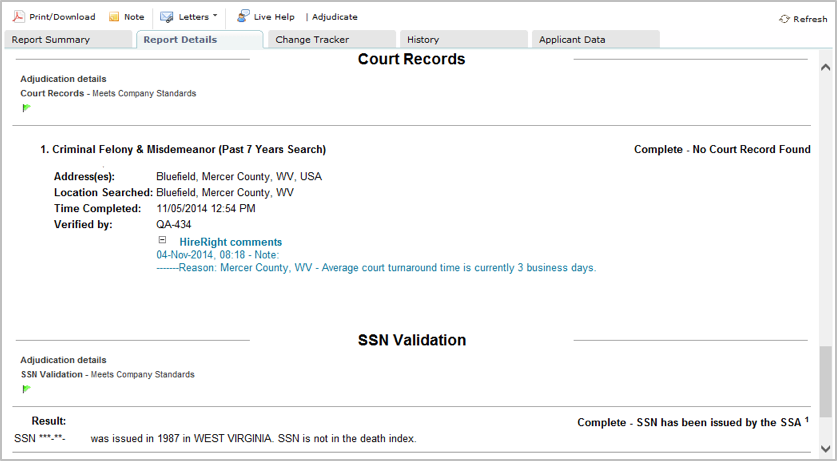 You can view other parts of the candidate's background check in this report.
For more help using the HireRight system, contact HireRight customer support here.
Troubleshoot the HireRight integration
No packages available when exporting to HireRight
If no packages are available when selecting to export a candidate to HireRight, it's possible that you don't yet have the appropriate permissions within HireRight. In order to be able to export candidates to HireRight and view the HireRight packages in Greenhouse Recruiting, you will need permissions on the HireRight side to do so.
We first recommend checking in with your HireRight Admin to make sure that your email has been allowlisted and to also confirm that this email matches the email you associated with your Greenhouse Recruiting account.
Note: Every Greenhouse Recruiting user has a primary (verified) and an optional secondary email address. For the integration to work properly, the email address used to log in to HireRight must match the verified email in Greenhouse Recruiting.