Permissions:
Basic users and above who can manage ALL organization's API credentials
Product tier: Available for all subscription tiers
Third-party partners can connect with Greenhouse Recruiting through one of several available APIs; this connection is often used to create integrations between Greenhouse Recruiting and other software platforms. In order for a third party to access your organization's Greenhouse Recruiting data via API, you will need to create an API key and provide it to the partner. In this article, we will cover how to create an API key.
Note: Only users who have been granted the Developer permission Can manage ALL organization's API credentials can generate an API key.
Generate the API key
To begin, navigate to the API Credential Management configure page. (Configure icon

Dev Center API Credential Management)
From the API Credential Management page, click Create New API Key.

In the Create New Credential dialog box, make the following selections:
API Type: Choose between Candidate Ingestion, Harvest, or Job Board
Partner: Select the name of the partner who requested the API key, if applicable
Description: Give your API key a name
Note: The integration partner will provide you with guidance on what type of API key to create, and what endpoints you should grant the key access to (if applicable).
When finished, click Manage permissions or Create to generate the API key and automatically assign it the appropriate permissions required by the partner.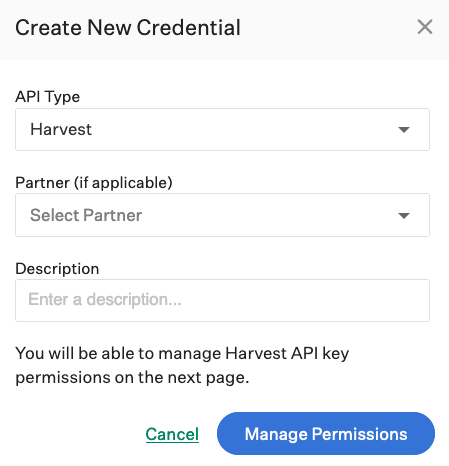 After the key is created, click Copy to save your API key to your clipboard. Store the API key in a secure location to provide to the partner.
Click I have stored the API Key once you have copied and saved the key.
Note: You cannot access the full API key again after clicking I have stored the API Key. If you lose your API key and need to access it later, you must create a new API key, provide it to the integration partner, and then revoke access to the original key.
On the Manage Permissions page, confirm the permissions requested by the partner are assigned to your new API key.
If any of the requested permissions are not assigned to the API key, click the appropriate checkboxes to assign them.
When finished, click Save at the bottom of the page. Provide the API key to your contact at the third-party partner.
Note:
Providing a partner with a Harvest API key gives them access to
all data
at the specified endpoints you selected on the
Manage API Key Permissions
page, and is comparable to granting the partner Site Admin permissions in your Greenhouse Recruiting account. If a partner requests a Harvest API key, be sure to review and confirm the endpoints the partner needs access to for their integration. For more information, review the following article:
Manage Harvest API Key Permissions