Permissions: --
Product tier: Available for Advanced and Expert subscription tiers
OneLogin is a cloud-based identity and access management provider that designs and develops a unified access management system platform for businesses and organizations. Greenhouse Recruiting's integration with OneLogin allows your organization to enable Single Sign-On (SSO) through OneLogin in your Greenhouse Recruiting account.
Add and Configure Greenhouse Recruiting in OneLogin Account
To add the Greenhouse Recruiting application to OneLogin, you will first need to obtain your ACS URL from Greenhouse Recruiting.
To gather this information, navigate to the Configure icon

> Dev Center > Single Sign-On. From the Single Sign-On page, click Copy next to the SSO Assertion Consumer URL field. Save this information to add in OneLogin in a later step.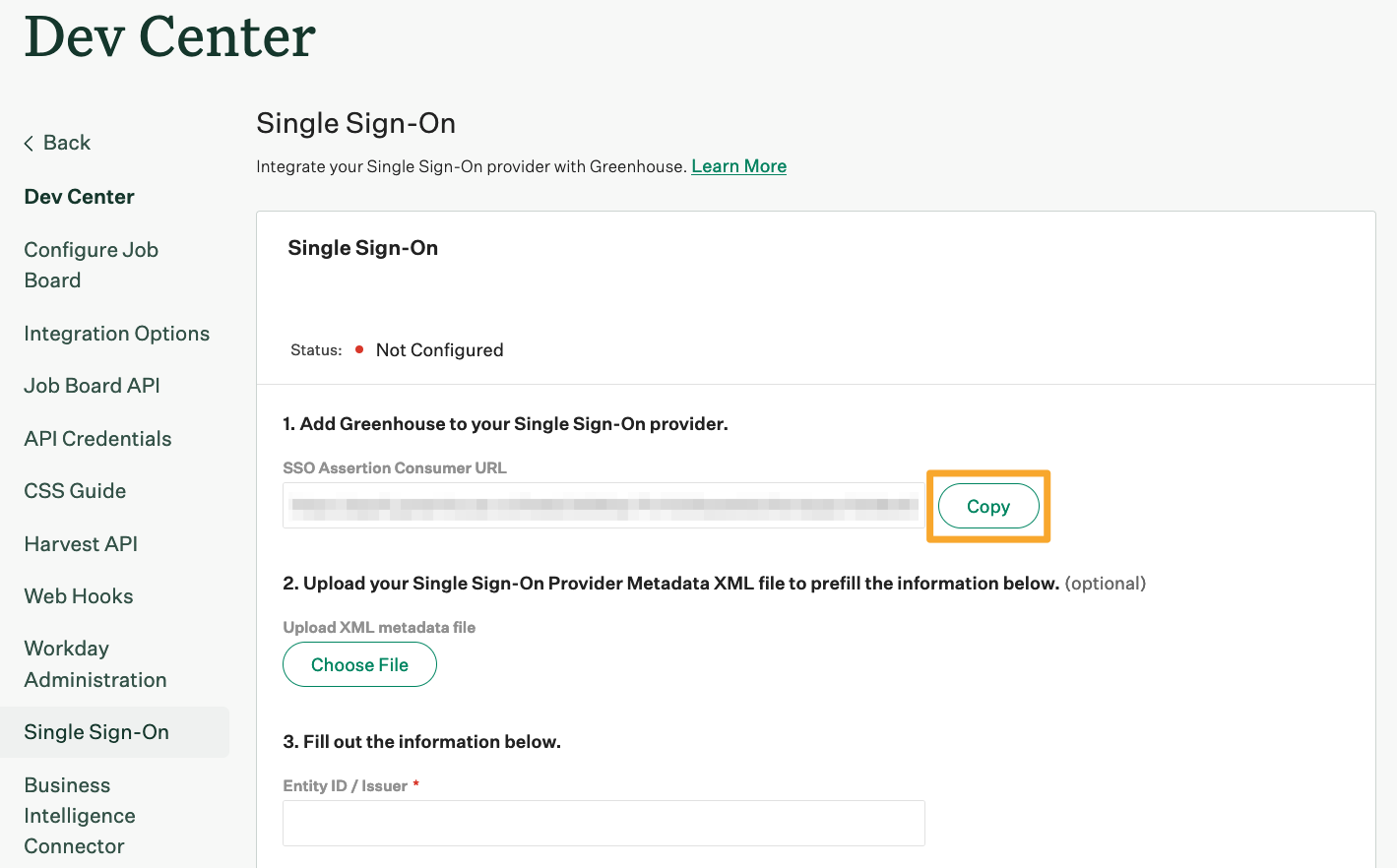 Once you have your ACS URL from Greenhouse Recruiting, log into OneLogin and navigate to Applications > Applications. Click the Add App button on the top-right, then search for Greenhouse.
Click on Greenhouse Recruiting (ACS URL). Rename the app if you wish, then click Save in the top-right.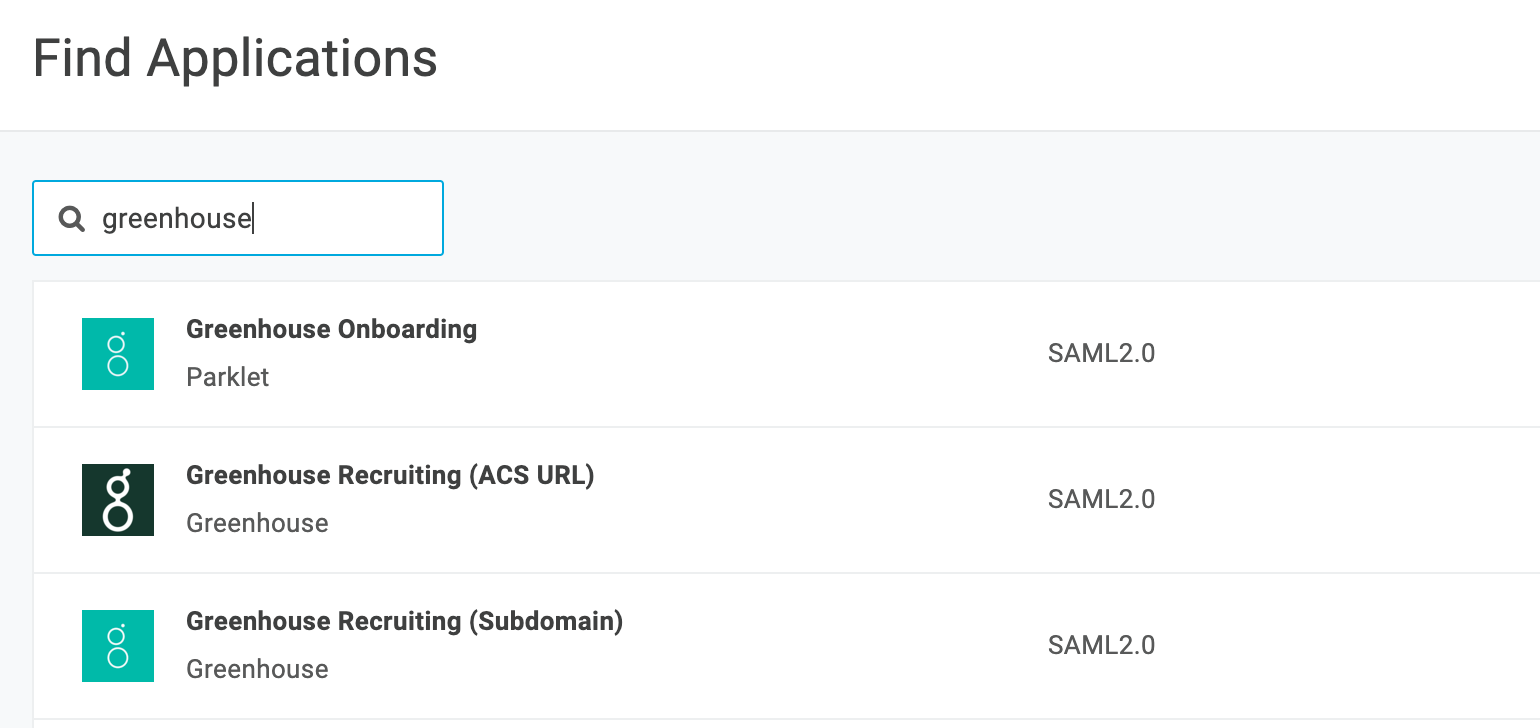 Return to Applications > Applications and find Greenhouse in your list of apps. Click Greenhouse to land on the Info page, then click Configuration in the left-hand panel.
Enter your ACS URL as provided by Greenhouse Recruiting.

Click the SSO tab on the left-hand panel. Copy your Issuer URL, SAML 2.0 Endpoint (HTTP) value, and SLO Endpoint URL into a separate document to be shared with Greenhouse.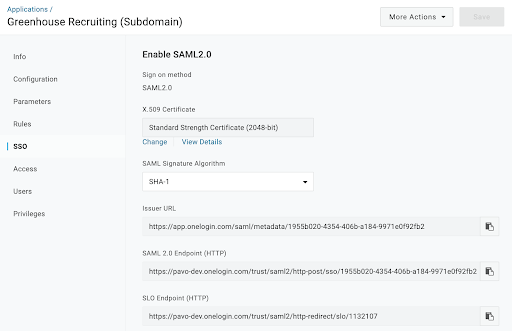 Click View Details. On the next page, copy your Fingerprint and paste it into the same document, then download your X.509 PEM toward the bottom of the page.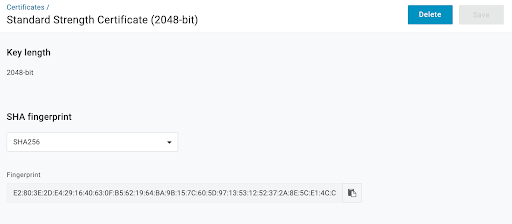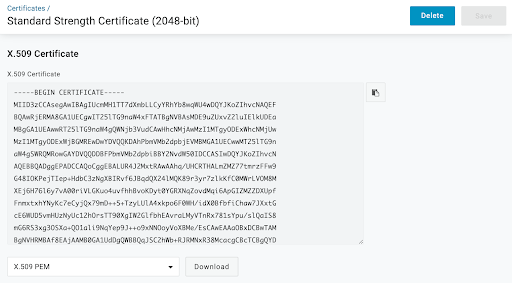 Enable SSO in Greenhouse Recruiting
Once you have added Greenhouse Recruiting to OneLogin and gathered the necessary information, follow the steps outlined here to finish enabling Single Sign-On in Greenhouse Recruiting.
See notes below:
All users MUST log into Greenhouse Recruiting through OneLogin once SSO is hard-enabled. Users won't be able to use their username and password on the Greenhouse Recruiting login screen, even if have previously used their passwords.
If a new user has a OneLogin account but not a Greenhouse Recruiting account, Greenhouse Recruiting will create a Greenhouse Recruiting user account for them automatically the first time they log in via OneLogin. The user account will be created with Basic permissions. Administrators can still invite users and change permissions in Greenhouse Recruiting using our existing process.
Data will be unaffected. Your users will still have access to all of their existing jobs, scorecards, interviews, etc. Enabling SSO via OneLogin only changes the way people log in.