* Please note that SSO is not available for organizations in Greenhouse on our Core subscription tier.
1) When logged into OneLogin, on the Find apps tab, search for "Greenhouse" and add it:

2) On the Company apps tab, find Greenhouse and click edit: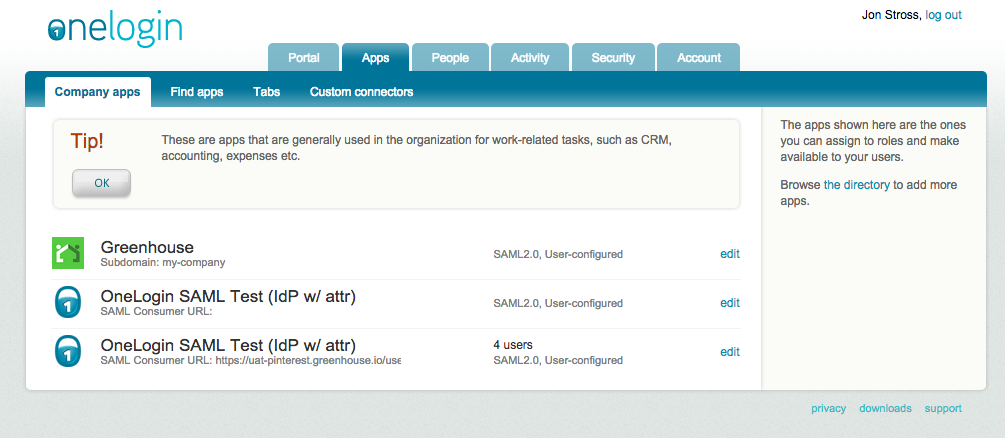 3) On Configuration tab (still under Company apps), enter your company's subdomain. The subdomain that you enter will ultimately determine the URL through which users will log in once SSO is enabled. For example, if you enter "my-company" as your company subdomain, then you will log into https://my-company.greenhouse.io once SSO is enabled.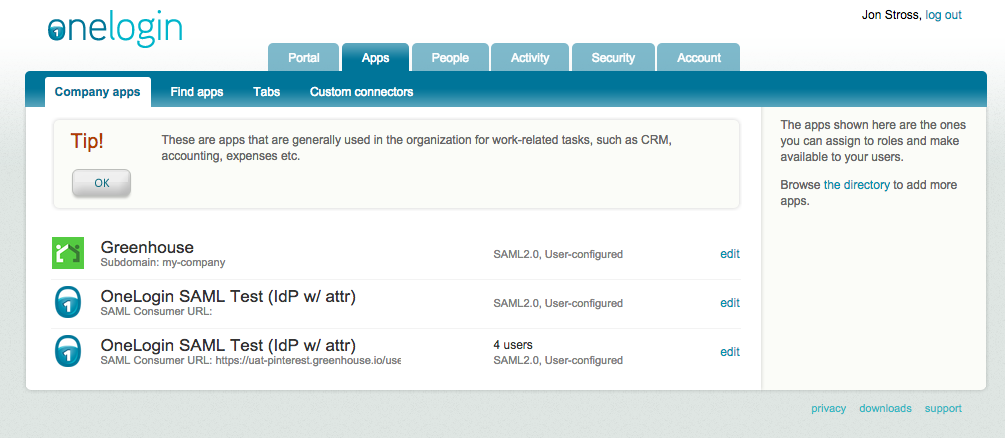 4) On the Single Sign-on tab (still under Company apps), copy the link in the Issuer URL field, open a new browser tab, and paste it into the address bar. This will trigger a download of an XML file. Once you've downloaded the XML file, send it to www.greenhouse.io/asksupport.

5) Greenhouse will complete the configuration and coordinate with you to determine exactly when SSO should be enabled for your organization. It's important that this launch is carefully timed, because you'll need to instruct users about the change. See note below:

* All users MUST log in through OneLogin once we enable SSO. Users won't be able to log in via the normal Greenhouse login screen anymore, even if they already have passwords.

* Your users will access Greenhouse via the custom URL, which will use the company subdomain that you entered (i.e. https://my-company.greenhouse.io). Right now, your team is using https://app.greenhouse.io. Once SSO is fully-enabled, your users can access Greenhouse through either the custom subdomain (https://my-company.greenhouse.io) or through https://app.greenhouse.io.

* If a new user has a OneLogin account but not a Greenhouse account, Greenhouse will automatically create a Greenhouse user account the first time they log in via OneLogin. They'll be created with Basic permissions. Administrators can still invite users and change permissions in Greenhouse using our existing screens.

* Data will be unaffected. Your users will still have access to all of their existing jobs, scorecards, interviews, etc. OneLogin only changes the way people log in."