Before a user can delete a job, you must first close the job. Once you have navigated from the All Jobs Dashboard to a specific job, click the Job Setup tab, and then click Job Info.  Update the Status field to Closed, and then click Save.  When prompted (and if you're sure), click Close Job.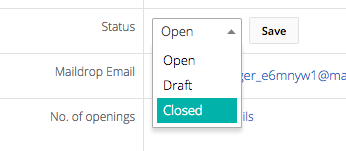 From there, click the Dashboard tab, and then click the Delete this Job button.

Remember that you can view closed jobs at any time via the Jobs tab.  Click the Filter button located just above the listing of jobs, and then select Closed Jobs from the drop-down menu.