HR Drone is an innovative web platform and mobile app that streamlines the hiring process for companies and job seekers alike. HR Drone gives you access to a large pool of professionals open to new job opportunities and saves you time by surfacing matching profiles for each job.
HR Drone's integration with Greenhouse Recruiting allows users to source, access, engage, and track candidates from HR Drone.
Set up the integration
To set up the integration, first log in to HR Drone, and go to the Extensions page. Click Connect on the Greenhouse Recruiting section.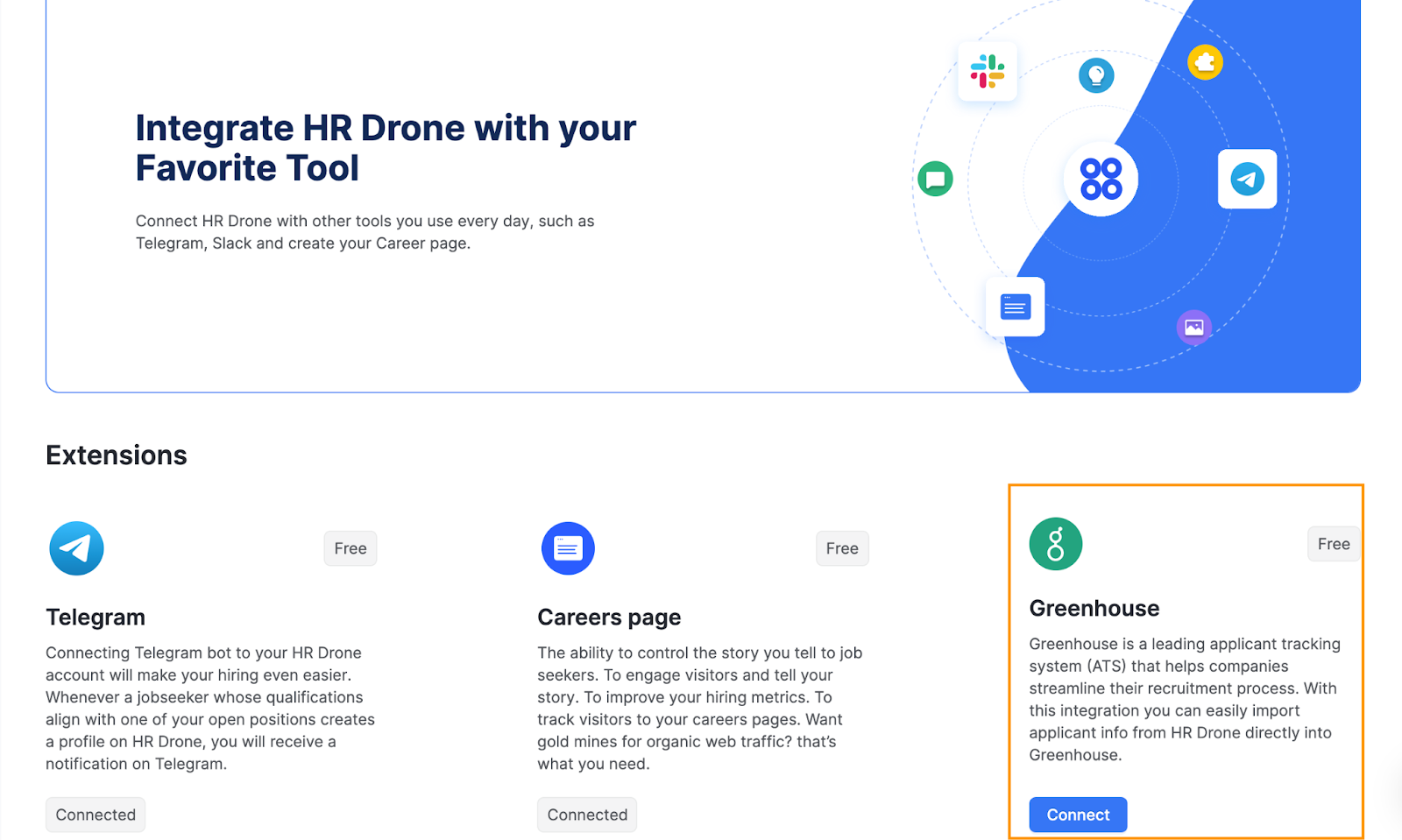 On the next page, authorize the integration by logging into your Greenhouse Recruiting account.
Enter your Greenhouse Recruiting user email and click Next step. Enter your Greenhouse Recruiting password, then click Authorize.

Next, navigate to the My jobs page and click Create new.

Fill out your job information.
On the third step, add the Greenhouse Recruiting job dashboard URL to the Application link field, and click Publish.

Tip: To find your job's dashboard link, navigate to the job in Greenhouse Recruiting. The job's dashboard page will show a URL on your browser like https://app.greenhouse.io/sdash/2947282.
That's it! The HR Drone integration is configured and ready to use.
Use the integration
When a candidate applies for your job on HR Drone, the candidate's first name, last name, LinkedIn profile, and email address will be added as a candidate to the corresponding job in Greenhouse Recruiting. You can also optionally sync portfolio and additional information about the candidate.
Additional resources
For additional information not covered here, reach out to support@hrdrone.am.