Permissions: Job Admin and above with CRM access and a Sourcing Automation seat
Product tier: Available for all subscription tiers with the Sourcing Automation add-on
With Greenhouse Sourcing Automation, you can check the status of various prospects in your campaign pools at any time using the Prospects tab.
This article covers each prospect status that you may see in a campaign pool. Each status will also include additional context to help you determine the reason why a prospect has this status.
View prospect statuses
From your Greenhouse Recruiting dashboard, navigate to the CRM tab.
Scroll to the My active campaign pools section, then click See all.
On the Campaign pools page, click to open one of your existing campaign pools.
Navigate to the Prospects tab. Use the Status column to check on the status of each prospect in this campaign pool.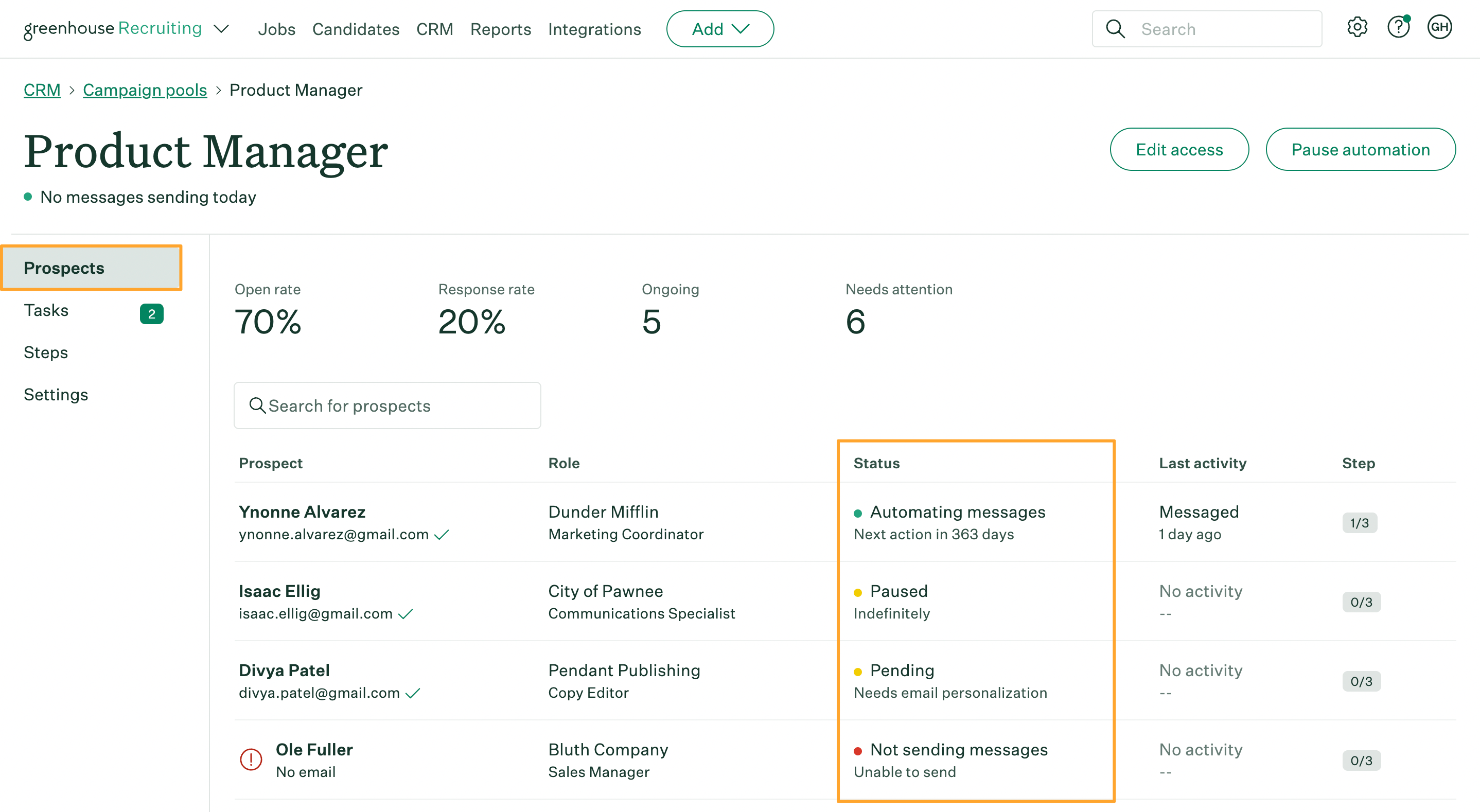 You can also click on each prospect row to see additional details about a prospect's interactions with your campaign, including past activity and upcoming scheduled messages. Learn more about using the prospect activity panel.
All prospect statuses
| | | |
| --- | --- | --- |
| Status | Reason | Action needed |
| Automating messages | Next action is today / in 1 day / in [x] days | None |
| Done | Campaign completed | None |
| Done | Email bounced | Replace email address |
| Done | Prospect booked | None |
| Done | Prospect replied | None |
| Done | Prospect unsubscribed | None |
| Not sending messages | Exists in a different campaign | Clear this error |
| Not sending messages | Invalid email | Clear this error |
| Not sending messages | Missing email | Add email address |
| Not sending messages | Missing info | Enter missing info |
| Not sending messages | Replied outside of campaign | Clear this error |
| Not sending messages | Replied to teammate | Clear this error |
| Not sending messages | Unable to send | None |
| Paused | Launch campaign to continue automating messages | Launch campaign |
| Paused | Indefinitely (when a prospect is rejected) | None |
| Paused | Out-of-office message found – Next action in [x] days | None |
| Pending | Needs email personalization | Complete task |
| Pending | Pending InMail task | Complete task |
| Pending | Pending manual task | Complete task |
| Task completed | Next action is today / in 1 day / in [x] days | None |