Note: This integration is not available for LinkedIn Recruiter Lite accounts.
LinkedIn Recruiter System Connect (RSC) is an integration that allows your organization to seamlessly source and manage candidate information across Greenhouse and LinkedIn Recruiter. With a Greenhouse Recruiting user account connected to LinkedIn Recruiter, a Greenhouse user can access the LinkedIn tab on a candidate's profile.
In this article, we will provide an overview of the various features associated with the LinkedIn RSC integration.
Export Prospect from LinkedIn Recruiter to a Job
From your LinkedIn Recruiter page, you can export a prospect to available jobs in your organization. To export a prospect to a job in your organization, click the Ellipsis icon

and select Export to ATS.
Use the Export to your ATS panel on the right hand-side to select a job in your organization and click Export. The prospect will be assigned to the job within your Greenhouse user account

Note: If the job location formatting in Greenhouse Recruiting does not match the location formatting for the LinkedIn job, LinkedIn will automatically set the location to United States of America on the LinkedIn posting.
1-click export can be disabled through the LinkedIn Recruiter platform by a contract administrator. Click here to learn more.
View Candidate information from Greenhouse Recruiting in LinkedIn Recruiter
If you search for a candidate in LinkedIn Recruiter, you can easily ascertain information about the candidate. Once you have identified your candidate from your search results, click ATS to reveal information about that candidate such as the job they are associated with and email address.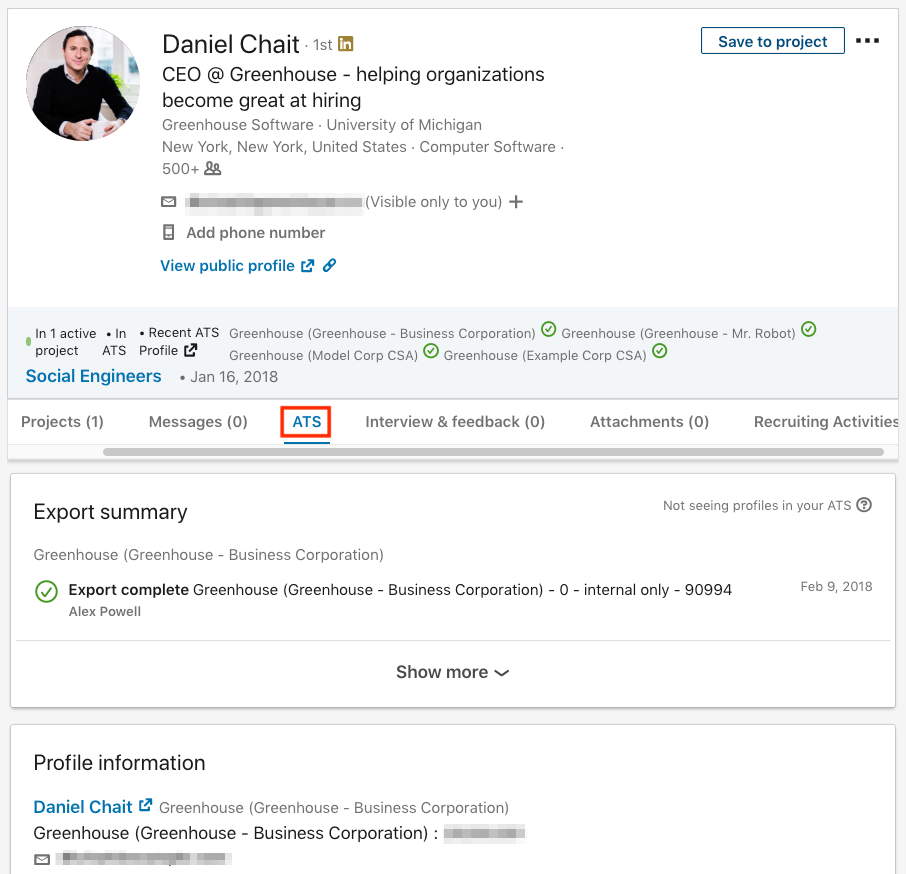 Click Interview & feedback to view their stage within the interview process, date they moved into their latest interview stage, and interview feedback collected in Greenhouse.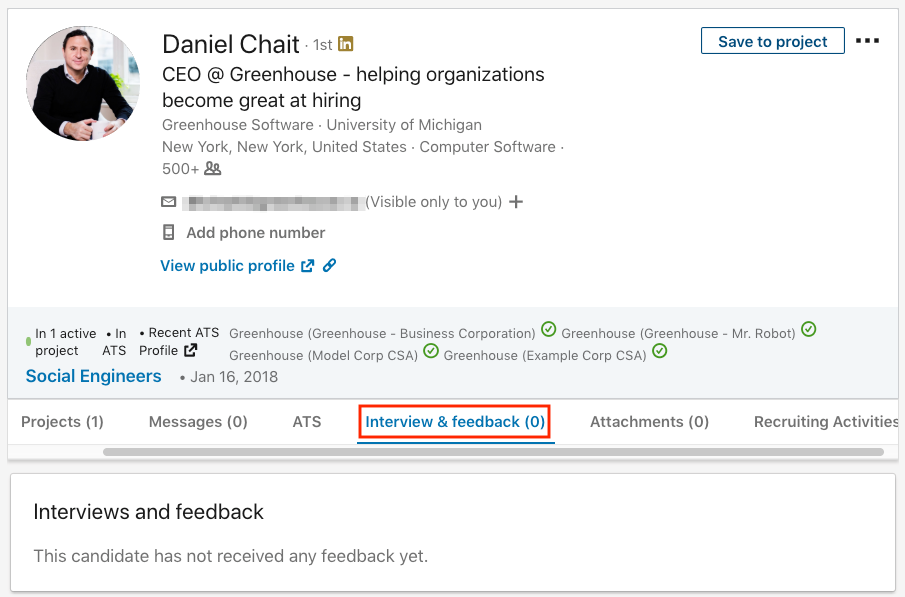 Sync Notes Between LinkedIn Recruiter and Greenhouse
Notes made in LinkedIn Recruiter on a candidate page will appear on the candidate's activity feed in Greenhouse.

Greenhouse LinkedIn Tab
To use the LinkedIn integration within Greenhouse Recruiting, navigate to a candidate's profile and click the LinkedIn tab.
Note: The LinkedIn tab will only display candidate LinkedIn information if the candidate has an email attached to their Greenhouse profile. If this candidate was added to your account through LinkedIn Recruiter's Export feature, you will need to manually add the prospect's email (for more information: LinkedIn's Scraping Software Policy). Additionally, the initial sync of your Greenhouse account with LinkedIn Recruiter can take a few hours to fully sync depending on the amount of your candidates.

Note: LinkedIn RSC is not compatible with the Safari internet browser. As a result, the LinkedIn tab on a candidate's profile will not work properly if you are logged into Greenhouse Recruiting in Safari. Please view LinkedIn's support page to learn more.
Below are actions that can be performed from the LinkedIn tab on a candidate's profile:
View in Recruiter
Click View in Recruiter to view the candidate/prospect profile in LinkedIn Recruiter. The LinkedIn profile will populate in a subsequent page.

Save to Project
Click Save to Project to be directed to your LinkedIn Recruiter page where you can save the candidate to a project you have established.


Send InMail
Click Send InMail to be redirected to your LinkedIn Recruiter account where you can send an InMail directly to the candidate.


Update Me
Update Me enables the integration to sync the candidate's LinkedIn profile. Essentially like following or subscribing, the feature syncs any changes a prospective candidate makes to their LinkedIn within the LinkedIn tab.
To unsubscribe to changes in a candidate's LinkedIn account, toggle to Stop Updates.

Note: Changes will still need to be manually updated to corresponding fields in the prospect's/candidate's Greenhouse profile.