This feature is currently in beta and not available to all customers.
We often hear from recruiters that they don't know if they're on track to fill a role by a specific date. Since they don't have a strong sense for when a job will close, they rely on gut feel which can lead to missing hiring deadlines and miscommunication with stakeholders. This causes uncertainty for finance teams trying to plan headcount budgets, hiring managers trying to plan their team's work, and recruiters trying to plan their time.  
How Greenhouse Predicts Works
Greenhouse Predicts eliminates uncertainty by using a statistical model to predict the likelihood of making a hire by a specific date. We use machine learning to help your recruiting team see around corners, make informed decisions, and effectively communicate timelines. Plus, we'll signal which jobs need more attention so you can decide where to spend your sourcing budget and time.
Our model analyzes historical data and a job's current pipeline to give recruiters insight into the health of open jobs. The model continuously improves over time as it trains on new data and becomes more finely tuned to your org's specific hiring patterns.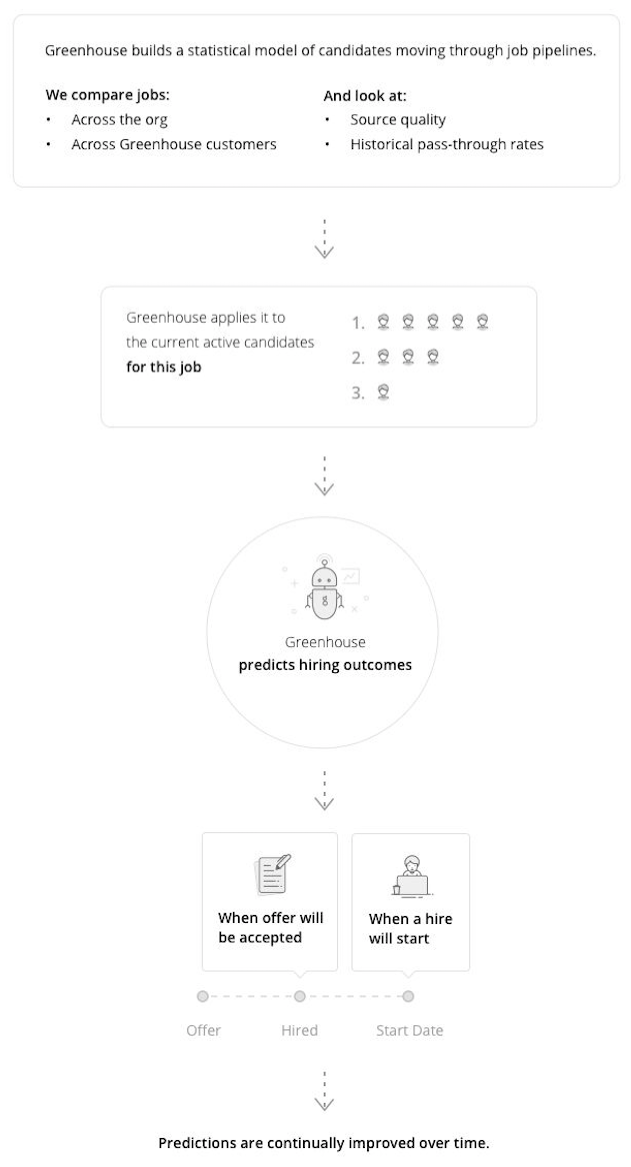 How to Use this Data
Our predictions should serve as a guide and signal, but won't be perfectly precise and shouldn't be taken as truth. A start date can vary wildly if your first-choice candidate turns down an offer or accepts but can't start for 6 weeks.
We'd recommend using these predictions in a few ways: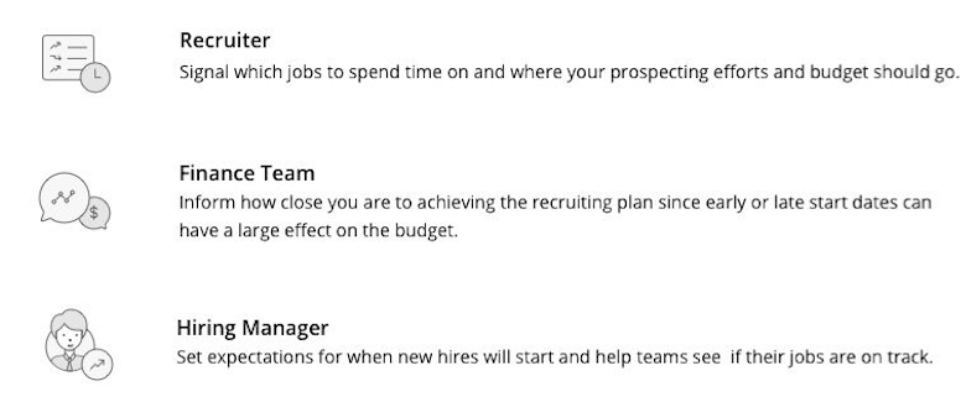 Progress to Target
Our predictions will signal whether you are On Track to make a hire by your Target Start Date or we'll give you a Heads up that you might not hit your target.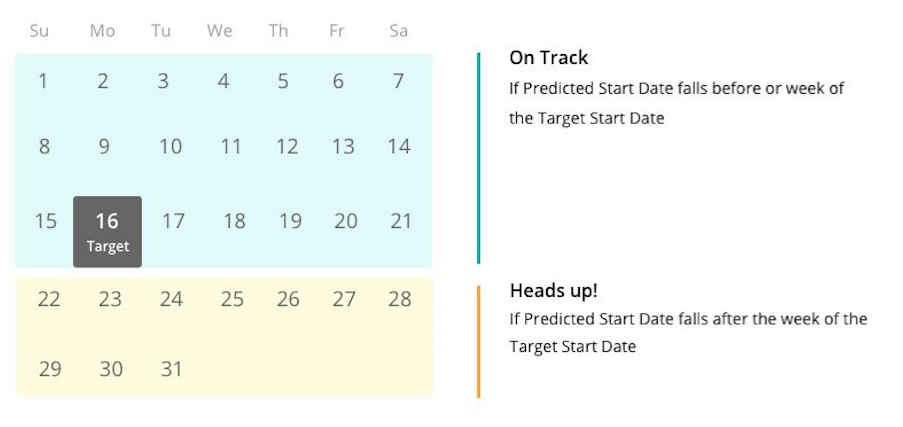 How to Use Greenhouse Predicts
To view predictions for your jobs, navigate to an open job and go to the Job Dashboard. Any Job Admins on the job will see a new section on the right for Greenhouse Predicts.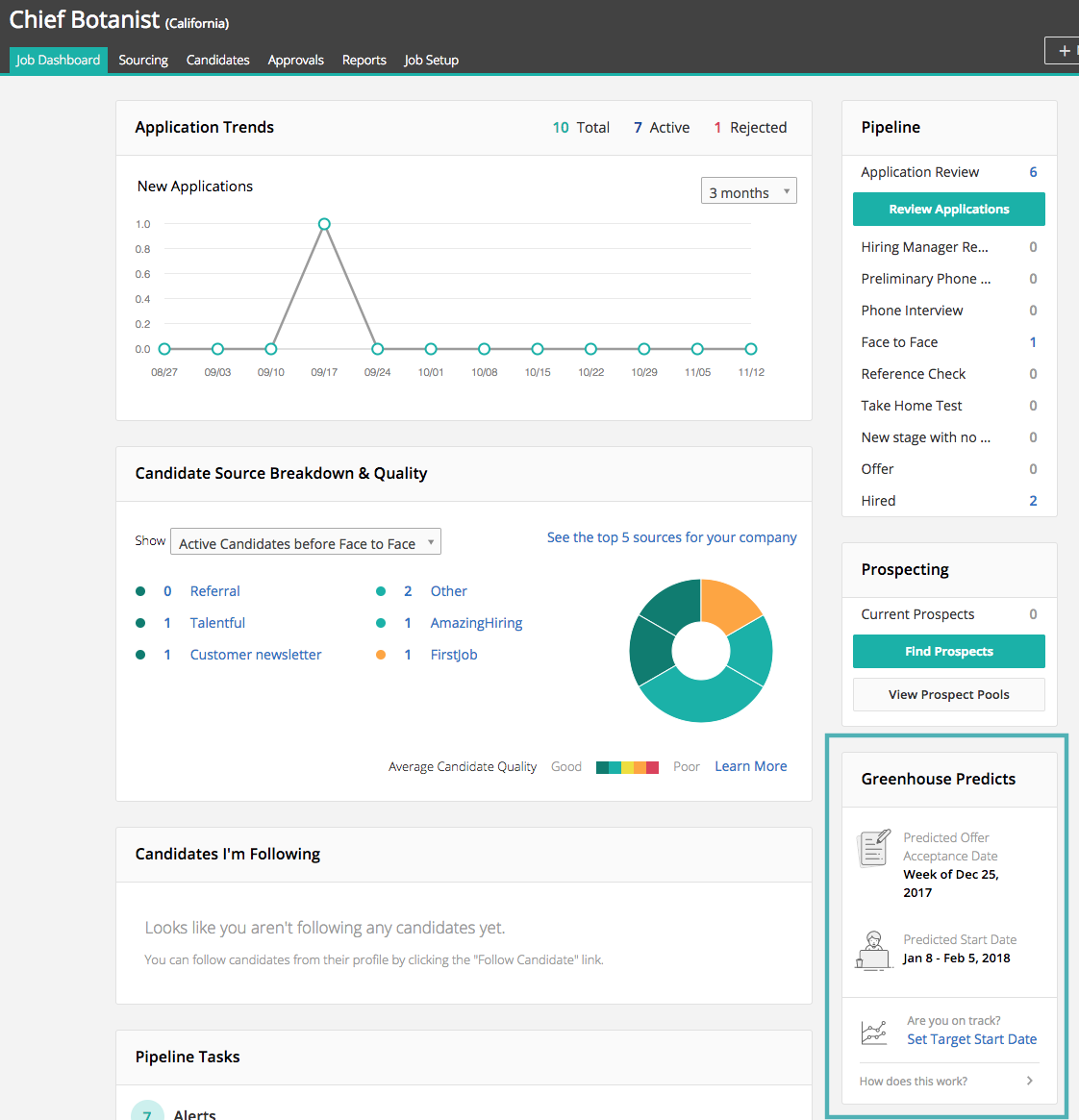 To set a Target Start Date and find out whether you're on track to make a hire by this date, click Set Target Start Date. Any Job Admin on the job with the permission 'Can edit job info' will be able to access this link.
A new window will appear listing all job openings. For each opening, click in the box under the 'Target Start Date' column to pick a date from the calendar. You should pick a date when you'd like this hire to start.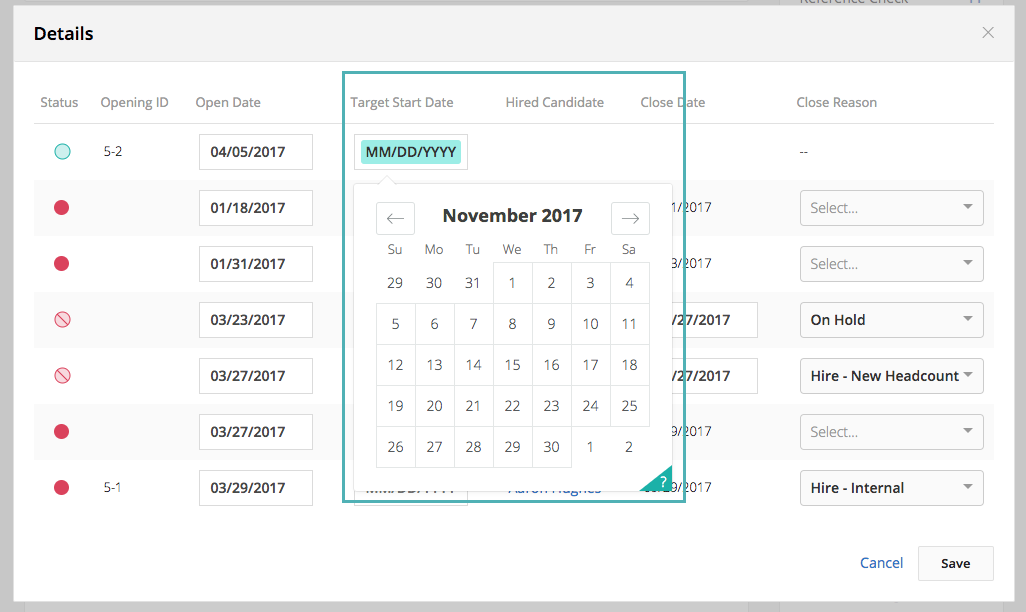 We'll make predictions for one opening at a time. For example, if you have five openings for a Sales Representative position, the predictions shown on the Job Dashboard will be for a single opening on that job. We'll choose the opening with the soonest Target Start Date and make predictions for that opening.
We'll display two predictions:
Offer Acceptance Date

: we'll show you the week our model has predicted a hire will be made.

Start Date

: we'll show you a 2-6 week range following the Predicted Offer Acceptance Date when we think a hire may start. Start dates can vary based on numerous factors like relocation, notice periods, visa processes, etc.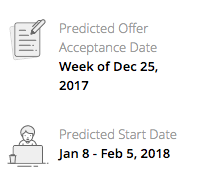 The Greenhouse Predicts section on the Job Dashboard may appear in three different states:
If we don't have enough data to generate a prediction, you'll see an empty state. Check back later once you have more candidates in your pipeline to see predictions.

If your target start date falls

within

or

after

our predicted start date range, your job is

On Track

.
If your target start date falls before our predicted start date range, we'll give you a Heads up that you may not make a hire by your goal.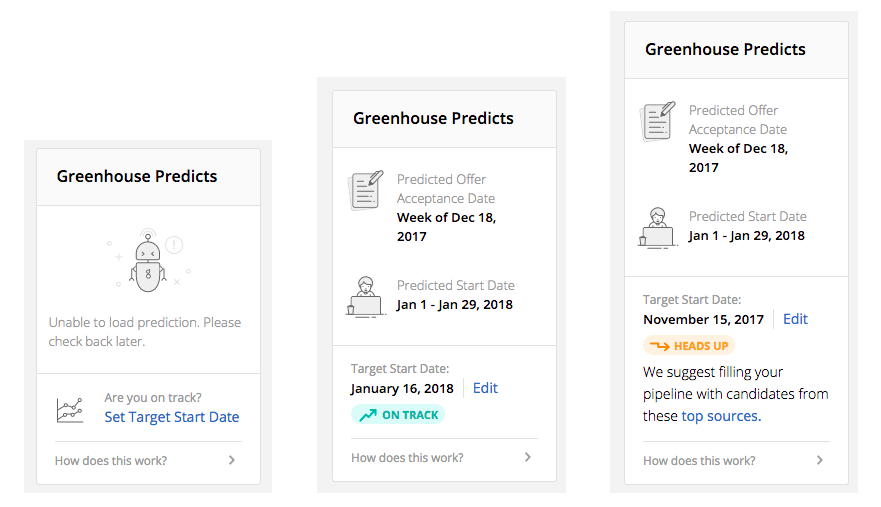 You'll be able to see all predictions and compare them to actual hire data on the Job Status report. New columns will be included for:
Target Start Date

Predicted Start Date

Actual Start Date

On Track to Target