Instructions to Greenhouse users, using Talytica's Assessments
Thank you for your interest. If you have any questions or need help at any time, contact Talytica at:
info@talytica.com or 424-625-5857
The Basics
Greenhouse and Talytica have created an integration so that you can seamlessly use the two products together to add some or all of the following to your hiring pipeline:
automated applicant machine learning scoring models to determine if candidates are a 'pass', 'consider' or 'fast-track' (this must be configured by Talytica and requires a few hundred historical records in Greenhouse),

automated assessments,

automated reference checks and/or

automated phone interviews
It's all very easy to use and you can easily choose both a) what tests and/or assessments you want and b) what stage(s) of the process you want to use them at.
To implement the integration, you will:
Contact Talytica to request your API key.

Fill out the form at www.greenhouse.io/asksupport or click here to open a ticket. Please do not send the API key in this initial email.
The Greenhouse Support Team will respond with a SendSafely link for you to enter your API key into (How does SendSafely work?), which will notify Greenhouse Support once the API key has been entered.

Greenhouse Support will then email you back confirming that your API key has been setup in your account and your integration is ready to go.

Decide which test(s) you want to administer and at what stages.

Add your Talytica stage (or multiple stages) to your interview pipeline.

Configure any Talytica stage(s) by a) re-naming them if you want and b) selecting the test(s) within each.

Then, when you 'advance' any new candidate, Greenhouse will let you send the corresponding Talytica test.

Once the Candidate completes that test, a link to the results will be accessible through the 'Interview Kit' in Greenhouse.

You will also always be able to log into your custom Talytica portal for more in-depth reports (contact us to help set this up).
Adding the Talytica Interview Stage
To add the stage to your Interview Plan:
Navigate to a specific job, and click the Job Setup tab
Click Interview Plan
Scroll down the page, and click the green + Add Stage button
Select Talytica Assessment, and click the Add button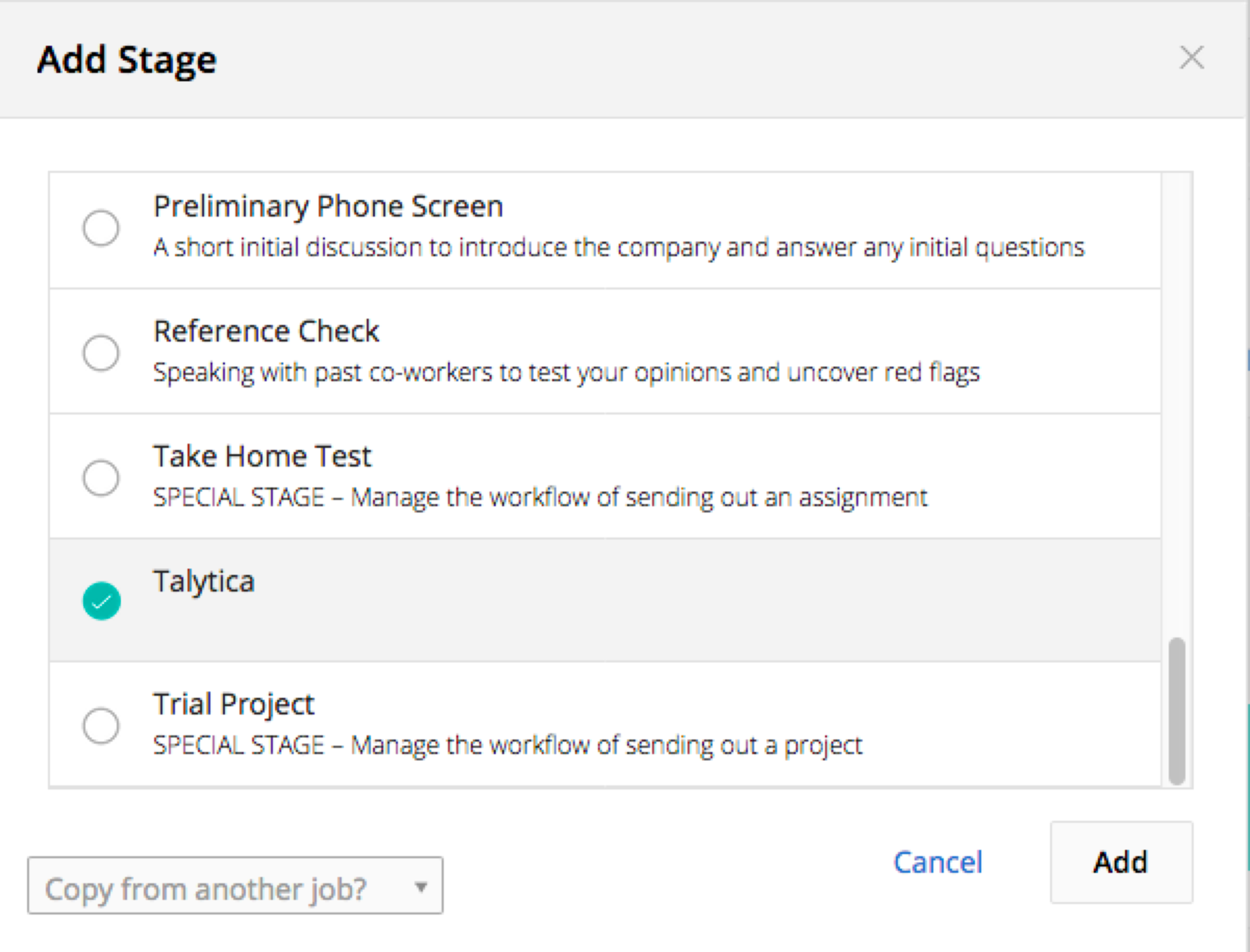 PLEASE NOTE: All the Talytica tests are stored in this single 'Talytica' stage, so you will have to both select the specific test you want, and - if desired - rename the Talytica Stage to be more clear (recommended only if you are adding multiple Talytica stages).

Click on the 'edit' test (the small 'pencil' icon), and rename the test to match the test you have selected.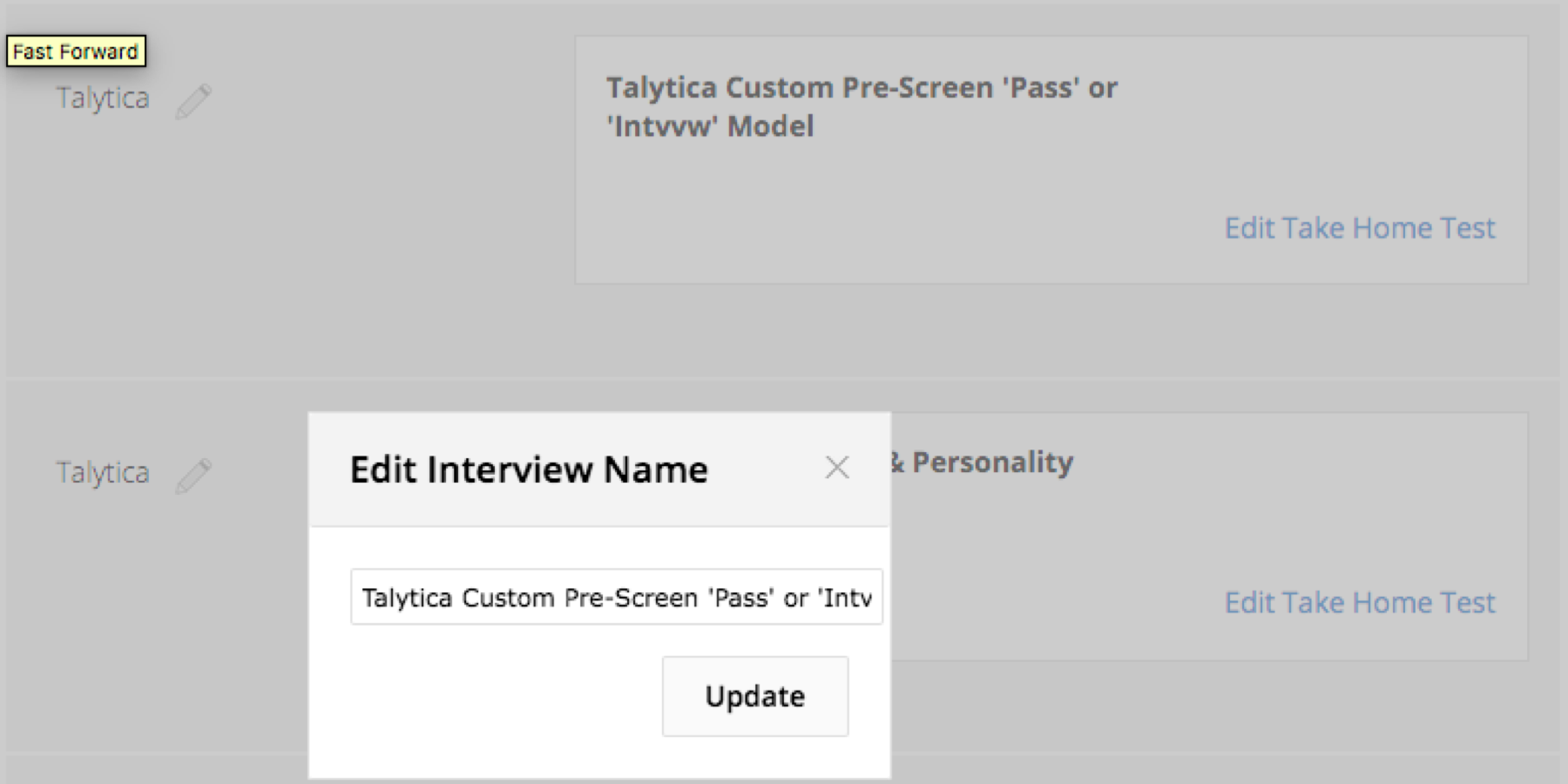 DECIDING ON THE TESTS AND STAGES YOU WANT
With Talytica's Greenhouse integration, you have a choice of tests and stage.
You can add different assessments at multiple stages (for example, automated phone interview followed by automated reference checks for those candidates you advance), or you can add one single stage and send all the desired assessments in a single test.
There are 2 main approaches you can take:
Simplifying a complex hiring process process by replacing several existing stages with Talytica's 'All-in-1' Multi-test
Adding more disciplined automation to stages with Talytica's modular tests. Our modular tests allow you to work with other providers for some stages if you prefer.
Example 1: The Simple approach
This general multi-test includes Personality Assessments, Ideal Organizational Type, Strong Career Interests, Automated Phone Interviews and Automated Reference Checks.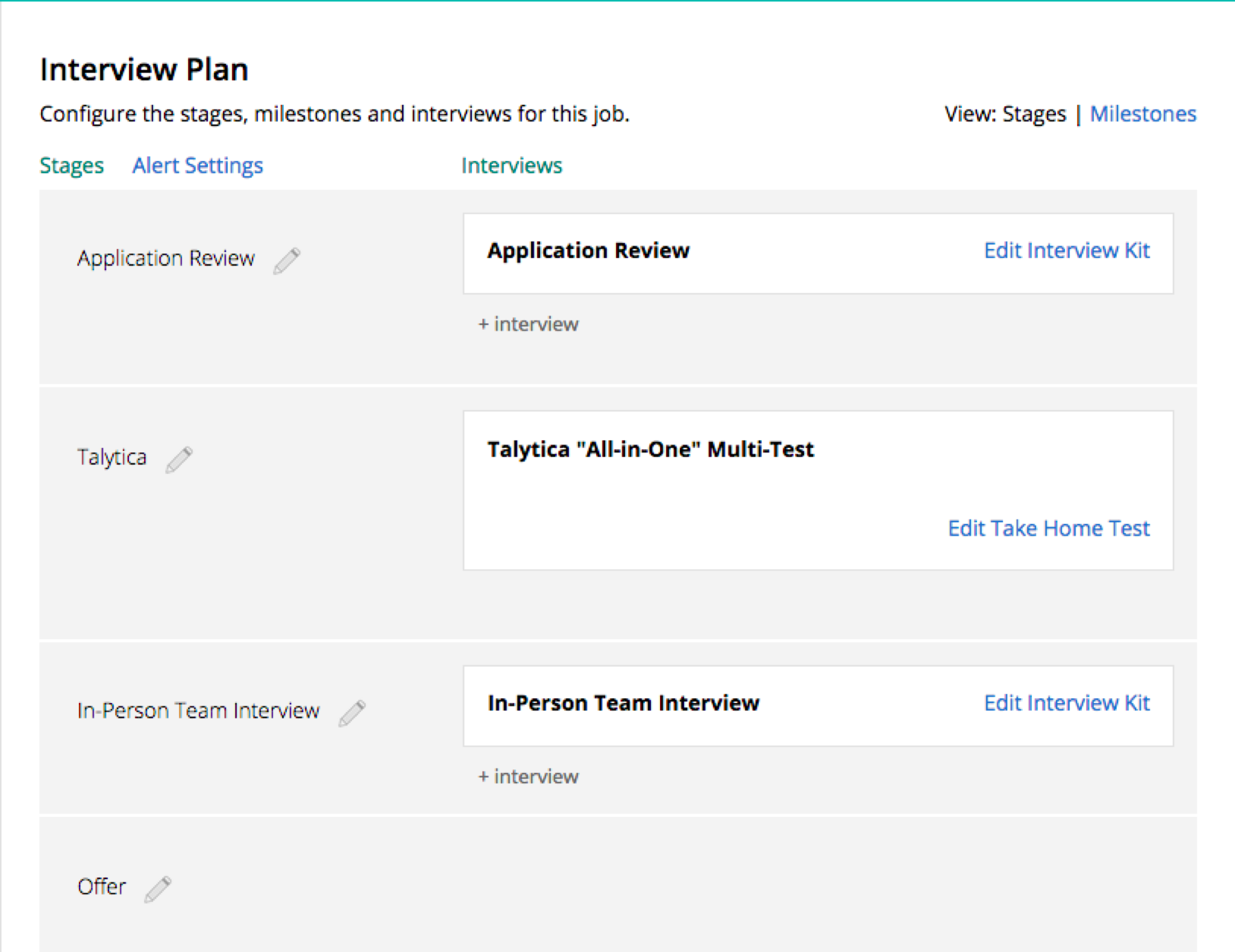 Example 2: The Modular Approach
Below is an example of setting up several Talytica stages to advance the candidate through using option b). This is part of the power of Talytica as these stages are close to fully automated.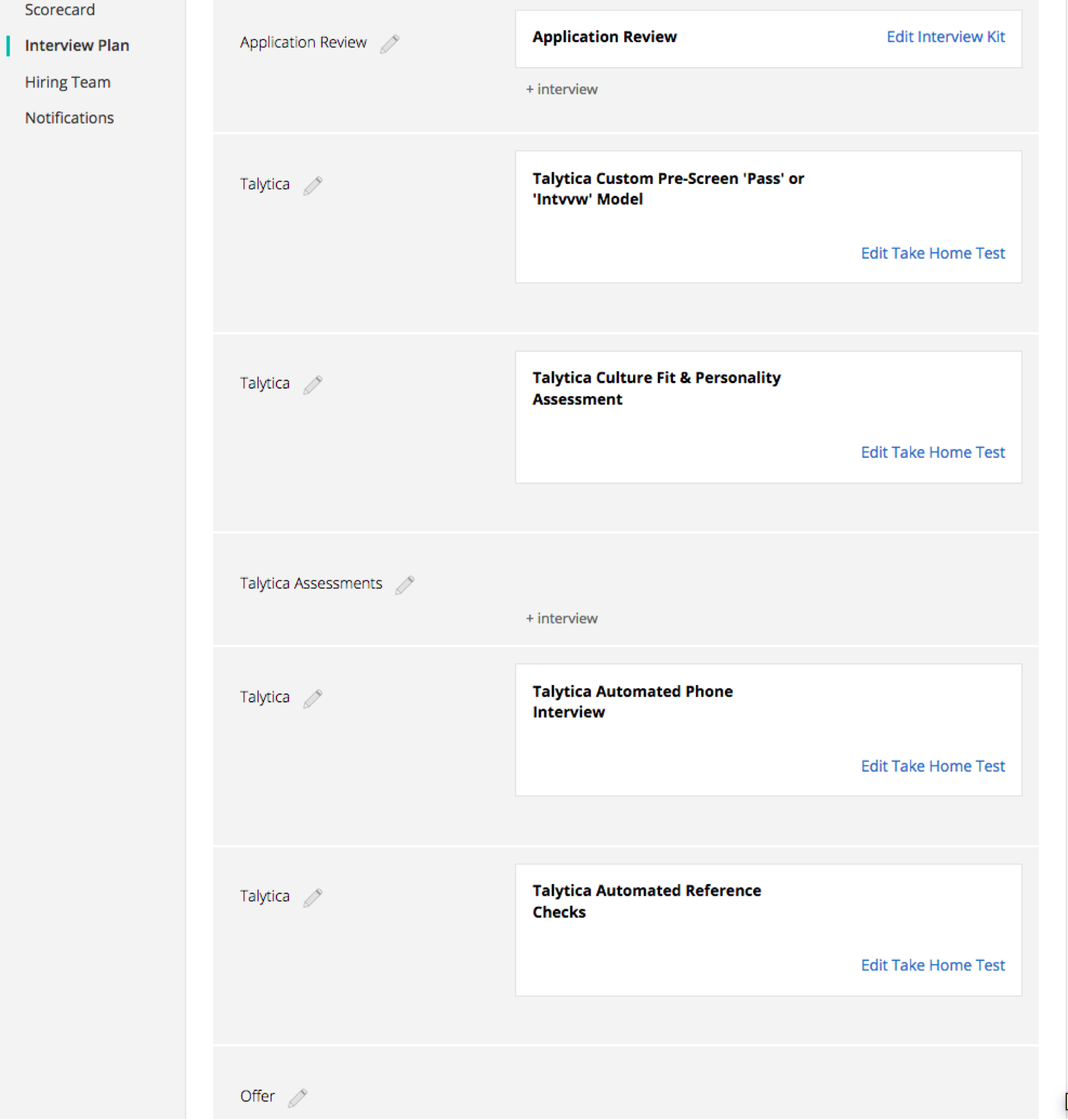 The Stages you can add under 'Talytica' stage include:
Talytica Custom 'Pass' or 'Interview' Pre-Screen

i) This is a Custom Model built from your historical data within Greenhouse. You will have to contact us to add it. It requires at least 100 people having been advanced to 'interview' and at least 200 total applicants. If you have these, we can build a model that will give the probability that a player will be advanced to the interview stage.

Talytica Culture Fit & Personality Assessments
These are tests for Culture Fit, Organizational Preference, Strong Career
i) Interests and Personality (Cognitive is also available). These help predict culture fit, turnover and performance - and can be customized for customers with more than 100 candidates per position.
Talytica Automated Phone Interviews

i) This gives you the ability to use pre-recorded phone interview questions and listen to the candidates responses prior to talking to them. Emotional qualities of the voice characteristics are also 'auto-scored.' This gives you the ability to make much more rapid, more informed decisions on who to advance.

Talytica Automated Reference Checks

i) Rapid, accurate, completely automated reference checks that save time and allow you to move reference checking to various stages.

Talytica 'All-in-One' Multi-Assessment

i) This includes b) through d) above and all stages are sent to the Candidate as one, integrated 10-20 minute assessment.

Custom Tests

i) We have full customization as well as Cognitive Tests and the ability to add machine learning based predictions to nearly anything we have. Contact us to learn more.
Configuring the Stage
Once the stage has been added, click Edit Take Home Test. From there, you will see a drop-down menu that reflects the assessment that you've previously set up with Talytica. Select the appropriate assessment, assign at least one Greenhouse user to grade/review submitted assessment, and then click Save.
Keep in mind that all configuration of the assessment itself, as well as the email template, will need to be handled in Talytica. While you will click "Send Test" from within Greenhouse, the interview instructions are actually sent by Talytica.
If you have any questions at any time, about these instructions, please email Talytica at: info@talytica.com or call us at: (424) 625-5857.
Sending the Test
When candidates are moved into the Talytica Interview stage, Greenhouse will display a Send Test link. While you will click "Send Test" in Greenhouse, the interview instructions will actually be sent through Talytica.
Click the 'send test' to send the candidate the test you've selected.
After clicking the 'send test', select the test you want to send from the drop-down menu. This will be the test that you have chosen for this stage. For most companies, there will only be a single choice.
The candidate will now get an email invite to take the assessment. After completing the assessment, it will be scored automatically by the talytica system, with the option for you to add listen to recorded responses and add manual scores to the audio assessments in the Talytica portal.
The status of the assessment will be viewable in Greenhouse:
Take Home Test to be sent.
Waiting for candidate to submit test
Scorecard due from <DESIGNATED_GRADER>
Reviewing Test Results
Once the candidate has submitted their test, the Interview Kit will contain a link to view the submitted test on Talytica.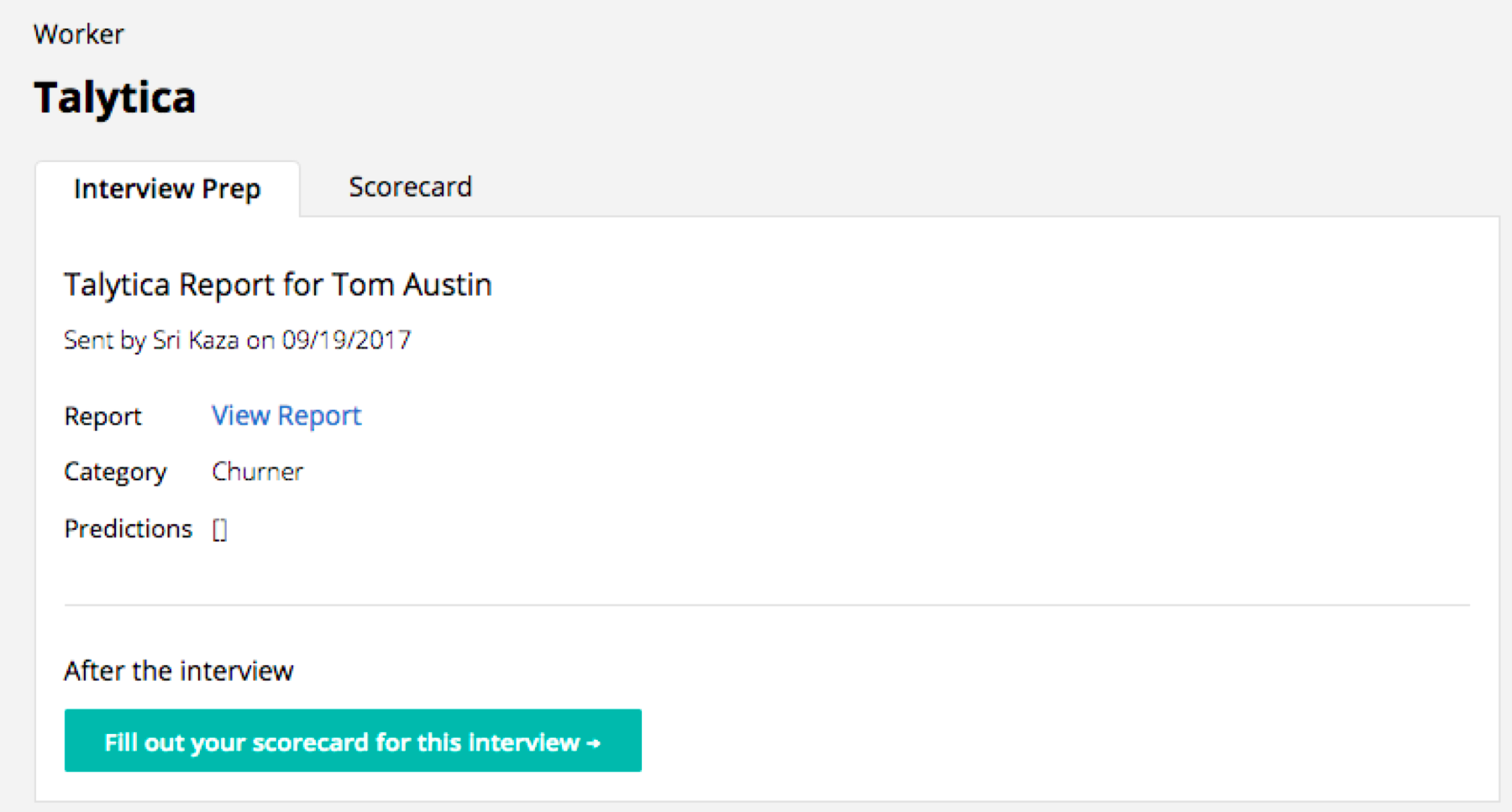 Clicking to the 'View Report' link will take you to your own custom 'Talytica Portal' where all your candidates have been saved and are available.
Depending on the tests you've ordered, you will find a lot more detail in the portal if you want to review it. For example:
THE TALYTICA PORTAL
You can view all historical candidates or enter the Talytica portal through either the Greenhouse link in the Candidate's Interview Report, or by going to the portal and logging in. The portal can be found at:
https://portal-dev.talytica.com
The portal will maintain a copy of all candidate records.
It will also contain more detailed information behind every candidate.
For example:
CUSTOM CANDIDATE PREDICTIONS: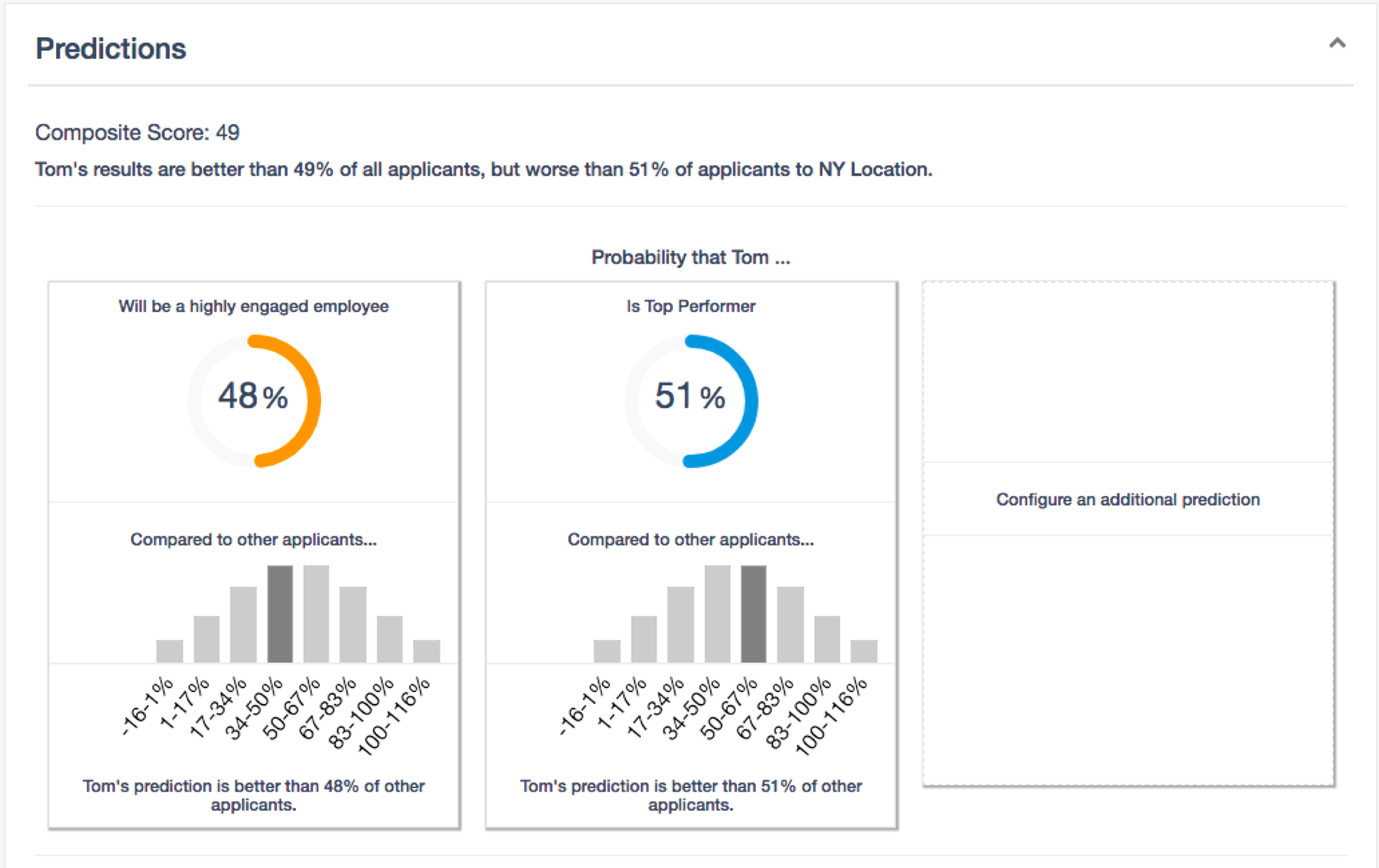 ANSWER VALIDITY AND CONSCIOUS DECEPTION SCORES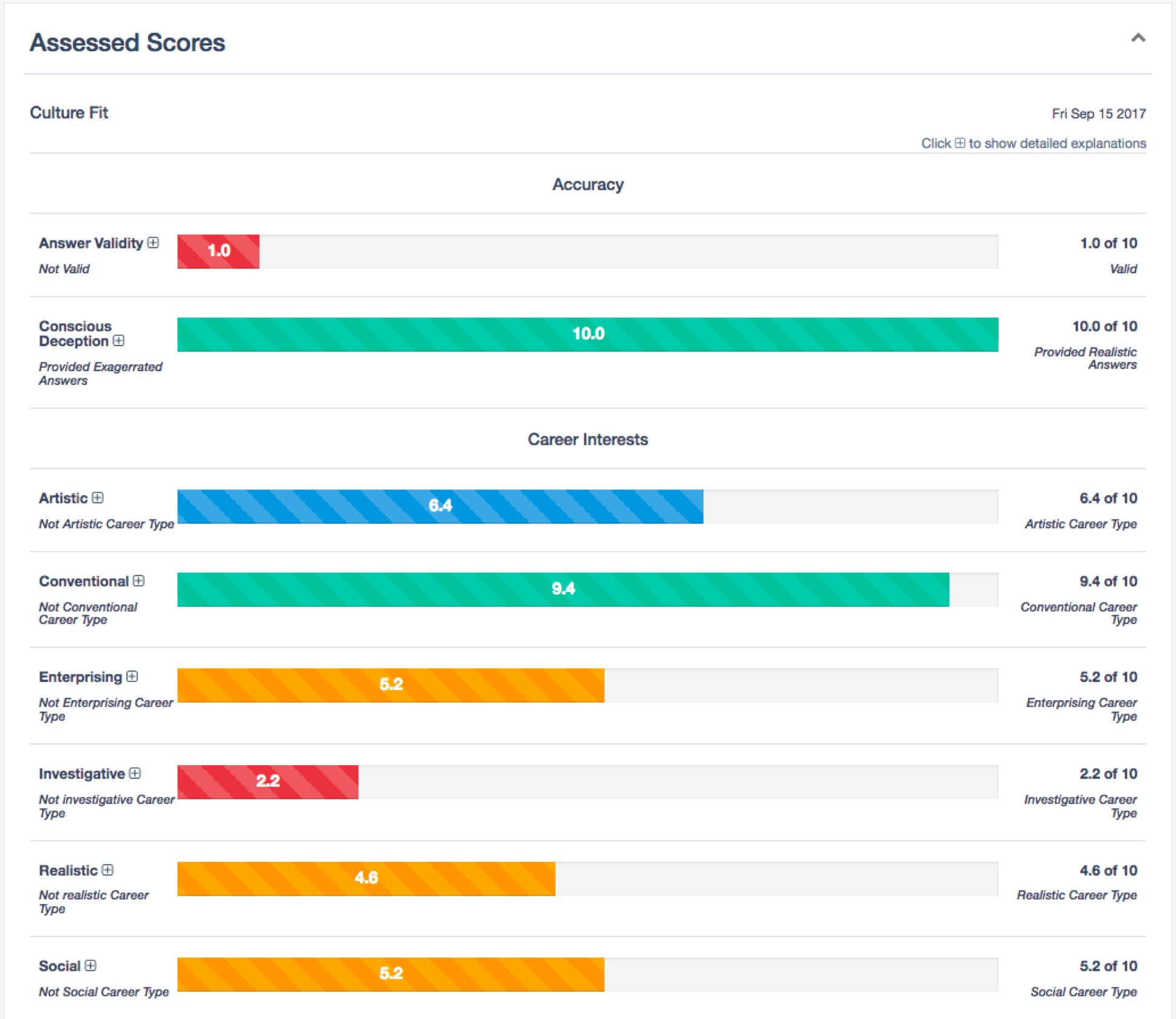 CULTURE FIT AND ORGANIZATIONAL PREFERENCE SCORES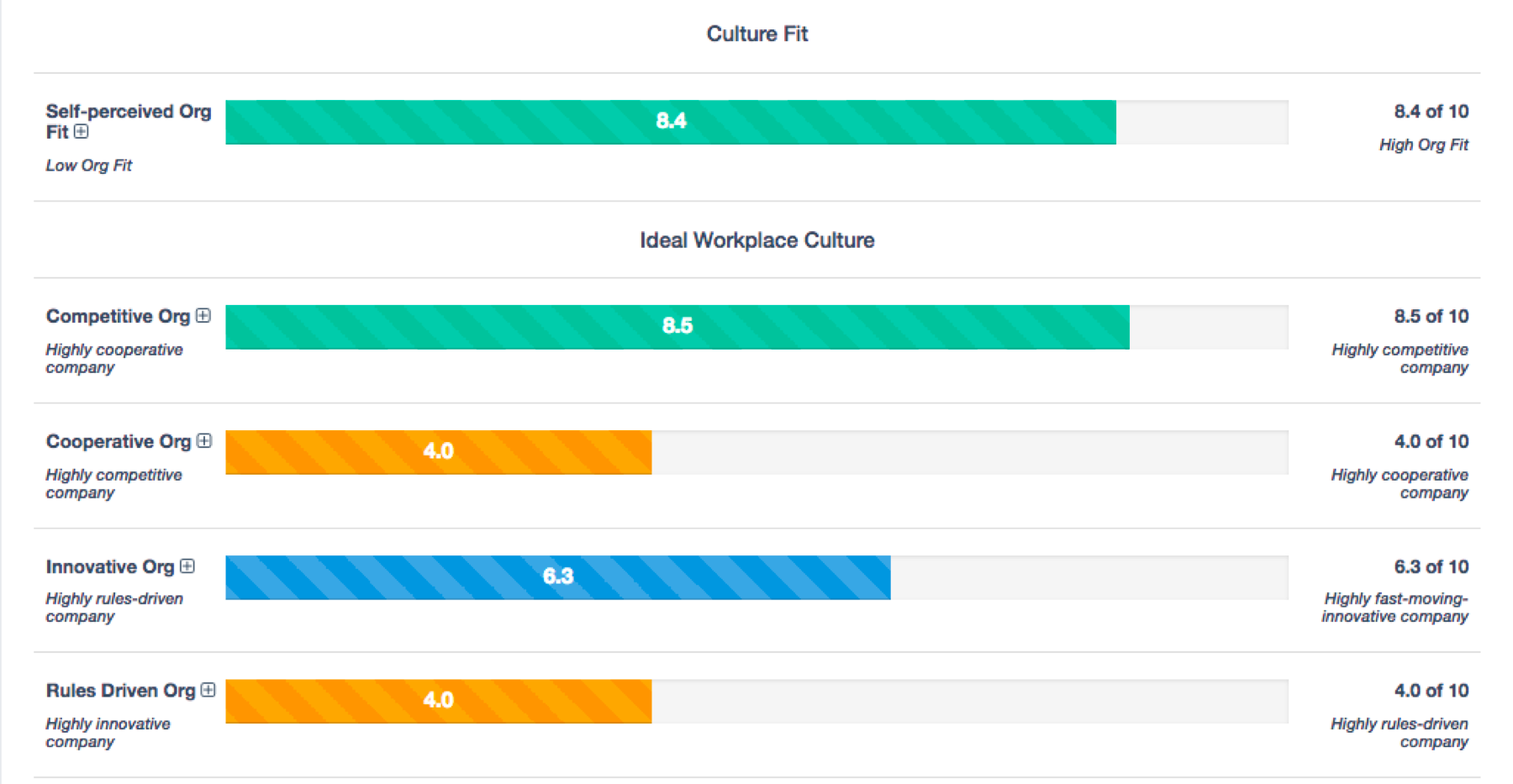 JOB EXPERIENCE AND PERSONALITY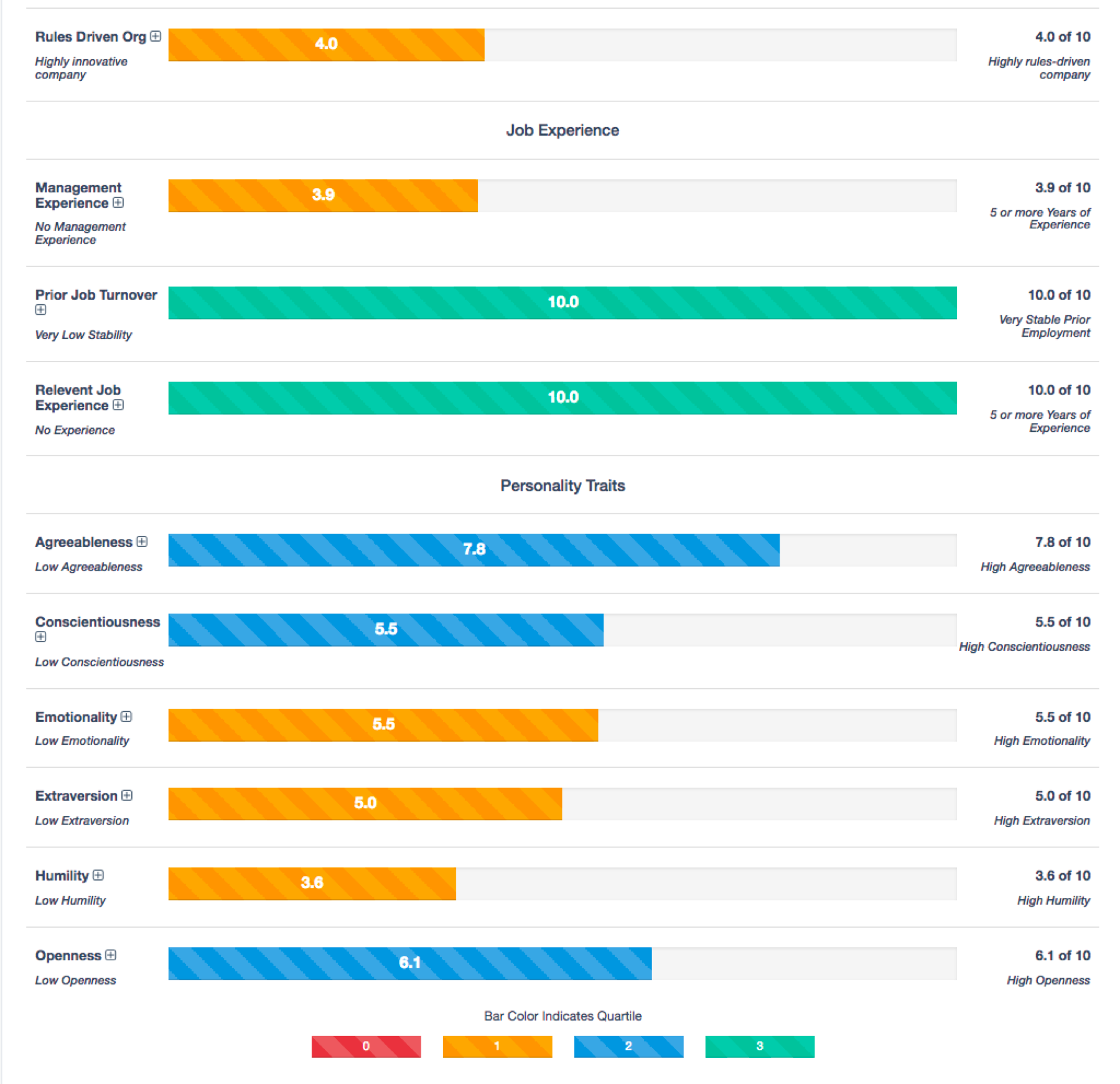 REFERENCE CHECKS