Verified First provides a streamlined background screening experience for HR and talent acquisition professionals nationwide.
Greenhouse Recruiting's integration with Verified First allows you to instantly connect with Greenhouse Recruiting, providing clients a turn-key experience with top-notch client care.
Basic requirements
While the Verified First browser-based integration is available for users to download without a Verified First account, for users to properly integrate and use the tool, there are two simple requirements:
The user must have an account with Verified First. If an account has not been set up, visit https://verifiedfirst.com/contact-sales/ and fill out the form for a Verified First integration specialist to reach out to set up your account.
Use of a compatible browser. As a browser-based integration, users will need an appropriate web-based platform. This integration works Google Chrome, Mozilla Firefox, Safari and Microsoft New Edge.
Install the Verified First integration in your browser
Start by going to the appropriate web browser store:
Search for Verified First, then click the Add to Chrome button. Alternatively, click Get if using Safari, Download if using Firefox, and Get if using Microsoft Edge.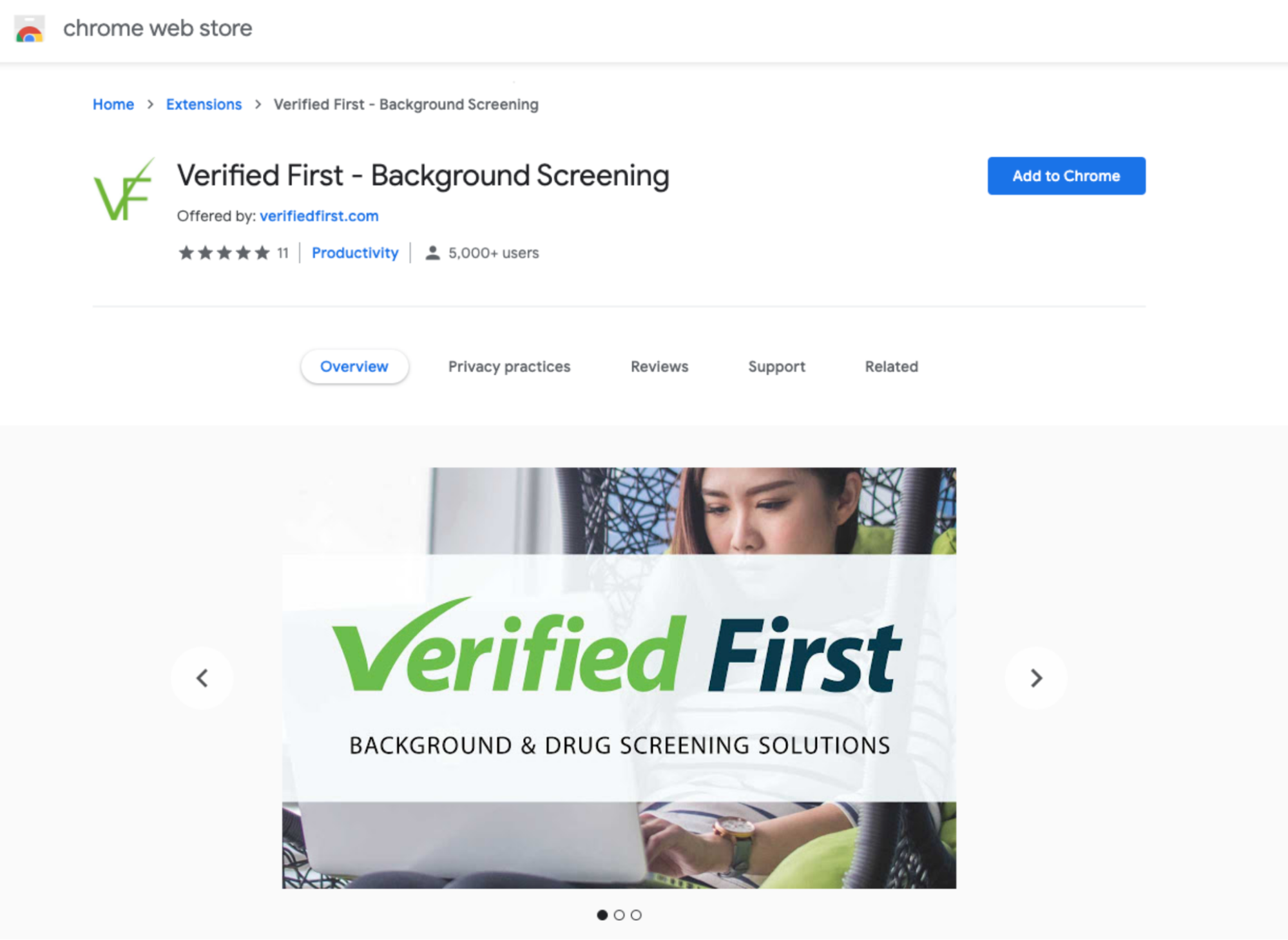 Click the Add extension button in the dropdown.

The Verified First icon will now appear in your web browser toolbar (Upper right-hand corner if you're using Chrome).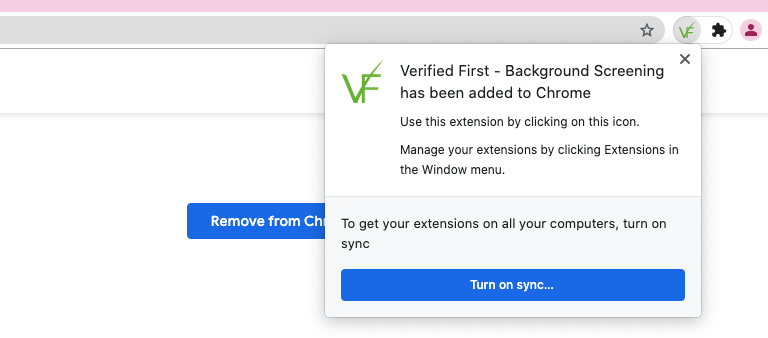 Use the Verified First integration with Greenhouse Recruiting
When you click on the browser extension in the upper right-hand corner, it will prompt you to log in with your Verified First Account. You will only need to log in your first time using the Verified First browser-based integration.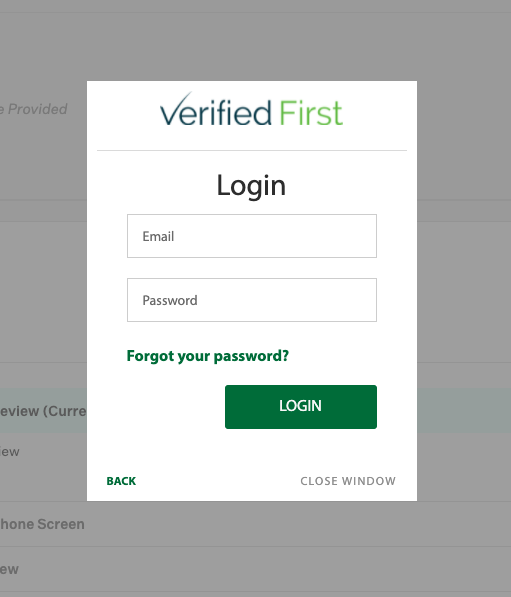 Once logged in, a teal Screen with Verified First button will populate within the Greenhouse platform on the right-hand side.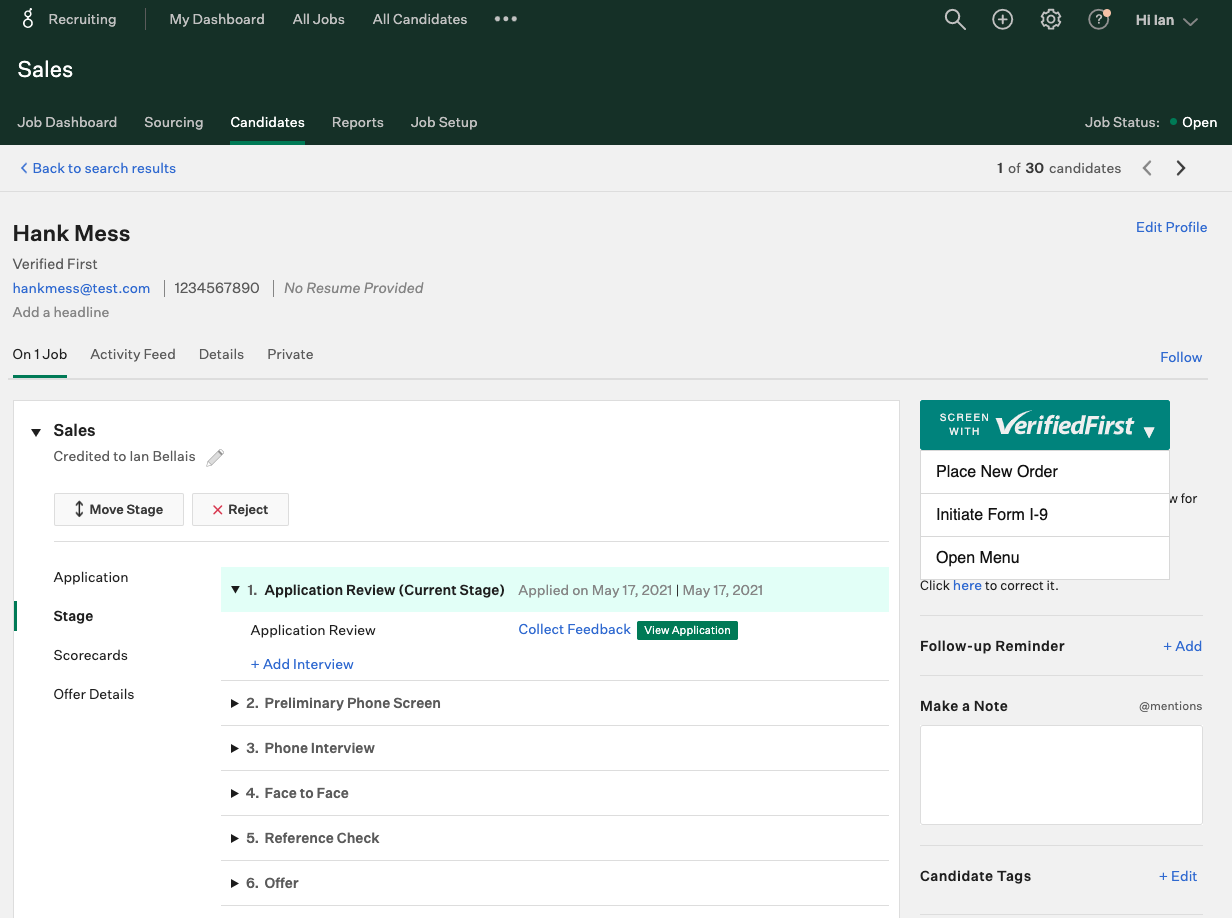 Hover over the teal button and select your preferred menu item (i.e. Place New Order, Initiate Form I-9, etc.).
Once done, a tray will pop out from the right side of the browser for you to begin your screening process, including:
Creating and managing screening packages
Initiating Form I-9
Ordering reports and sending forms to applicants
Viewing the status and results of reports
Creating and managing users
And more!
Additional resources
For additional information not covered here, reach out to sales@verifiedfirst.com or call (844) 332-5690.