This Power Reports feature comes with Pro and Enterprise Accounts. Contact renewals@greenhouse.io to upgrade your account to include "Power Reports" features if you have a Core Account.
Do you find yourself ever emailing a Hiring Manager, the Finance Team, or your team the same report over and over again at the same time, each week? Have you had to set up weekly alerts for yourself, just so that you remember to send the report on time and don't drop the ball?
With scheduled reports, now you can now save time by scheduling the report to automatically be sent out each week on whichever day, at whatever time you desire. No more dropping the ball!
To schedule a report, when viewing a saved report, first click the new icon in the top right of the page:

You'll then see a screen, where you'll be able to:
Select the

days

you'd like the report to be sent

Select the

time

you'd like the report to be sent

Select the

users*

you'd like the report to be sent to

Create the

subject

line and

body

of the email for the report to be sent in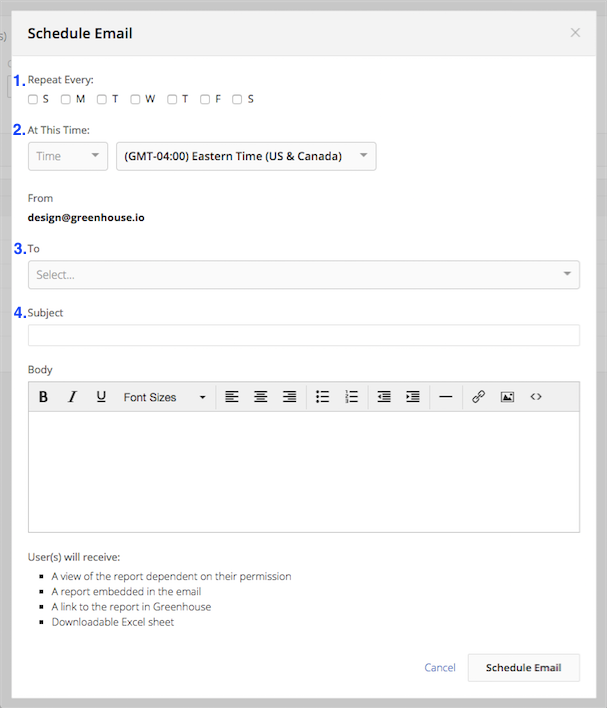 Once you schedule the report, you'll be able to go back and make edits to the schedule or stop the report from being sent altogether, at any time.

When your recipients open the email each week, they'll see your message, the report in the body of the email, a link to view the report in Greenhouse, and an Excel version.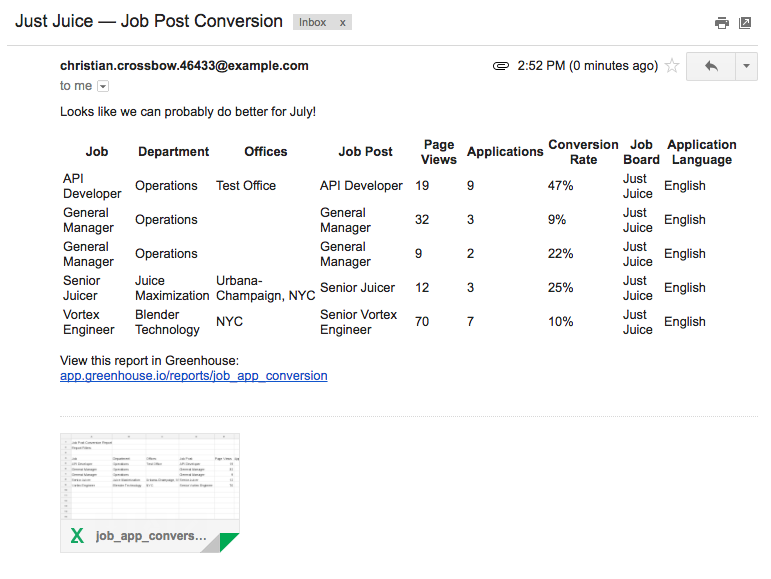 From your "My Saved Reports" tab, you'll always be able to see at a glance which of your reports is scheduled to be sent each week.

*Please Note: When you email a report to another user, Greenhouse will first check their permissions to see if they are allowed to access the report at all. If you send one to a Basic User or Interviewer, or if you try to send a report with Private Data to an user who can't access it, the report won't send.
Even if your recipients are allowed to see a given report, they might see a slightly different version than you do. That's because the emailed report shows the exact data they would see if they logged into Greenhouse, so any jobs or candidates they don't have access to will be removed before sending. If you want to share your exact report with someone who doesn't have the same permissions, you can email it to yourself and then forward that to other users instead!