Note: There are no integration fees for customers who want to use Apply with SEEK. There is a fee from SEEK, but it's a one time fee to use that product offering, not for the integration itself.
SEEK integrates with Greenhouse by adding a button on job posts that allows candidates to pre-fill information from their SEEK profile directly into your job application.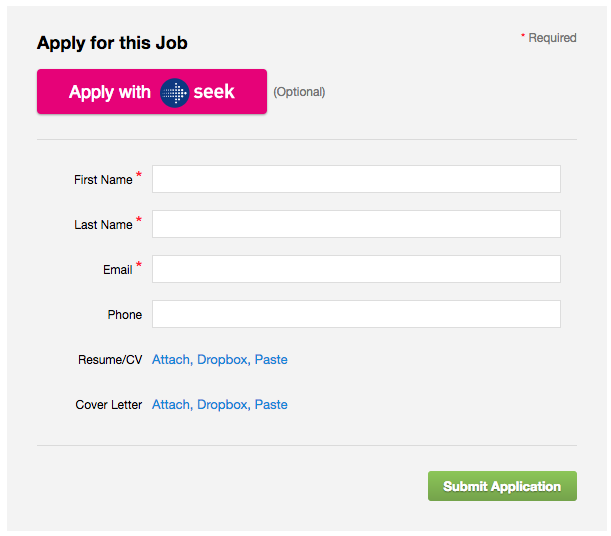 To enable the integration...
First contact your SEEK Account Manager to discuss adding this integration to your account.

The integration must be enabled in both SEEK and Greenhouse to function properly.




In Greenhouse, navigate to Configure > Job Board > Edit, enter your SEEK ID, and save.

When editing external job posts on this board, a new option will appear that allows user to choose whether the "Apply with SEEK" button should appear. This can also be enabled or deactivated via External Job Post bulk actions.

When creating new SEEK ads, make sure to use a tracking link so any candidates who apply will be properly sourced.
Note:
As is our practice, Greenhouse doesn't directly charge customers for standard integrations that have a repeatable workflow for customers. That said, for the Apply with SEEK integration, you may incur an expense from SEEK.
SEEK charges customers a one-time set-up fee of ~$2,500 to access Apply with SEEK. This charge is not applicable if the customer currently uses the legacy LinkOut or Apply with SEEK solution with another vendor for their job ads on SEEK.
If you have any questions, please reach out to your SEEK account manager or call SEEK's Customer Service line on 1300 658 700.
Help, clicking the 'Apply with SEEK' button is leading to an error!
When a candidate clicks the 'Apply with SEEK' button, they will need to grant Greenhouse permission to access their SEEK profile.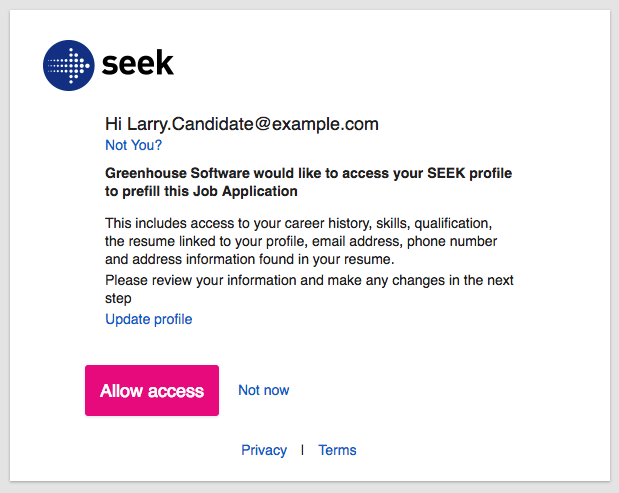 If the integration is configured correctly, clicking 'Allow access' will then pre-fill the application with information from the candidate's SEEK profile. If 'Allow access' instead leads to an error like this, please reach out to your SEEK account manager to make sure they have given your company access to use the Greenhouse integration.

To create a tracking link for a specific job:
Click the Configure tab
Click [Tracking Link] underneath the title of your external Job Board
In the resulting pop up window specify:

Who gets credit (this will be the user from your GH account who is attributed to each candidate, most users specify None when creating this link for Built In)
and the Source (SEEK)
NOTE: If you don't see "SEEK" in the list of options for a Source, you will want to create that source on the Configure>Custom Options>Sources page by clicking "Create New Source" button.

Click Create Link
Copy the link and include it in your SEEK job ad.