Apply with SEEK improves the candidate experience by pre-filling candidate data into application forms hosted by Greenhouse Recruiting.
With the ability to be utilized on either desktop or mobile applications, candidates can enjoy a positive application experience using the option to transfer information from their SEEK Profile to application forms, overall enhancing employer brand perception.
Greenhouse Recruiting's integration with SEEK allows specialized Apply buttons to be added to your job posts so information previously captured from candidate profiles within SEEK can sync directly to application form submissions.
Enable the Greenhouse Recruiting / SEEK integration
To enable the Apply with SEEK integration, reach out to your SEEK Account manager to begin setup.
They will first enable the integration within SEEK, which will allow you to proceed to the complete steps to enable within Greenhouse Recruiting.
Note: Apply with SEEK requires a fee for users interested in enabling the integration. This fee is invoiced by SEEK.
Additional SEEK product offerings such as SEEK Optimised apply or Job posting are also not supported in Greenhouse Recruiting. As an alternative, use the BroadBean integration to utilize Job Posting functionality.
Use the SEEK integration with Greenhouse Recruiting
Once Apply with Seek is enabled by your Seek Account manager, navigate back to Greenhouse Recruiting to continue setup.
Access your Job Board Settings once logged in by selecting Configure > Job Boards & Posts > Ellipsis icon next to job board > Edit Board Settings.
Scroll to Allow candidate to 'Apply with SEEK' and enter your company's SEEK ID.

When finished, click Save.
Toggle Include Apply with SEEK button this job post for external job posts.

Note: Follow the steps outlined here to enable the Apply with Seek integration in bulk across multiple external job posts.
Once enabled, users will see a new option when editing external job posts on your job board in Greenhouse Recruiting.
Troubleshoot error seen connecting the SEEK integration
When a candidate clicks Apply with SEEK, they will need to grant Greenhouse Recruiting permission to access their SEEK profile.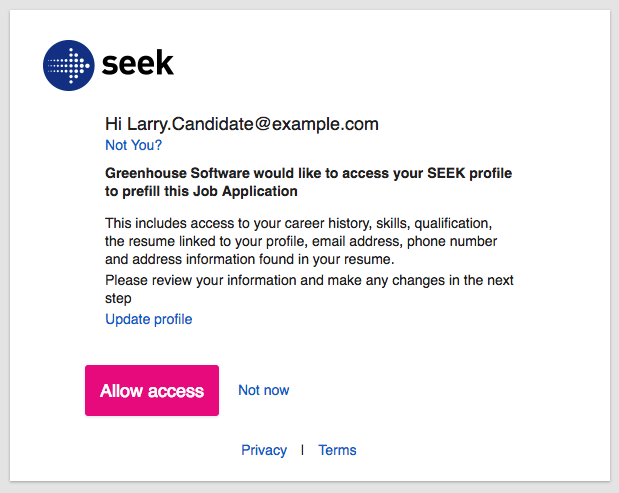 If the integration is configured correctly, clicking Allow access will automatically pre-fill candidate application submissions with information completed on the candidate's SEEK profile.
If Allow access returns an error, reach out to your SEEK Account Manager.