Apply with SEEK offers an improved candidate experience by pre-filling a candidate's application on an application form hosted by Greenhouse Recruiting. The application experience is quick and easy on desktop or mobile: by attaching information a stored CV or using the option to prefill information from their SEEK Profile, candidates can enjoy a positive application experience that enhances employer brand perception.
Greenhouse Recruiting's integration with SEEK adds an Apply button on job posts that allows candidates to pre-fill information from their SEEK profile directly into your job application.
Enable the SEEK integration
To enable the SEEK integration, contact your SEEK Account Manager to discuss adding this integration to your account. Your account manager will enable the integration in SEEK, which will allow you to enable the integration in Greenhouse Recruiting.
Use the SEEK integration with Greenhouse Recruiting
Once your account manager enables on SEEK, login to Greenhouse Recruiting and click Configure > Job Boards & Posts > Ellipsis icon > Edit Board Settings.
Scroll to Allow candidate to 'Apply with SEEK' and enter your company's SEEK ID.

When finished, click Save.
Use the SEEK integration with Greenhouse Recruiting
Once enabled, users will see a new option when editing external job posts on your job board in Greenhouse Recruiting: users can toggle the 'Include Apply with SEEK button this job post' option for extenral job posts.


Users can also enable the option in bulk when editing many external job posts at once.
Additional resources
Why does clicking 'Apply with SEEK' lead to an error?
When a candidate clicks Apply with SEEK they will need to grant Greenhouse Recruiting permission to access their SEEK profile.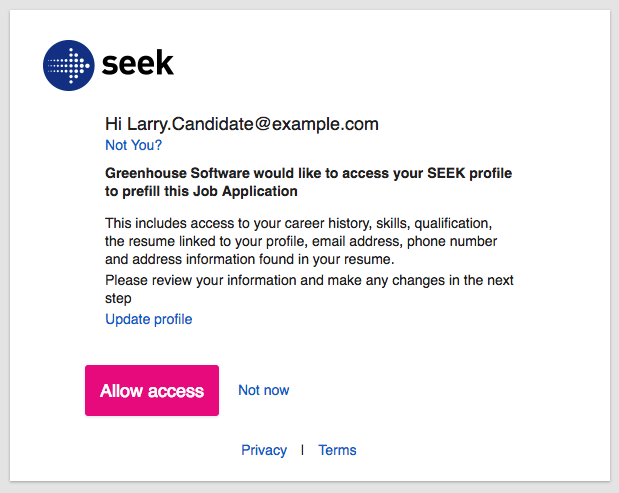 If the integration is configured correctly, clicking 'Allow access' will then pre-fill the application with information from the candidate's SEEK profile.
If 'Allow access' instead leads to an error, please reach out to your SEEK account manager to make sure SEEK has given your company access to use the integration.