Greenhouse Recruiting includes a variety of reports to provide insight into your hiring process, help you tell stories, and drive strategic decisions. The Greenhouse Report Connector tool takes your reporting a step further by combining the power and customization of a spreadsheet with a simple and seamless Google integration.
With this Google Sheets add-on, you can:
Easily import Greenhouse Recruiting reports to Google
Refresh your reports in real-time directly from your workbook
Build and manipulate dashboards, charts, and graphs
Create custom charts
Combine reports and perform complex analysis
Greenhouse Report Connector supports importing the following Greenhouse Recruiting reports to Google Sheets:
In this article, we will cover:
Set Up Greenhouse Report Connector
To connect your Greenhouse Recruiting account with Google Sheets, begin by creating a new spreadsheet in Google Sheets. From the spreadsheet toolbar, click the Add-ons menu, then click Get add-ons.

From the Add-ons store, search for Greenhouse (or click here). Click the Greenhouse Report Connector tile.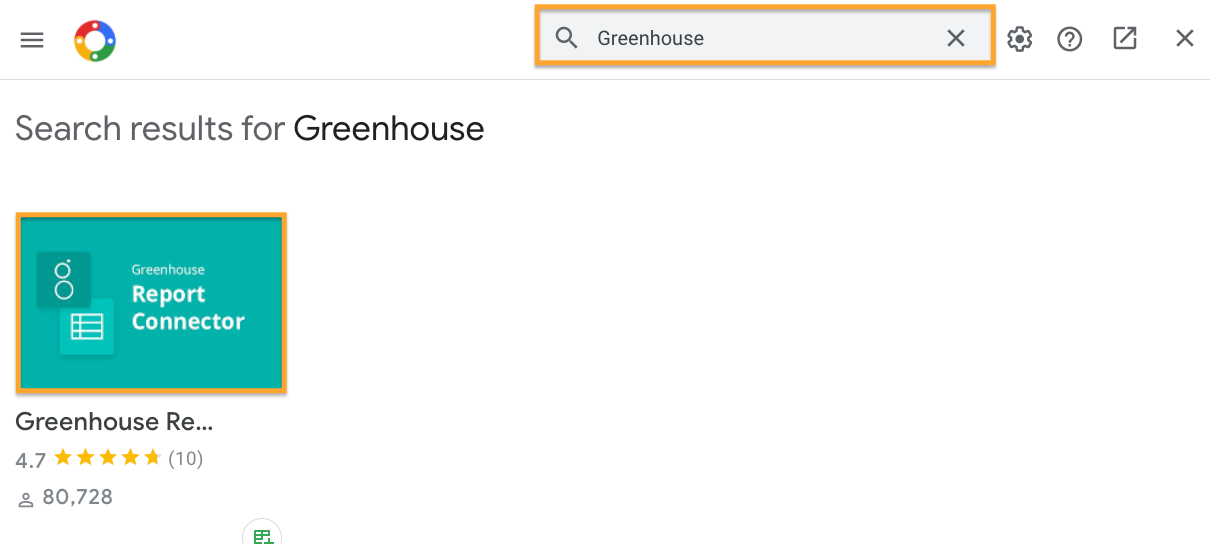 On the subsequent page, click Install.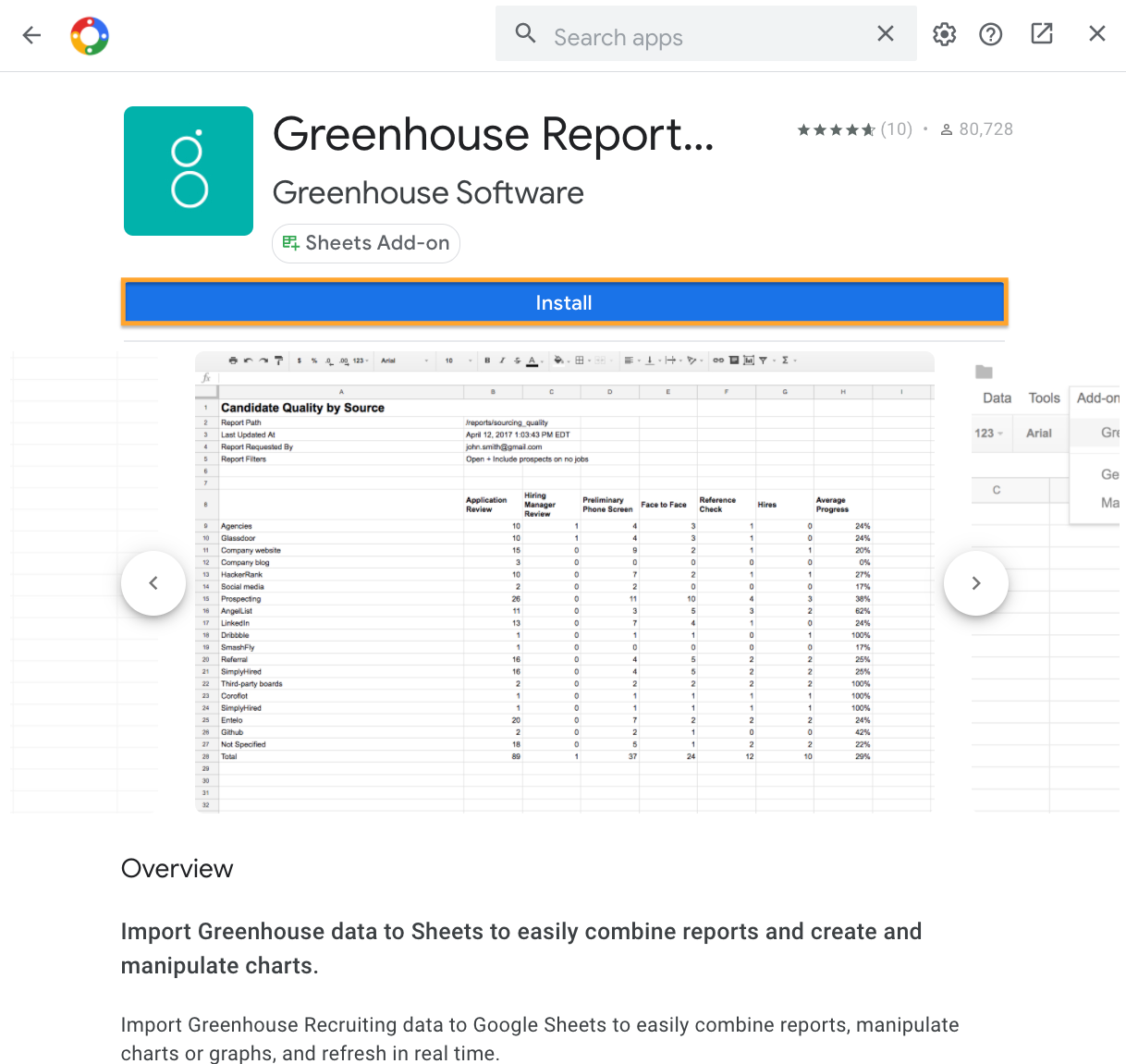 Click Continue to grant install permission to the add-on.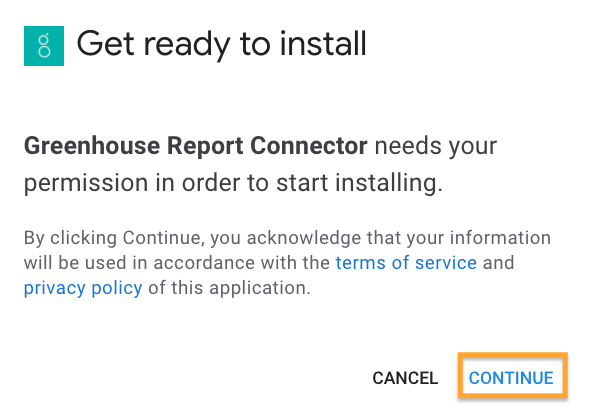 Click Allow to grant Google Sheets permission to access your Greenhouse Recruiting reports.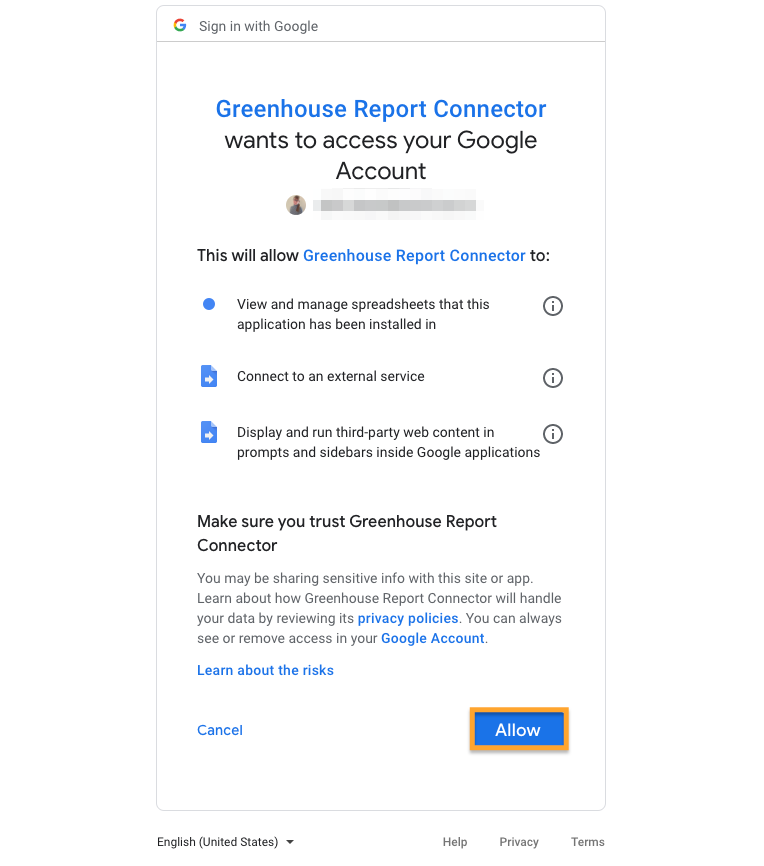 Click Done.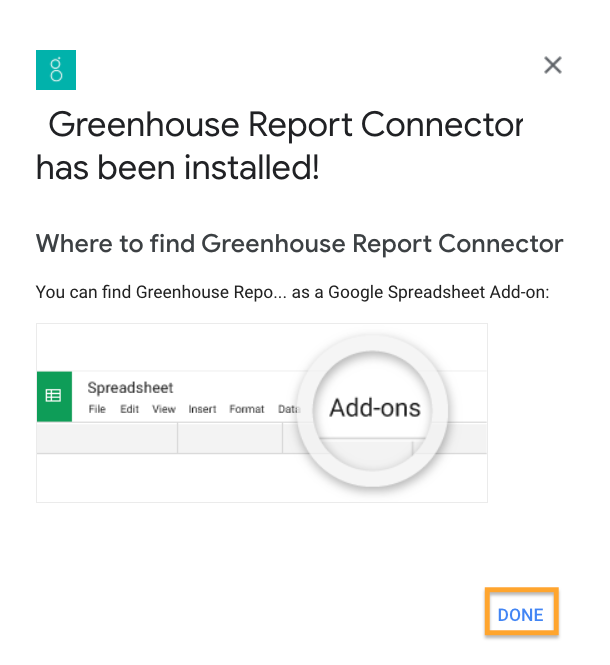 Navigate back to your Google Sheets document and click the Add-ons menu > Greenhouse Report Connector > Sign in. Provide your Greenhouse Recruiting credentials when prompted.
Note: If your organization uses SSO to access Greenhouse Recruiting, you will be directed to authenticate with your SSO provider after entering your email address.

Close the confirmation window and return to your Google spreadsheet. Close the Sign In dialog box on your spreadsheet.
Note:
Greenhouse Report connector functions best when you are:
Logged into the email address that is connected with your Greenhouse Recruiting user account
Not logged into any other Google accounts at the same time
Import Reports to Google Sheets
Now that you have added Greenhouse Report Connector to Google Sheets, you can begin importing reports.
To begin, create a report in Greenhouse Recruiting and apply any relevant filters to the data. Once the report is configured, copy the report's URL and return to your Google spreadsheet.
Note: No need to wait for the report and data to load in Greenhouse! Once you have applied your filters, copy the URL while Greenhouse continues working.

From the Google spreadsheet, click Add-ons > Greenhouse Report Connector > Import Report. Paste the copied URL in the Enter Report URL field, and then select one of the following two options:
Current sheet: Add the report in the sheet you are viewing currently. If another report or other data is entered in the current sheet, the new report will override and replace the data.
New sheet: Create and import your report to a new tab.
Once you have selected either Current sheet or New sheet, click Confirm.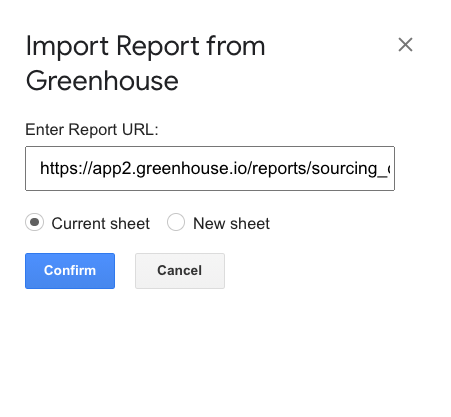 Your report and all associated data will be imported automatically. Once your data is imported, you can manipulate it and perform further analysis.
Note: Greenhouse Report Connector does not support the Candidate Survey; data from this report cannot be imported due to the report's unique format.
For additional resources, including prebuilt templates, see the following article: Greenhouse Report Connector Toolkit
Imported Reports Overview
Spreadsheets with an imported report will show you a few things:
Report name: The name of the report pulled from Greenhouse Recruiting
Report path: The part of the report URL after greenhouse.io
Last updated: The date and time the report data was imported or refreshed
Report requested by: The email address of the Greenhouse Recruiting user who imported the report
Report filters: The filters applied to the report in Greenhouse Recruiting (e.g. Open and Marketing department, or Engineering department and include prospects on no jobs)

Refresh Report Data
You can refresh reports directly within Google Sheets to retrieve the most current data without rerunning the report in Greenhouse Recruiting.
To refresh a report in Google Sheets, click Add-ons > Greenhouse Report Connector > Refresh This Sheet or Refresh All Sheets.
Refresh This Sheet: Updates the report in the currently selected sheet
Refresh All Sheets: Updates 10 reports at a time in your workbook

Collaborate With Your Team
If other users at your company also enable Greenhouse Report Connector, they can import reports directly to the spreadsheet you created, or refresh the data on existing reports in the spreadsheet.
The report data each person is able to retrieve and import from Greenhouse Recruiting into Google Sheets depends on that user's unique permissions within your company's Greenhouse Recruiting account. However, once you import reports to Google Sheets, you can share your spreadsheet with any team member to collaborate and view the data, regardless of their Greenhouse Recruiting user permissions.
Now you are ready to apply special formatting, build charts, combine reports, and analyze data, all within one easy-to-use Google Sheet. Happy reporting!